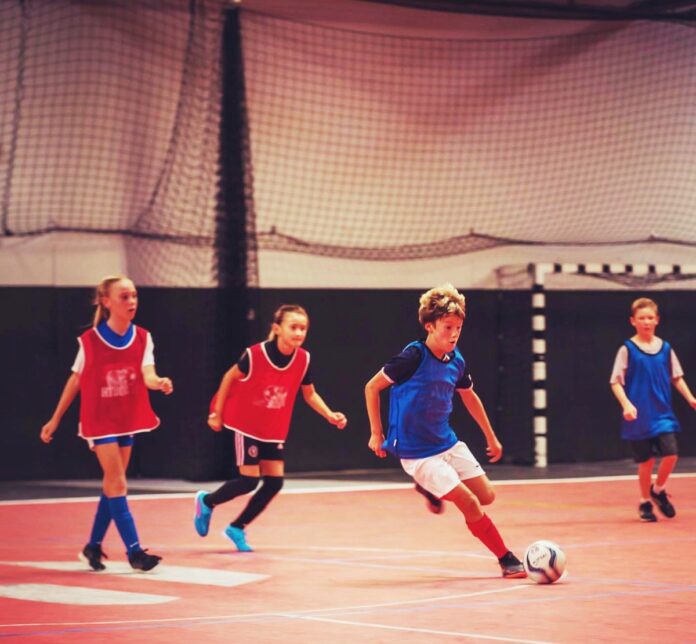 Hanger Futsal Centers owner Keith Miller grew up in La Mesa playing soccer, Helix High School, San Diego State University, and moving forward playing with San Diego Flash before becoming a coach and small business owner.
Hanger FC was the first major futsal facility in the county when it opened up in El Cajon earlier this year.
Miller applied for emergency funding through the American Rescue Plan Act and is using this grant to offer underserved youth an opportunity to be able to play. Registration for the Winter 1 Community Impact Grant opened on Nov. 12 and runs through Jan. 14. For ARPA players, the cost is only $20. Spots are limited, so early registration is encouraged, and residents that live in El Cajon, Bonita, Chula Vista, Spring Valley, National City, and Rancho San Diego.
Miller said he had a choice to continue at St. Martin Academy in La Mesa, or go to Helix High School, and chose Helix. After SDSU, he tore three ligaments in knee.
"I continued to play but I kind of saw the writing on the wall, so I started coaching pretty young," he said. "At 24, I was one of the youngest coaches in the county with a B License, a coaching license given by U.S. Soccer. Since then, it has really been about changing the culture for the sport in this country."
Miller said it started a nonprofit The Hanger Foundation.
"We wanted to do this to help kids out here in East County, who I know for a fact because my mom was a teacher at Chase Avenue Elementary and Bostonia for 30 years, there are many good players out here that do not necessarily have the resources to be able to play club soccer in the U.S.," he said. "That is because club soccer in the U.S. is a white-collar sport. You have to have $3,000 to $5,000 a year to play club soccer. It is a shame because some of the best players do not have that ability to do that. In the rest of the world. Futsal and soccer are the sports of poverty. It is the way a kid sees it to get his family out of a bad situation if he becomes a pro. So, that drive, to be a pro, is multiplied. Here, it is a way to get a four-year degree, go to college. Here, the rules are reversed."
Miller said that with the ARPA, the business had to be in an unincorporated area, and the service zip codes came from the Community Health Index.
"We fell into that category perfectly," he said. "Because we have the facility for a demographic out here that loves this game, we thought it was perfect to take that grant and provide these kids with that opportunity to play futsal."
Miller said futsal has only been in the U.S. for the past 10 to 15 years, because here arena soccer is played where there are walls around the game, whereas a futsal court is more like basketball, with only lines.
"I knew that this game was the way the rest of the world started their youth players out playing. Which explains why they are so much better than us in terms of technical ability across the board. When you teach a kid how to play futsal, there is much more of a disciplinary aspect to it," he said. "If you take a bad touch, the ball goes out of bounds and is with the other team. You can see the added challenges in how to control the ball. That was the whole point of starting this business."
Miller said Hanger FC is modeled after large hangers in Los Angles made specifically for futsal. But his business offers more.
"Added to that, we put a gym inside the facility, a classroom, a lounge for the parents so that when they bring the players here, they do not just have to watch them play, but sit on the couch, do some work on their computer, watch TV. And, we have a small snack bar here to," he said. "We are trying to encompass the whole football/futsal culture inside this building."
Miller said one kid called it "Disneyland for soccer players."
Miller said Hanger FC offers youth leagues, adult leagues, women's leagues, gym membership, and more.
"We have memberships for young players just graduating high school who want to transition to college or pro," he said. "They can come here and get a full soccer workout, going into the gym, the touch room, getting homework done in the classroom, then come to the court to do their shooting or finishing. You can come in here and get everything you need."
Miller said he started with a sportswear company called Flight for eight years, sold it a year ago, and was left with a huge warehouse.
"That kind of birthed the Hanger," he said. "It was big enough to have a court inside. During COVID, we thought we were not allowed outside playing with friends, so it kind of became an underground soccer 'fight club.' We would go in there and play and shut the grade level door to the warehouse and play all night."
Hanger FC has futsal, soccer, lacrosse, and pickle ball courts.
"And teams can come in and rent the gym, rent the classroom, you name it, and we will try to provide it," he said.