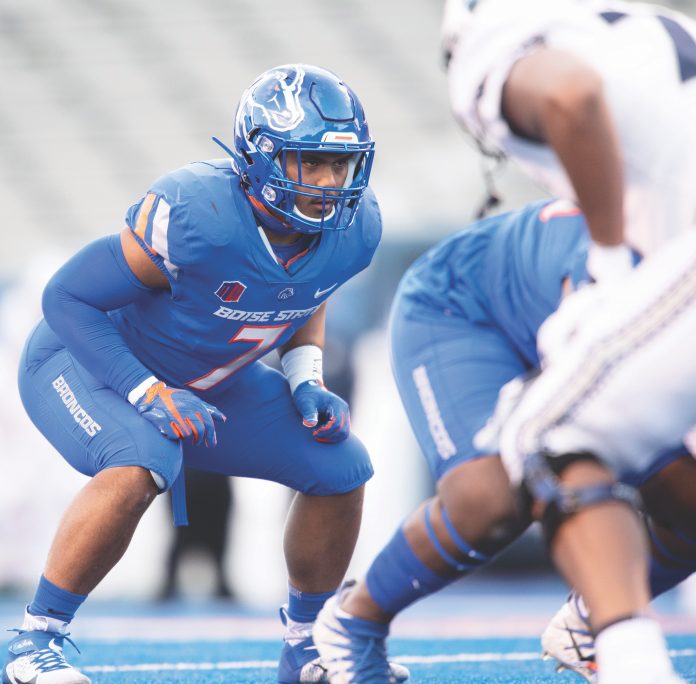 Mountain West Conference commissioner Craig Thompson lined up four bowl game berths to cap 2020 postseason play. However, only three MW teams accepted invitations.
San Jose State University defeated Boise State University, 34-20, in the conference championship game played Dec. 19 at Sam Boyd Stadium in Las Vegas. The history-making win earned the 24th-ranked Spartans (7-0) a berth in the Arizona Bowl against Mid-American Conference champion Ball State University (6-1) Dec. 31 in Tucson.
The conference championship game runner-up was supposed to go to an unnamed bowl that Thompson had managed to line up. However, in a surprise move, Boise State elected to end its season and forgo any bowl game competition.
It will be the first time since 2001 that the Broncos will not finish a season in a bowl game.
According to BSU officials, the decision to end the season early was made on Dec. 20 by a vote of players the day following the team's loss in the MW title game.
"We met with our captains, and after discussions with the rest of the team, we felt it was in the best interest of our program and of the well-being of our student-athletes, both physically and mentally, to forego a bowl game this year," BSU coach Bryan Harsin said in a statement. "These young men have been through a lot this season. COVID protocols required them to be away from their families for most of the season, and they understandably want to go home and be with their families for the holidays. When they return to campus, we will begin preparations for a championship season in 2021."
The Broncos join a sizable contingent of teams electing not to participate in a bowl game this season amid the COVID-19 pandemic, including Pac-12 runner-up University of Southern California, which has reported an increase in positive tests among players and staff in the past week.
San Diego State University, bowl eligible for the 11th consecutive season, elected to withdraw from bowl consideration on Dec. 16.
It has been a trying season for college football in general.
BSU was missing many offensive weapons for the conference championship game and in-game injuries added to the list. The Broncos started the shortened season two months late and had two games canceled due to COVID-19 protocols.
Several players, including quarterback Hank Bachmeier, missed time due to positive COVID-19 tests.
Team captains Khalil Skakir, Avery Williams and Riley Whimpey issued a joint statement to underscore the decision by players.
"This is about a team decision and what the team feels is best for everyone mentally, physically and emotionally," the statement said. "The 2020 season has not been easy, dating back to the summer, the postponement and return of our season and then week-to-week ups and downs dealing with COVID.
"We gave everything we had this season for each other and for Bronco Nation and are proud that we made it to the championship game despite all the challenges we faced. Now, it is time for all of us to get healthy and focus on 2021."
BSU was projected to play in either the Birmingham Bowl or the Armed Forces Bowl. The Birmingham Bowl was among several bowl games eventually canceled due to a lack of teams willing to participate.
Former Helix Charter alum Ezekiel Noa appeared in seven games for Boise State as a redshirt junior middle linebacker this season. He collected 40 tackles (14 unassisted) to go with 4.5 tackles for a loss and one forced fumble.
He logged a season high 12 tackles (three unassisted) and two tackles for a loss with the forced fumble in the MW championship game.
In three seasons with the Broncos spanning 21 games, he has logged 104 tackles (38 unassisted) with 11.5 tackles for a loss, 1.5 sacks and two forced fumbles.
What's next
For those teams that do participate in bowl games to end the season, they will do so in atypical fashion, with week-long festivities canceled and teams treating the game as another road game by flying in the day before the game and leaving afterward.
Also, fans will not be allowed to attend most bowl games.
The Rose Bowl game, scheduled Jan. 1 as one of the national championship semifinal playoff contests, was moved to AT&T Stadium in Arlington, Texas, home of the NFL Dallas Cowboys, on Dec. 19 due to stringent COVID-19 restrictions in California. Because of a master licensing agreement with the city of Pasadena, it was immediately unclear if the 2021 semifinal game would retain the "Rose Bowl" name.
Regardless of what the relocated game will be officially called, the on-field participants are set: No. 1 Alabama (11-0) versus No. 4 Notre Dame (10-1). The winner of the game in Texas (1 p.m. Pacific Time on ESPN) will meet the winner of the Sugar Bowl game in New Orleans, the other semifinal, in the national championship game Jan. 11 in Miami.
No. 2 Clemson (10-1) will meet No. 3 Ohio State (6-0) in the Sugar Bowl (5 p.m. PT on ESPN).
Receiver Chris Olave, who played his sophomore varsity season at Eastlake High School and senior season at Mission Hills High School, has 36 receptions for 528 yards and five touchdowns in five games this season for Ohio State after collecting 849 yards and 12 touchdowns last year.
In three years with the Buckeyes, he has made 97 catches for 1,574 yards and 20 touchdowns.
However, he is among a number of Ohio State players who have recently tested positive for the COVID-19 virus and must go through protocols before he is eligible to return to the team. Team officials said it is possible he would be available for the Jan. 1 Sugar Bowl game.
Olave caught 10 passes for 139 yards and one touchdown in a 52-12 win at Michigan State on Dec. 5 and had two touchdowns in a pair of wins over Rutgers (49-27 on Nov. 7) and Penn State (38-26 on Oct. 31).
He did not play in the Buckeyes' 22-10 win over 14th-ranked Northwestern in last Saturday's Big Ten championship game on Dec. 19.
Olave collected 247 all-purpose yards, including 147 receiving yards on 10 catches with one touchdown, during his sophomore season on the Eastlake varsity team. On defense, he made 11 tackles and had one interception for 16 yards.
He finished his high school career with the Grizzlies in record-breaking fashion by catching 93 passes for a section-record 1,764 yards and 26 touchdowns. He had 12 receptions for 150 yards and one touchdown in the 2017 San Diego Section Open Division championship game, a 26-19 loss to the Helix Highlanders.
Quack, quack
The 25th-ranked University of Oregon Ducks, who posted a 31-24 upset win over the 15th-ranked USC Trojans in the Pac-12 championship game in Los Angeles on Dec. 18, will play No. 10 Iowa State in the PlayStation Fiesta Bowl Jan. 2 in Tempe, Ariz.
Oregon enters the high-profile match-up with a 4-2 record while Iowa State is 8-3.
Mater Dei Catholic alumnus C.J. Verdell missed the conference championship game for the Ducks while recovering from a hand injury. He is expected to be available for the bowl game.
A junior running back, Verdell rushed for 2,399 yards and 36 touchdowns as senior with the Crusaders. He appeared with the Ducks in the 2018 Redbox Bowl and 2020 Rose Bowl.
He has 65 carries for 285 yards with three touchdowns after making a splash last season with 1,220 rushing yards and eight touchdowns. He scored 10 touchdowns as a redshirt freshman while rushing for 1,018 yards.
The Ducks won the 2019 Pac-12 championship as Verdell rushed for 208 yards and scored three touchdowns to earn the game's MVP award.
Climbing the mountain
Nevada-Reno and Hawaii accepted bowl game berths on Dec. 13, prior to the MW championship game.
Nevada-Reno (7-2) defeated the Tulane Green Wave (6-6) by a score of 38-27 in the Famous Idaho Potato Bowl on Dec. 22 while Hawaii (5-4) topped the University of Houston (3-5) by a score of 28-14 in the New Mexico Bowl on Dec. 24.
Due to state guidelines in New Mexico, the New Mexico Bowl game was played in Frisco, Texas.
Both MW teams were making their third consecutive bowl game appearances.
Nevada-Reno has now appeared in 18 bowl games in its history while Hawaii appeared in its 14th bowl game.
Nevada-Reno placed third in the MW regular season standings with a 6-2 record while Hawaii finished fifth in the single 12-team table.
SDSU finished fourth in the standings with a 4-2 conference record but lost a tiebreaker with Hawaii and Nevada-Reno for one of the conference's bowl game tie-ins.
Carson Strong passed for 271 yards and five touchdowns to lead the Wolf Pack past the Green Wave.
Nevada-Reno's 2020 roster included three players with ties to the San Diego region: redshirt junior running back Terrell Johnson (Southwestern College), freshman place-kicker Matthew Killam (Scripps Ranch) and freshman defensive back Marquese Allen-Patmon (Lincoln).
Johnson, who appeared in two games for the Wolf Pack this season, played two seasons with the Jaguars, winning a conference title in 2017 while earning two bowl game victories.
The Jaguars finished 9-2 overall with a 35-14 victory over Allan Hancock in the American Championship Bowl to cap the 2017 season.
Johnson scored on a one-yard run to give SWC a 28-7 lead over visiting Palomar College in the 2018 Beach Bowl. The hosts held on for a 28-24 win.
Johnson finished his Southwestern College career with 247 rushing yards and three touchdowns in 12 game appearances.
"Terrell was great for us the previous two seasons," Southwestern head coach Ed Carberry said. "He backed up DeAndre Daniels (St. Augustine). Tall, hard worker … AA degree. Awesome player."
Killam appeared in three games as a true freshman, accumulating 1,349 yards on 21 kickoffs with one defensive tackle to his credit.
Over the rainbow
Mater Dei Catholic High School alumnus Quentin Frazier collected seven tackles, including one tackle for a loss, in the bowl game win over Houston.
In eight regular season games for the Rainbow Warriors this season, the 2017 MDCHS grad collected 40 tackles, including 24 unassisted tackles and six tackles for a loss, with one sack, two fumble recoveries and two interceptions.
He recorded nine tackles, six solo stops with 2.5 tackles for a loss, and one interception in a Nov. 7 game against New Mexico (a 39-33 win). He had two tackles and an interception (for six yards) in a Nov. 14 game against SDSU, a 34-10 victory for the host Aztecs.
As a two-way player with the Crusaders, he racked up more than 2,000 receiving yards, 20 touchdowns and 11 interceptions. He earned honors as a three-time all-league selection — twice as a defensive back and once as a receiver.
He earned a berth on the All-CIF Defensive Team as a senior in helping lead Mater Dei Catholic to a 13-1 record. Overall, he was part of two CIF championships (2016-17) and one state title (2016).
Spartan pride
San Jose State turned in a superlative season in 2020, moving up to No. 22 in the college football playoff rankings. The team recorded its first undefeated start since 1939, its first undisputed conference championship since 1990 and entered the AP poll for the first time since 2012.
The bowl game victory was the first win by the Spartans over the Broncos in 14 tries. Senior quarterback Nick Starkel (453 passing yards, three touchdowns) earned Offensive MVP honors while junior defensive Cade Hall (two sacks) earned Defensive MVP honors.