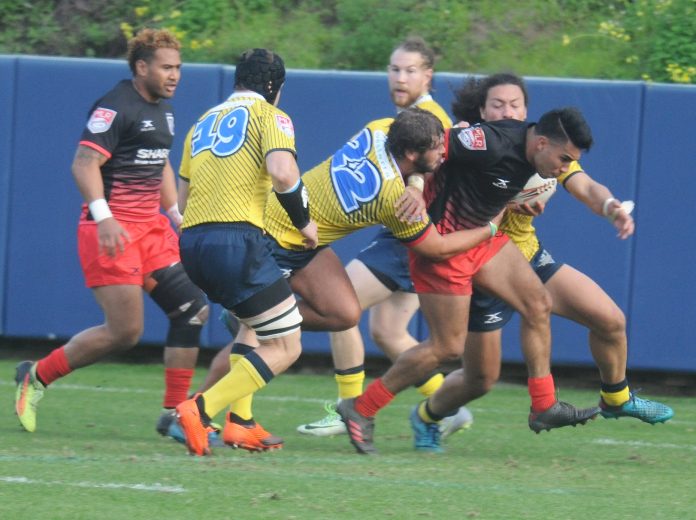 Helix High School alumnus Nick Lupian is once again helping provide local representation on the San Diego Legion professional rugby team.
The Legion is returning for its second season as a member of Major League Rugby. Lupian hopes to have an expanded role with the team after playing a partial rookie season last year.
"I want to help the team any way I can and be the best teammate I can be," explained Lupian, a 2013 Helix and 2018 San Diego State University graduate. "I want to be active in the community and help the game continue to grow and be recognized."
Lupian, a 5-foot-11, 195-pound center, joined the Legion after recovering from an injury sustained at the tail end of SDSU's 2018 season. He made the game day roster for several matches during the Legion's inaugural season but playing time was limited.
That could change this season after receiving ample playing time in last Sunday's exhibition game against the Glendale (Colo.) Raptors, a 38-31 Legion loss in a highly competitive game played at the University of San Diego's Torero Stadium.
The Legion looks to be highly competitive in its second season.
"As a team, we want to represent the city well and be the best we can be," Lupian said. "The championship is something we strive for. We want to go 1-0 each week and continue to grow as a squad."
The Legion finished 5-4 in its inaugural season last year and qualified for the MLR playoffs, losing to the eventual champion Seattle Seawolves, 38-24, in the semifinals.
The Seawolves defeated the Raptors, 23-19 in last year's championship game played at Torero Stadium.
The league, which featured seven teams in 2018, has expanded to nine teams this season and three more teams are set to join for the 2020 campaign.
Each MLR team will play the other twice in 2019 for a total of 16 games — eight home and eight away.
Legion home games are played at USD.
The home opener is Jan. 27 against Rugby United New York, one of two expansion teams this season (the other being the Toronto Arrows, the first Canadian team to join MLR).
The Legion will host the Seawolves, last year's MLR champion, on Feb. 2.
The MLR season runs through early June, followed by playoffs.
The Legion has announced a roster of 34 players for the upcoming season. Lupian is among a strong contingent of 22 Americans on the squad. Other nations represented on the Legion roster include South Africa, Tonga, Australia, the Philippines and Fiji.
The sport has a definite international appeal, especially among Pacific island nations and the greater British Commonwealth.
The sport is picking up pace in the United States, with rapid growth at the youth level. It is also developing a presence on high school campuses across Southern California.
About two dozen San Diego County high schools are fielding club teams this season, including Granite Hills and Patrick Henry high schools in East County.
Granite Hills is scheduled to host Chula Vista's Mater Dei Catholic in non-league club rugby competition on Saturday, Jan. 19, at 9 a..m at Hilton Head Park in El Cajon.
The Eagles are scheduled to play at Mira Mesa on Jan. 26 and host Point Loma on Feb. 2.
Patrick Henry is scheduled to host La Jolla on Jan. 19 and Westview on Jan. 26 before closing out regular season play at Mater Dei Catholic on Feb. 2.
Playoffs are scheduled Feb. 9 and Feb. 16.
La Jolla won last year's Southern California Rugby Union White Division championship, defeating Orange County power Los Alamitos 41-22, to demonstrate how the sport has begun to solidify itself in San Diego County.
La Jolla remains undefeated this season in a bid to repeat its regional championship.
The Legion features several homegrown San Diego County players on its roster, among them San Diego State alumni.
Lupian, 23, has progressed far in rugby since starting as a freshman at SDSU. His speed and ability to score earned him selection to the USA Collegiate Rugby Under-23s tour to Queensland, Australia, in 2016.
After college Lupian played rugby with Grammar Rec RFC in Auckland, New Zealand. He also has played with the Old Mission Bay Athletic Club (OMBAC) Sevens and with the 2018 Vail Bulldogs Sevens team that won the National Sevens Championship in 2018.
Lupian competed in football, wrestling and track and field, specializing in the pole vault, while attending Helix. He retains ties to his alma mater by currently serving as an academic coach at the La Mesa school.
"I want to be able to expand the possibilities for kids whether it be academics or athletics, whether it's rugby or another sport," he said.
Lupian said he would enjoy the challenge of starting a youth rugby club in the area.
"I'd love to get something started in the southern region of San Diego," he said. "I'd love to see rugby back at Helix."
College rugby
SDSU's 2019 league schedule starts with a home match against ninth-ranked University of Arizona on Jan. 26, followed by road matches at second-ranked Cal on Feb. 2 and UC Santa Barbara on Feb. 9. The Aztecs host UC Davis on Feb. 16, play at fourth-ranked St. Mary's on Feb. 23 and host Santa Clara on March 2.
SDSU, ranked 15th to start the D1-A season, closes out regular season play with games at 12th-ranked Grand Canyon University on March 9, UCLA on March 16 and Cal Poly San Luis Obispo on April 6.
Cal finished runner-up to Georgia' Life University in last year's D1-A national championship game in Santa Clara.