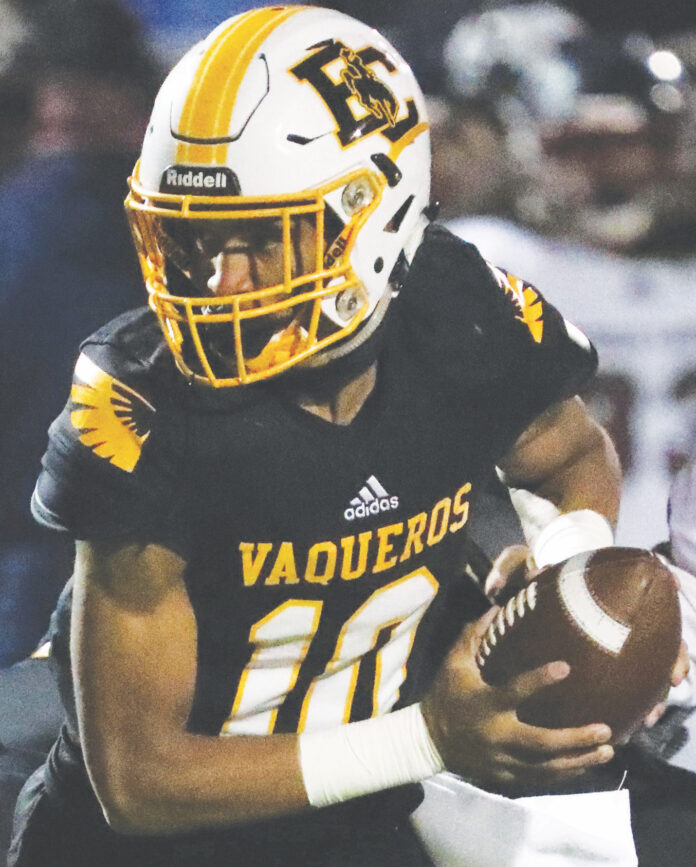 The El Capitan Vaqueros, Santana Sultans and Monte Vista Monarchs all tied for the Grossmont Valley League lead with 3-1 records during the shortened 2021 spring season.
League play kicked off last Friday with El Capitan, Santana and the West Hills Wolf Pack all scoring wins to start the 2021 fall season with 1-0 records.
Santana and West Hills remained undefeated at 5-0 on the season while the Vaqueros are 4-1 in what appears to be an early season three-way race for supremacy.
"The kids play hard all four quarters and keep figuring out ways to win," said Santana coach Tim Estes, whose team recorded a 24-0 shutout victory against the visiting Valhalla Norsemen last Friday.
West Hills coach Casey Ash saw his team reach the midway point of the season with a 35-6 win against visiting Mount Miguel.
Perfect start
Santana quarterback Nick Leger had two rushing touchdowns and one passing touchdown. Ethan Wright had three catches for 90 yards and one touchdown.
Defensively, Logan Jordan had 11 tackles while Dylan Anderson had four tackles and returned an intercepted pass 51 yards to the two-yard line to set up a TD.
David Friedman blocked a field goal to preserve the shutout.
West Hills senior quarterback Braden Oberg (111 passing yards, 32 rushing yards) connected with senior Max Conaway (88 receiving yards) for two touchdowns while rushing for one score.
The Wolf Pack racked up 430 total yards in besting the Matadors (1-2), including 296 rushing yards.
Junior Fredrick Rowbotham collected 112 yards on the ground, including a breakaway 72-yard rushing score to give the hosts the early lead.
Sophomore backup quarterback Collin Dill (five carries, 47 yards) also scored a rushing touchdown.
Junior Tyler Haley tacked on five successful PAT kicks.
Twin terrors
El Capitan racked up 584 all-purpose yards in last Friday's 48-7 victory at El Cajon Valley while scoring seven touchdowns in the game.
Senior twins Savigon and Antwone Yokley once again led by example on the field for the Vaqueros.
Savigon Yokley completed seven of 10 passing attempts for 185 yards with three touchdowns while rushing six times for 63 yards and one score. He compiled 248 yards in total offensive yards to lead all players on the field.
He also had six tackles on defense, caused one fumble and recorded an interception return measuring 56 yards. Not done yet, he punted once for 36 yards.
Antwone Yokley caught four passes for 125 yards and two touchdowns, including one catch measuring 48 yards from his brother.
"It was a tough game with El Cajon coming out strong and determined," El Capitan head coach Ron Burner said. "We, on the other hand, started off slow which led to the 14-7 lead at halftime."
The second half was another tory, however.
The Vaqueros scored a total of four rushing touchdowns, one each by junior Angel Diaz (seven carries, 72 yards), junior backup quarterback Bruce Newland (three carries, 24 yards), senior Andrew Russell and Savigon Yokley.
Diaz also caught one scoring pass for 23 yards.
Junior Dom Denha keyed the winners with eight tackles to earn the team's defensive player of the game award; Diaz was named the team's offensive player of the game.
Sophomore Julian May and Russell both had fumble recoveries. May also amassed 55 kick return yards in the game, including one punt return for 35 yards.
Senior Colton Dietrich was successful on all six extra-point attempts.
Russell scored on a five-yard run while Diaz romped in from 40 yards and Newland scored on a 16-yard run.
Savigon Yokley also passed 34 yards to his brother for a touchdown and rushed five yards for a touchdown of his own.
On the season, Savigon Yokley has accumulated 1,452 total offensive yards through five games in a superlative multi-faceted performance. He has logged 785 passing yards with 12 touchdowns and one interception while rushing for 468 yards and seven touchdowns. He also has six catches for 199 yards and two receiving touchdowns.
On defense, he's registered 15 tackles and one interception while averaging 47.0 yards on 10 punts on special teams.
Antwone Yokley leads the team with 25 catches for 601 yards with nine receiving touchdowns. He's also rushed for eight yards while recording one interception and three passes defended on defense.
There was a price to pay in the victory, however, as senior defensive back Jacob Jones suffered a severe injury late in the first half.
"Unfortunately, we lost our starting corner for the season with a compound fracture just before halftime, so that's another huge blow for us and for him," the El Capitan coach said. "He's our best wrestler as well. so we all feel so bad for him.
"My players and coaches were pretty somber after losing J.J. just before halftime, but we all rallied for him and got the job done."
The Braves (1-4) scored first in the game as senior Daniel Jacobs threw a 14-yard scoring pass to senior Ruben Cosio after Cosio had recovered a fumbled punt at the 17-yard line.
ECV totaled 99 passing yards in the game and 86 rushing yards.
Jacobs completed three of 15 passing attempts for 54 yards with one touchdown and one interception.
Junior Kal-el Gordon rushed 21 times for 87 yards while making two catches for 73 yards to lead the hosts with 160 total yards.
El Capitan has a bye this week before hosting Santana on Oct. 1.
West Hills, which plays at Valhalla this Friday, is ranked fifth among the section's Division III teams while Santana is ranked seventh and El Capitan ranked eighth.
In a bid to improve to 5-0, Santana hosts Mount Miguel on Friday.
East County Prep Football Scoreboard
Friday, Sept. 17
Grossmont Valley League
El Capitan 48, El Cajon Valley7
Santana 24, Valhalla 0
West Hills 35, Mount Miguel 6
Non-League
Granite Hills 35, Otay Ranch 14
Helix 35, St. Augustine 14
Christian 44, Central Union 28
Foothills Christian 18, Hoover 8
Cajon (San Bernardino) 39, Grossmont 7
Lincoln 43, Steele Canyon 10
Imperial 31, Monte Vista 0
Crawford 8, Mountain Empire 0
Friday, Sept. 24
Grossmont Valley League
El Cajon Valley at Monte Vista, 7 p.m.
Mount Miguel at Santana, 7 p.m.
West Hills at Valhalla, 7 p.m.
Non-League
Foothills Christian at O'Farrell Charter, 4 p.m.
Cathedral Catholic at Steele Canyon, 7 p.m.
Grossmont at Mira Mesa, 7 p.m.
Christian at La Jolla, 7 p.m.
Hoover at Mountain Empire, 7 p.m.
Helix at Servite (Anaheim), 7 p.m.
Granite Hills at Walden Grove (Sahuarita, Ariz.), 7 p.m.
Top records: Santana 5-0, West Hills 5-0, Christian 4-1, El Capitan 4-1, Helix 3-1, Granite Hills 3-2
Grossmont Valley League: El Capitan 1-0, Santana 1-0, West Hills 1-0