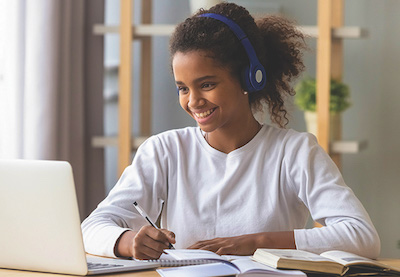 Following a short video on Grossmont High School celebrating its 100th birthday, the Sept. 10 Governing Board meeting quickly moved on to a topic affecting every school in the district: successes and challenges with distance learning in the age of COVID.
Learning and Innovation Director Dan McDowell provided background information on distance learning training completed by teachers over the summer, followed by feedback from a West Hills high school teacher and a Monte Vista high school student on the reality of distance learning from their perspectives.
McDowell said 423 teachers completed over 5,500 hours of distance learning training throughout June and July.
"We also had another 432 teachers trained in Schoology between June and August on how to build screencasts and digital lessons… Every teacher did at least four hours of distance learning training on top of other professional learning; probably every teacher did eight to twelve hours in that first week of August," McDowell said.
Schoology is an online learning management system that the district planned to employ while phasing out use of Google Classroom.
"We were thinking it would take two to three years to get there and we did it in a year," McDowell said.
West Hills high school science teacher Marilyn Cabral was part of the pilot program for Schoology; she used the application throughout the 2019-20 school year.
"I was very fortunate I didn't have to learn it on the fly and translate everything into the digital format. In terms of challenges in distance learning, there are some tech issues like the mic not working. When I have students going out of their comfort zone and unmuting themselves to speak up in class, only to find out we can't really hear them, it's frustrating for me as well as the students," Cabral said.
She also said it can be challenging to grow a social-emotional connection with students through a screen and that building an online classroom requires far more work than usual.
"I'm sure this is true for everyone, students and staff in the district, the workload is ten times larger with online learning so that's been a struggle. I find myself spending way more hours curating and recording myself, grading, giving feedback, way more than I would with the in person model," Cabral said.
However, she said despite those challenges, she's had some great success, that being able to screencast videos opens up time in Zoom classes for her to get to know students and for them to get to know each other.
"Pretty much all I do during our Zooms is student collaborations so the use of the breakout rooms has been really beneficial in terms of distance learning. I definitely scare them when I pop into those rooms but when I do pop in I'm able to hear them talking and they're comfortable unmuting themselves so I think that is a huge step in this whole learning environment that we're all learning together," Cabral said.
McDowell agreed, saying the biggest practical challenge for everyone has been wanting more time to effectively shift everything online. He added that tracking attendance has been challenging, given state-based requirements.
"The state has set up some very strict guidelines on how we should track attendance and participation. We feel like within our system we have the best process with what we can do but it's not easy and I know it's an added burden for our teachers to keep track of that in alignment with what the state is requiring," McDowell said, and observed Zoom is both a blessing and a challenge in tracking attendance and keeping learning equitable.
"I have some teachers who are struggling to get every student into their Zooms or turning on their cameras. That's a mixed situation because there's equity issues— we just don't know what's behind every camera. We try to have that grace and flexibility but when you're looking at a screen with black boxes and a name it's not the same as seeing faces in a classroom," McDowell said.
He also reported teachers saying they're spending ten to 12 hours staring at a computer and "that's tough for anyone".
Monte Vista high schooler and Student Representative Gavin Sagastume said he too feels there is a lack of connection from not being on campus. For him, the issue emerges in his inability to ask questions after class.
"It's a lot harder to ask teachers questions during lectures than just going in on lunch or during advisory period. If you have a specific homework problem you have to ask it in front of the whole class which is kind of embarrassing and there's that stigma that you don't want to waste everyone's time with an easy problem that only you don't understand. It takes a lot of confidence to unmute yourself and talk in front of everyone," Sagastume said.
On the plus side, he appreciates having free time at home, he said, and "the pre-recorded lectures are beneficial because I can stop the video and replay it to understand".
In a follow up call, McDowell said the pre-recorded screencasts are a benefit that will likely remain in use even after a return to campus, now that teachers have that tool at their disposal.
"The one thing we're really missing is that human connection we're so used to," McDowell said.