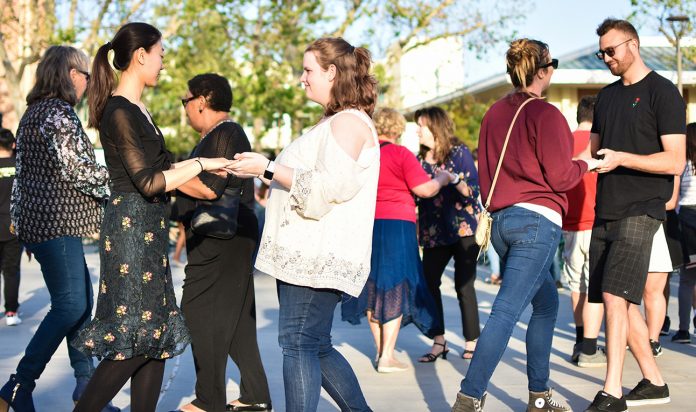 Grossmont College's music department scholarship fundraiser, "Salsa Under the Stars," on April 29 is a great way to practice your best Latin dance moves while reveling in the knowledge of doing a good deed.
Complete with free dance lessons from 6:30-7:30 p.m., the music department's outdoor concert on the Main Quad showcases music instructor and internationally known salsa bandleader, composer and recording artist Manny Cepeda. Also performing will be jazz trumpet player and music department chair Derek Cannon. A recording artist and popular San Diego jazz mainstay, Cannon is also the college's director of Jazz Studies.
After an hour of salsa lessons from Grossmont College Dance Department choreographers, even those cursed with two left feet will be ready to cha-cha the night away.
"This event will allow us to provide assistance to about half of our 50-60 music majors enrolled each semester," Cannon said. "Money raised helps with the $400-$450-per semester cost of private lessons, which students are required to pay out-of-pocket."
Tickets are $20 for general admission and $10 for students, with proceeds going to the Grossmont College Music Scholarship program. College and district employees who bring food or toiletries for Gizmo's Food Pantry can get in with the student discount. The college's Latinx Alliance will sell carne asada and plain nachos, Mexican sweet bread and other desserts, as well as soda, water and coffee. Tickets can be purchased at the Main Quad on the evening of the performance or online.
The event starts with free salsa dance lessons, followed from 7:30-9 p.m. by the 13-piece Manny Cepeda Orchestra, which blends classic salsa with cumbia, Afro-Cuban and World music. In addition to playing original pieces including those from his classic salsa CD, "Padre Querido," Cepeda is adding some Afro-Cuban cover songs, as well as a dash of merengue and bachata sounds. Billed as a guest performer, Cannon will be sharing the stage with Cepeda throughout the night. Also performing in one selection will be Music Department technician and professional guitarist Anthony Cutietta.
"It is a pleasure for all of us to be part of helping our music department students pursue their dreams," Cepeda said.
A regular on the salsa circuit in San Diego for the past 14 years, Cepeda's first salsa album, "Bomba & Plena," debuted in 2014 and has been featured at top clubs and festivals, including Gator by the Bay and the Chula Vista Harbor Fest. Cepeda's orchestra plays a unique fusion of salsa and other rhythms from his past as an enlisted bandleader in the U.S. Navy who traveled the world. Cepeda leads an international group from his native Puerto Rico, where he was raised in a musical family, as well as other band members from Panama, Japan and throughout the United States.
Grossmont College is "Transforming Lives Through Education" and has served the diverse educational needs of San Diego's East County since 1961. With more than 150 certificate and associate degree programs, Grossmont College provides workforce training, career development and transferable college-level coursework to its nearly 19,000 students.
For more information, visit www.Grossmont.edu.