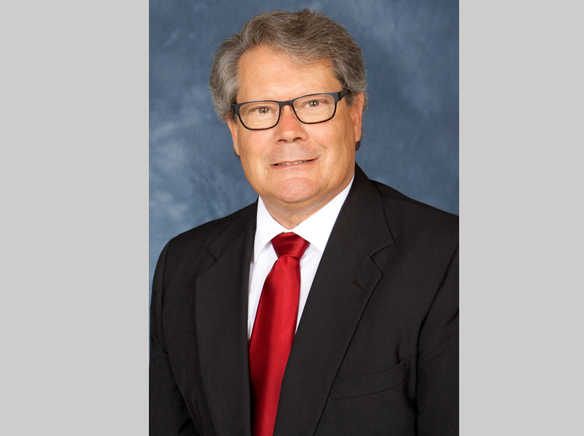 The Grossmont Healthcare District (GHD) recently elected its board officers for the 2017 calendar year.
The Grossmont Healthcare District (GHD) recently elected its board officers for the 2017 calendar year.
Michael Emerson was elected as board president, Gloria Chadwick as vice president and Virginia Hall, GHD's newest board member, as secretary. Board member Robert "Bob" Ayres, previous board president since July 2014, was selected by Emerson to serve as board treasurer. Also serving on the five-member board is Randy Lenac, who also recently joined the board of directors for the Association of California Healthcare Districts as a GHD representative.
"I'm very excited and both honored and privileged as we look ahead and take advantage of opportunities to serve our community," Emerson said, "I have seen firsthand how seriously we take our role of addressing unmet healthcare needs and monitoring the health care services provided under contract at Sharp Grossmont Hospital. Every constituent can feel confident that we are committed to doing our utmost to assure that patients' needs are met and that reasonable expectations are exceeded."
Emerson, who joined the GHD board in 2008, is serving for the first time as board president. Emerson also serves on the Grossmont Hospital Corporation (GHC) board of directors, the legal entity for the hospital lease agreement between Sharp HealthCare and GHD. In addition to serving on the 15-member GHC board, Emerson serves on three GHC committees, including Finance, Facilities and Quality and Safety.
During his time on the GHD board, Emerson spearheaded the partnership between GHD and the County of San Diego's "Live Well San Diego" program. Last year, the GHD board unanimously approved a resolution for GHD's "Live Well San Diego" designation, which is presented by the County only after an applicant demonstrates a commitment to adopting proven strategies that will improve the health and safety of local residents. The partnership signifies that GHD shares in the goals of "Live Well San Diego" to empower residents to take positive actions for their own health, safety and wellbeing through community involvement.
Also while on the board, Emerson initiated the launch of a book, scheduled for publication in 2017, which will chronicle the history of GHD. Founded in 1952, GHD will celebrate its 65-year anniversary in 2017.
Emerson, a registered dispensing optician (RDO) since 1975 and owner of Hart Optical Co. of La Mesa, was appointed to the board in May 2008 to fill a vacancy. The La Mesa resident was then elected in 2008 and reelected in 2012 and last November's election.
Chadwick has served since 1998, when she became the first woman elected to the board in 22 years. In 2000, she became the first woman in GHD history to serve as board president. East County voters have since reelected her four time. A resident of Dehesa Valley, Chadwick retired as a psychiatric nurse after a 44-year career of working in the healthcare profession.
Hall, a retired Registered Nurse, finished first in a field of six candidates in the November 2016 election. A nursing school graduate of Grossmont College (1978), Hall worked in healthcare from 1973 to 2004. Her nursing background includes working in several local hospitals, emergency rooms, clinics and research facilities. In addition, she has participated on research boards, presented at several national nursing conferences and been published in medical publications. Since 2004, Hall has worked in real estate and has been active in the Santee-Lakeside Rotary Club and as 2016 president of the Santee Chamber of Commerce. Her husband Ronn has served as a member of the Santee City Council since 2014.
Ayres, a retired banking executive with 50 years of experience in both public and private-sector banking and construction financing and management, joined the board in September 2010 to fill a vacancy. The El Cajon resident was then elected to two four-year terms in 2012 and last November.
Lenac, a resident of Campo, was appointed to the board in July 2014 to fill a vacancy. He was elected to the board in November 2014. Since 2011, he has served on the board of the Grossmont Hospital Corporation. Lenac has executive management experience in administration, finance and program development and strategy, including a 27-year career in the U.S. Marine Corps.
Formed in 1952 to build and operate Grossmont Hospital, GHD is a public agency that represents more than 500,000 people residing within 750 square miles of San Diego's East County region. GHD now serves as landlord of the hospital's buildings and property on behalf of taxpayers. The hospital is managed and operated by Sharp HealthCare under a lease agreement between GHD and Sharp HealthCare that runs until 2051.
GHD supports health-related community programs and services in San Diego's East County region. Board meetings are regularly held at 7:30 a.m. on the first Monday and third Friday of each month at the GHD Conference Center, 9001 Wakarusa St., La Mesa. The public is invited to attend. For more information, visit www.grossmonthealthcare.org.