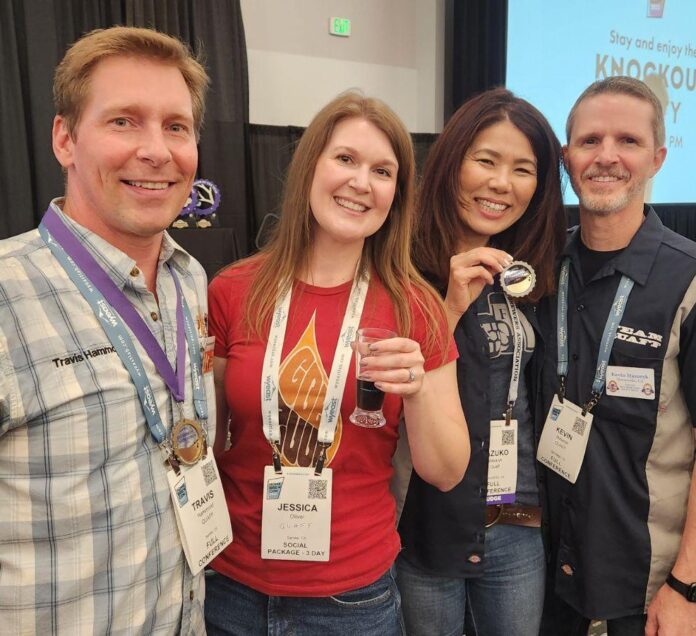 Travis Hammond, a Santee home brewer recently earned a Gold Medal at the 2023 45th National Homebrew Competition at the Town and Country Resort in Mission in Mission Valley.
Hammond won gold in the Spice Mead category out of 49 entries. Hammond is a member of the Quality Ale and Fermentation Fraternity home brewing club, a group of men and women dedicated to the enjoyment and promotion of homebrewing and beer evaluation in the greater San Diego area. Hammond is a two-time QUAFF Homebrewer of the Year, winning the honors in 2010/11 and 2013. San Diego served as the site of Homebrew Con for the third time in the event's history, joining the 2011 and 2015 editions. The three-day conference was put on by the Brewers Association and American Homebrewers Association.
"San Diego County is full of some of the world's best brewers on both professional and amateur levels," said San Diego Brewers Guild Board Member Erik Fowler in a press release. "We are excited to see all the recognition for the amazing beers being made here, whether at a brewery or at home."
San Diego County is known as The Capital of Craft, a moniker as trademarked in 2015. San Diego has the most craft brewery locations among all counties in the United States with more than 150. The Brewers Guild, which organizes Beer Week, is a nonprofit 501(c)(6) organization that promotes local small businesses and entrepreneurs of craft beer via education, events, and community involvement.
The complete list of local winners in 2023:
GOLD
Travis Hammond – Spice Mead category (49 entries)
Brandon Holt (with Kevin Holt) – American Pale Ale category (123 entries)
Robert Knipper – Specialty IPA category (115 entries)
David Moore (with Doug Brown) – Wood-Aged Beer category (103 entries)
Lucas Orr – Strong British Ale category (77 entries)
SILVER
Kevin and Kazuko Masaryk – Specialty IPA category (115 entries)
Scott Rauvola – Seasonal Spiced Beer category (39 entries)
Billy and Theresa Wilks – American Wild Ale (91 entries)
BRONZE
Christopher Johnson – Irish & British Stout category (161 entries)