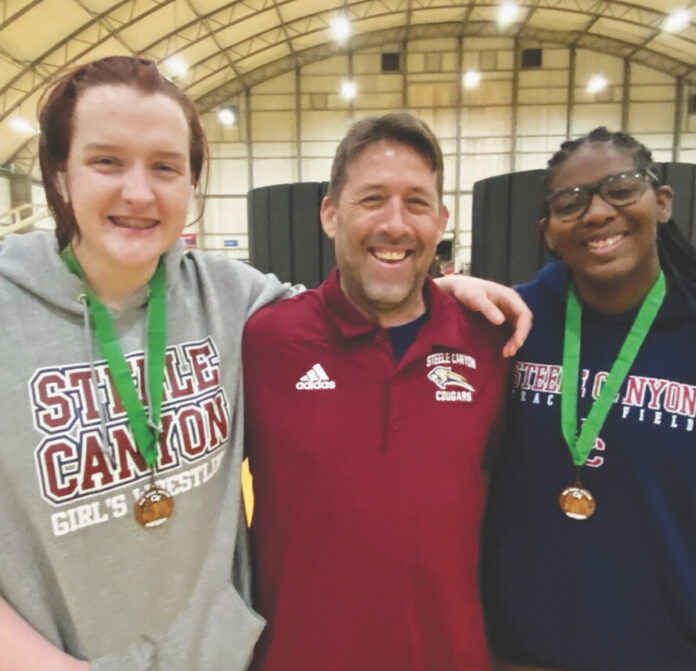 Six East County female wrestlers will make the trek to Bakersfield to compete in this year's state championship meet after scoring top three place-finishes in last Friday's San Diego Section Masters state-qualifying tournament at Alliant University.
The top four place-finishers from both the preceding Division I and Division II finals competed at the Masters event to complete a field that included eight wrestlers in each of 14 weight classes. The top four place-winners in each weight class received medals; the top three place-finishers punched their ticket to advance to the state meet.
This year's East County court of royalty (state qualifiers) includes Grossmont High School's Chloe Tolentino and Kyli Stanley, Mount Miguel's Emma Contreras, West Hills High School's Marina Morales, Steele Canyon's Faith Manis and El Cajon Valley's Valeria Rocha.
Mat maids
Rocha finished first in her 237-pound weight class while Stanley was second at 145 pounds. Tolentino (118 pounds), Contreras (152 pounds), Morales (162 pounds) and Manis (191 pounds) all placed third in their respective weight divisions.
Rocha, the reigning Division II champion, finished 3-0 to snare the gold medal. She scored pins in her opening two matches – 23 seconds against San Marcos' Vivian Saroufin in the quarterfinals and 1:30 against Steele Canyon's Kennedi Jones in the semifinals.
Rocha gained a measure of revenge against Olympian's Angelina Leal, this year's Division I champion, by recording a 5-4 victory on points in the championship match.
Stanley — the champion in her weight class at the Division I finals — wrestled three matches, winning her first two by an 11-1 major decision over Holtville's Hope Jessee in the quarterfinals and by a 2:51 fall against Santana's Samantha Trujillo-Mata in the semifinals.
Stanley advanced to the championship match against Valley Center's Kyrra Young while losing by a pin in 3:12 to place runner-up.
Tolentino — second at the Division I finals — carved out a 3-1 record with three pins – en route to winning her bronze medal. She started off by pinning Imperial's Brianna Mendoza in 55 seconds but lost her next match by a fall in 1:08 against Brawley's Delarie Juarez.
Tolentino righted her ship with consecutive pins to earn a coveted berth in the state tournament. She pinned Point Loma's Eve Norvan in the consolation semifinals in 2:27, then pinned Bonita Vista's Kanoe Lopez-Griggs in 4:57 in the third-place match.
Contreras, the third-place finisher at the Division II finals, finished 3-1 on the day to earn her bronze medal. She opened the tournament by pinning San Ysidro's Andrea Campos in 1:12 but lost her next match by a 3:18 pin to Valley Center's Desiree Jones.
The Lady Matador responded by pinning Brawley's Paola Alcantar in 4:11 in the consolation semifinals before pinning Mira Mesa's Hannah Catungal in the third-place match.
Morales, who placed third at the Division II finals, followed the same path as Contreras. Morales won her first match by a 44-second pin over Olympian's Daia Kawashiro but lost her next match by a 2:54 fall against Valley Center's Iris Diaz.
The West Hills wrestler pinned San Yisdro's Leslie Brenton in 28 seconds to win her consolation semifinal match, then pinned Mt. Carmel's Melanie Hayslip in 46 seconds to claim the bronze medal and secure a trip to the state championship meet.
Morales becomes only the second female wrestler in West Hills school history to qualify for the state tournament. She finished the Masters event with three first-period pins — all less than one minute in duration.
Manis, the Division I champion, finished 3-1 to place third in her weight class. She pinned Brawley's Aleczandria Montemayor in 28 seconds in the quarterfinals but lost by a 2:35 pin against Central Union's Myla Mora in the semifinals.
Manis remained in contention for a state-qualifying berth after defeating Olympian's Sophia Gonzalez by a 13-0 major decision in the consolation semifinals. Manis then pinned Rancho Buena Vista's Kiley McClain in 46 seconds for third place.
Three other East County mat women were in contention for state-qualifying berths before settling for fourth-place medals: West Hills Kayla Lim (123 pounds), Valhalla's Alexa Davis (128 pounds) and Steele Canyon's Jones.
Lim, the Division II champion in her weight class, finished 2-2 with one pin. She narrowly missed qualifying for the state meet after coming up short by a 5-4 score against Ramona's Hannah Gonzalez in the third-place match.
Davis, the second-place finisher at the Division I finals, also finished 2-2 with one pin. She lost by a 7-2 decision to Del Norte's Brianna Busse in the third-place match.
Jones, the silver medalist at the Division I finals, finished 2-2 with two pins. She ended her run after being pinned in 1:25 in the third-place match by Montgomery's Evelynn Coronado.
An impressive total of 48 schools were represented at last Friday's Masters tournament. Grossmont (seventh) was the highest-placing East County team while Steele Canyon finished 11th, West Hills finished 13th, El Cajon Valley finished 15th, Mount Miguel finished 23rd, Valhalla finished 31st and Santana finished 33rd.
Mira Mesa, the Division I runner-up a week earlier, won the team points battle over second place Brawley, the Division II champion, by a narrow three-point margin, 109-106.
The state championship tournament is scheduled Feb. 24-26 and will run simultaneously with the boys finals. The section Masters boys state-qualifying tournament is this weekend, Friday and Saturday, at Christian High School in El Cajon.