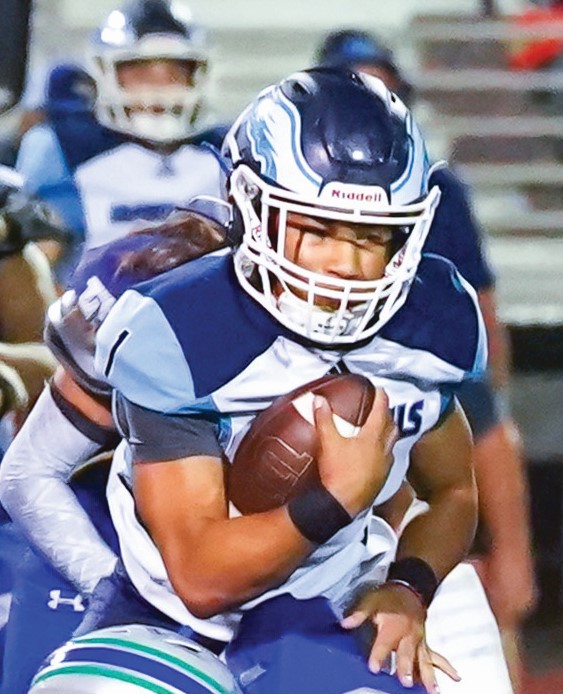 The San Diego Section playoffs are still five weeks away but it's becoming clearer each week that the Granite Hills High School football team has firmly established itself as one of the top teams in the region – and the team to beat for the Division II championship.
The Eagles ventured from their nest last Friday to take on the No. 3-ranked Madison Warhawks. The East County visitors were on the verge of a rankings-scrambling upset with a 12-0 lead late in the game.
But the Warhawks rallied for a 15-12 non-league win to remain undefeated (5-0) on the season.
Granite Hills still showed what it takes to contend for a CIF championship.
Eagles head coach Kellen Cobbs said he believes his team has one of the strongest defenses in the section,
Granite Hills will have the opportunity to put that defense on display when it finally kicks off Grossmont Hills League play Oct. 14 against the visiting Grossmont Foothillers.
The Eagles follow with league games Oct. 21 against visiting Steele Canyon and Oct. 28 at Helix Charter.
Grossmont is currently 0-6 while Steele Canyon is 1-5.
Defending league champion Helix boasts a conference best 5-1 overall record following last Friday's 38-31 non-league victory against visiting Anaheim Servite. Before that, Granite Hills will have one more week of nonleague play to get past before the most exciting part of the season commences. The Eagles are scheduled to host the Christian Patriots on Thursday, Oct. 6. The Patriots are currently 2-3 coming off their bye week.
Granite Hills enters its bye week this week ranked No. 1 among the section's Division II teams, followed closely by No. 2 Mira Mesa (4-1) and No. 3 Mt. Carmel (4-1). Central Union (3-2) is ranked fourth while San Marcos (3-2) in ranked fifth.
Madison entered last Friday's tilt averaging 39.5 points per game. The Eagles defense recorded five sacks and the Granite Hills offense did enough to build a 12-0 lead a few plays into the fourth quarter.
The Eagles led, 6-0, at halftime on field goals of 32 and 25 yards by junior Robert Petrich. Sophomore Pablo Jackson, who collected 77 rushing yards in the game, scored on a 15-yard run in the third quarter to double the lead.
The Warhawks got on the scoreboard in the fourth quarter on a 25-yard run by junior Jaylon Brown. Junior James Tivao scored what proved to be the game-winning touchdown on a two-yard run with 2:36 to play in the game.
The Eagles certainly put up a fight, with Madison stopping Granite Hills on downs on a fourth-and-one play at the Warhawk 13-yard line.
Madison junior Titus Toilolo sealed the win for the host team when he made an interception with 42 seconds to play.
Still the one
The Helix Highlanders remain East County's top-ranked team at No. 4 in the section, as per the latest MaxPreps release.
Helix moved out to a comfortable 28-14 lead over the Friars in the first quarter but had to weather a second-half comeback by the visitors. The Scotties led, 35-21, at halftime but were outscored 10-3 in the second half for the final touchdown margin of victory.
Junior Kevin Allen III rushed for 227 yards and three touchdowns to lead the hosts, who racked up 445 total offensive yards in the non-league matchup. Junior quarterback Ryland Jessee had 110 yards in offense (70 passing, 40 rushing) while junior Jason Sisneros (17 carries, 108 yards) scored two rushing touchdowns.
Junior Josh Hossman-Lees was successful on four extra-point conversions and tacked on a 20-yard field goal.
Senior Adren Parker had one catch for 21 yards.
Junior Jirah Savaiinaea had an interception and fumble recovery on defense.
Helix continues non-league play Oct. 7 at Mission Viejo following a bye week.
"It was a great win for us, especially after last year (a 42-7 loss) — we wanted some redemption," Helix coach Dajama Jones said. "We were opportunistic on defense with a couple turnovers and timely sacks. However, offensively we had our running game rolling and played very well.
"We still have one more nonleague game against Mission Viejo, which is loaded this year, then we get into league play. Since our league is smaller than most. every game is impactful, and we look forward to playing local teams.
"League games are always interesting because of the familiarity with the players and coaches. Hopefully, we continue to play well and roll right into league."