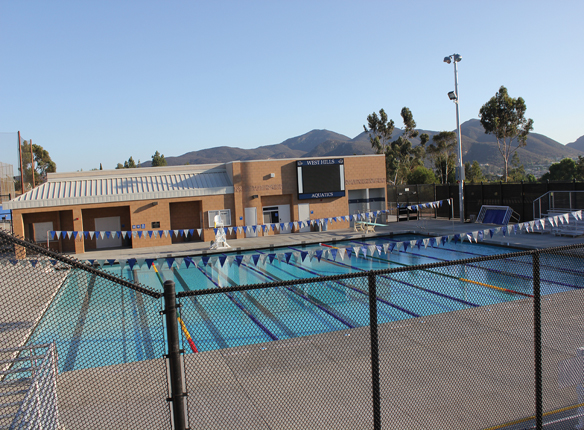 When it comes to sports like water polo, East County high schools have lagged way behind programs in other parts of the county for decades.
"In Lakeside, we're a baseball and football school, along with being an agricultural schools,"said long-time El Capitan high water polo coach Robin Sanchez. "It's been that way for as long as I can remember, so we always have to fight the fight for athletes. But we always get great kids."
When it comes to sports like water polo, East County high schools have lagged way behind programs in other parts of the county for decades.
"In Lakeside, we're a baseball and football school, along with being an agricultural schools,"said long-time El Capitan high water polo coach Robin Sanchez. "It's been that way for as long as I can remember, so we always have to fight the fight for athletes. But we always get great kids."
So Sanchez, who will begin his 25th season with the Vaqueros this school year following five years at El Cajon Valley, has joined many other Grossmont Conference coaches to upgrade their teams with a more fully encompassing summer league program. The league operates at least three nights per week, with open dates available for team practices.
"Schools in the North County have had club programs for years," noted Sanchez. "Having a summer league, too, means we'll have better teams in the long term."
The coaches are quickly making use of the recently opened pool at West Hills High, plus recently approved upgrades to the pool decks at El Capitan, Santana and Monte Vista high schools, to allow both boys and girls programs to take the next step.
And the athletic rewards are equal to those in diamond sports.

"Once you get in the pool and actually play, it's a ton of fun," said Alex Kimari, a junior, who is one of many challengers for varsity berths at West Hills. "We get games in usually three or four times a week, which allows us to get ready for the regular season in the fall."
The extra pool time means more opportunities to improve and fine-tune performances for the team and individuals.
We come here almost every day to practice, working on ball-handling skills and conditioning," added Kamari, who's older sister, Stacy, was a 4-year standout for the Wolf Pack. "You get to know your coaches and even get your team picked before the season even starts, which can be a big advantage — your team is really a team when the season starts."

El Capitan and West Hills are operating a joint club team this summer — known as Cowboy Aquatics — which allows camaraderie between players from both schools.

Meanwhile on the girls side, after 14 years, both Santana and West Hills high schools registered CIF playoff victories for the first time ever this past season. The sport became sanctioned by the CIF San Diego Section in 1997.
Joining the summer league for the first time are newcomers in the Monte Vista girls and a boys team from Mater Dei (Chula Vista), The East County water polo summer league