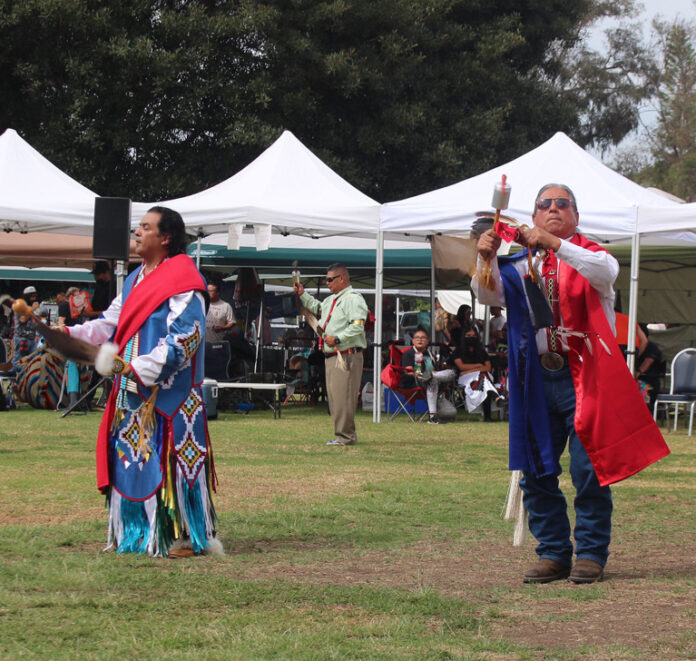 The San Diego American Indian Health Center hosted its annual Pow Wow in Balboa Park Oct. 2-3. The 2020 Pow Wow, which would have been the 32nd annual event from the organization, was canceled last year and people came from all over to participate in this year's iteration of the traditional event.
A circle in which representatives from different tribes performed traditional singing, dancing and drumming served as the center of the event.
Health Center representatives were on hand to give out information on wellness groups, medical and dental programs and behavioral health care and basic wellness checks were performed on site with healthcare providers calmly taking blood pressure readings under the shade of a large tree.
Viejas tribal member Blue Eagle Vigil said the event itself was a form of medicine, a chance to put aside political differences and join together in camaraderie and community.
"We all need each other. We need to come together to get physically, mentally, emotionally healthy and people coming here today— it's a form of medicine, even if they don't know it is medicine," he said.
Dance and song, he said, bring healing.
"Pow Wows are gatherings of American Indian and Alaskan Native nations to celebrate and perpetuate their beautiful traditions of drumming, singing, dancing, prayers, and kinship," San Diego tribal elder Randy Edmonds said.
One gourd dancer said there is a history to the music, that the songs were a way to preserve language and in learning the music, one also learns to respect Native traditions and culture.
While the drumming and singing pulsed throughout the event, vendors sold handmade jewelry, purses and clothing, with items coming from many different areas. Jamul resident Kay Wiltfong had her own homemade purses on display alongside Navajo jewelry, whereas other artisans sold only their own creations, ranging from clay bowls to leather hair accessories.
Resource tables bearing information targeted specifically for the Native community were set up around the perimeter such as the Southern California American Indian Resource Center based out of El Cajon and San Diego State University School of Social Work SERVE program that recruits Indigenous students into Health and Human Services programs.
SERVE Coordinator Tamara Strohauer said she was at the event specifically to draw people in who might be interested in pursuing social work.
"It is very important to have Native social workers serving Native families even as we decolonize the social work curriculum," Strohauer said, and touted the success of Social Worker Shurene Premo from the Newe Numa nation. Primo, seated alongside Strohauer at their information table, participated in the SERVE program and now works directly with Indigenous families.
Southern California American Indian Resource Center also had information available on job training, community grants, and tutorial services for Native children. Although their Southern California office is in El Cajon, they serve Native American families across the entire county.
Nearby the SCAIR information, different representatives were available to explain the Native American Environmental Protection Coalition's Clean Vehicle program, an initiative that provides incentives for Native Americans to purchase electric vehicles in an effort to improve air quality.
The San Diego American Health Center, which sponsored the event, seeks to reduce health disparities in San Diego's Urban American Indian and under-served populations. Visit sdaihc.org for more information.