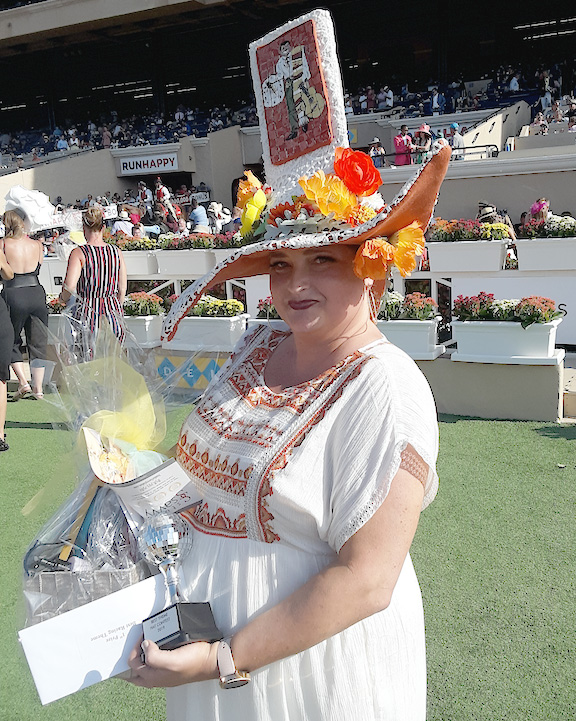 Two years ago, Helix High School graduate Christina Stutz won the grand prize in the hat contest the Del Mar Thoroughbred Club has on Opening Day.
This year, she won the Best Racing Theme portion of the July 17 contest.
"I'm so excited I even made it down here today," Stutz said.
Stutz had a hat which included a replica of the clock tower on the San Diego County Fairgrounds, which leases the premises to the Del Mar Thoroughbred Club for the summer and fall horse racing meets.
The clock tower includes mosaic tiles with fair ambassador Don Diego and was originally built in 1953.
The building on which the tower stood was demolished in 2017, but the clock tower itself was saved and relocated to just outside the main entrance of the fairgrounds.
"It's very sentimental to me," Stutz said.
Stutz was raised in La Mesa. Her father, Richard Perricone, now lives in El Cajon and inspired the design his daughter used for this year's hat contest.
The hat took Stutz approximately 40 to 45 hours to make.
"I made all the tiles, I hand-painted them," she said.  "It's a real millinery piece."
Two years ago, Stutz entered a hat decorated with a woman celebrating after winning at the track. That earned her the grand prize for the 2017 hat contest as well as the Best Racing Theme award.
"I will never be able to beat that," Stutz said.
This year, Capistrano Beach resident Allison Karlstrand won the grand prize as well as the Best Flowers portion.
The 2018 grand prize winner, Spring Valley resident and Monte Vista High School graduate Leslie Monroy, took second place in this year's Best Racing Theme category for her hat with a horse.
Last year Monroy's hat had horses made of lace and took the Most Outrageous title as well as the grand prize.
Stutz has entered the hat contest each year since 2016.
"It's such an amazing event," she said.
This year was Monroy's fourth hat contest competition.