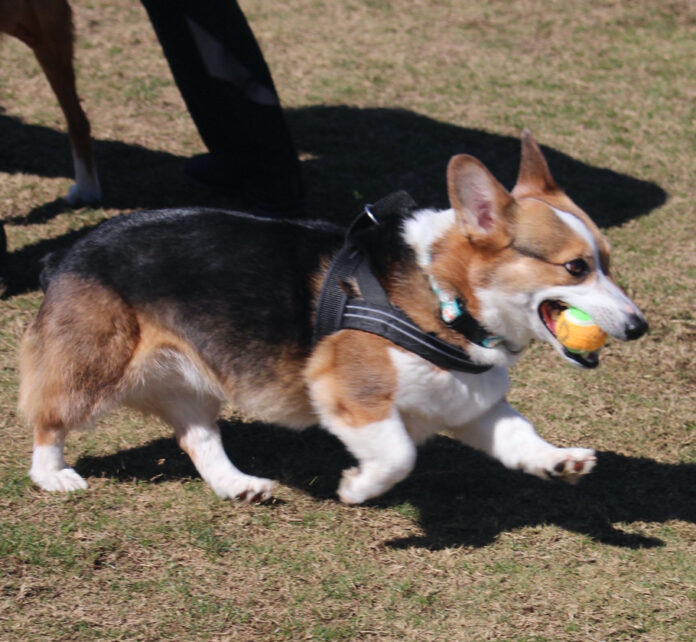 Over 50 vendors, rescue agencies and doggone-dog loving business owners turned up for Fido Fest on Feb. 26 at Santee Town Center park. This iteration of the annual event featuring vendors from across the county was held in Santee with a welcome ceremony that preceded a doggie cake walk, smallest and largest dog contests, a Best Trick competition and hundreds of happy paws running through the Flyball station at top speed.
One end of the festival featured an off leash play area alongside a hay bale mountain where volunteers stashed treats for clever sniffers to find and enjoy throughout the day. Sandwiched between the play area and the mountain, an agility course offered a challenge for trained and untrained dogs alike to jump through hoops and weave through a challenging pathway as fast as possible.
Some dogs, like Peaches the poodle whipped through the course with little difficulty while others like Buck the beagle clearly needed a bit more practice although his laughing owner Elizabeth Russ still rewarded his awkward attempts with a scratch and a treat.
At the other end of the event, a table with baskets full of dog treats, toys and gift cards to places like Camp Bow Wow sat waiting for an opportunity drawing near where attendees could pose for photos in front of a decorated backdrop placed in an ideal location to commemorate their day in the sun alongside their dogs.
Vendors, rescue agencies and dog-related businesses stood in lines between the two ends of the event so people and pooches alike could walk the grass and learn about the various pet-related businesses.
Roczen the dog, named for motocross champion Ken Roczen according to his 10-year old human, stood friendly sentry at FURology Pet Spaw and Retreat and helped promote a 'low stress' experience for pets in need of grooming from a dental cleaning to a deskunking.
A few stalls down, Cookie the chihuahua showed off a colorful sarape and sombrero similar to the wares Miriam Jimenez was selling at her stall: handcrafted leather and woven leashes, brightly-colored sarapes and doggie vests, and a table full of sombreros and other accessories that were all imported from Chiapas, Oaxaca, Guadalajara and other states across Mexico.
Rylie Friar, a 13-year old student at Los Coches Creek middle school during the week sold items from her side business: handmade dog toys and treat jars with a portion of each sale donated to animal shelters. Her table was near the Humane Society booth, Amazing Strays and other rescues who brought dogs in need of a good home to the event for potential adoption.
Fluffy golden retrievers with swishing tales made friends with everybody who passed through the Southern California Golden Retriever Rescue stand- no small feat considering several of the dogs are rescues from Korea and are still learning English. Volunteer Andrea Roth said several of their dogs hale from other countries and have uniquely challenging backgrounds although their most recent hero story is that of Biscuit, a retriever who was left at a veterinarian's office when his owners decided they couldn't afford medical treatment for a rattlesnake bite.
For people seeking a bit of a workout along with their dogs, stand up paddleboard SUP Pups was on hand to promote sessions where people can take to the gentle waters near calm Fiesta Island and other shallow waters in the beach areas with their dog alongside them on a stand up paddleboard. Owner Samantha Eastburn laughed and said her own dog, Jack does not like water but feels safe with her on the water and reassured event attendees who were drawn into the booth that they, too, would do well with their dog. While owners asked curious questions, the dogs hopped atop the paddle board resting in the grass, undeterred and happy to sniff each other's noses by way of introduction.
Labradors and Friends Rescue volunteer Susan Amador told the story of Saynt, a black Labrador Retriever who was transferred to California just before Hurricane Delta hit his home state of Louisiana. Saynt did not appear to have any recollection of his near brush with danger and took the opportunity to show off his primary skills: jumping on command, shaking hands and generally being a well-trained, happy dog in need of a home.
In the center of the event, SD Flyball had set up a space to show off how the game is played: with dogs competing in a raced course where the ultimate goal is to retrieve a tennis ball faster than a canine opponent and earn points for a team of four dogs in total. Several apparently purebred dogs including a Welsh Corgi and a Jack Russell Terrier ran as fast as they could but it was the mutts that drew loud applause as they tore through the course and swiftly delivered a tennis ball back to their owners at the finish line.
"It was rigged," one little boy said, petting a large, gray dog that appeared to be some sort of terrier-bull dog mix.