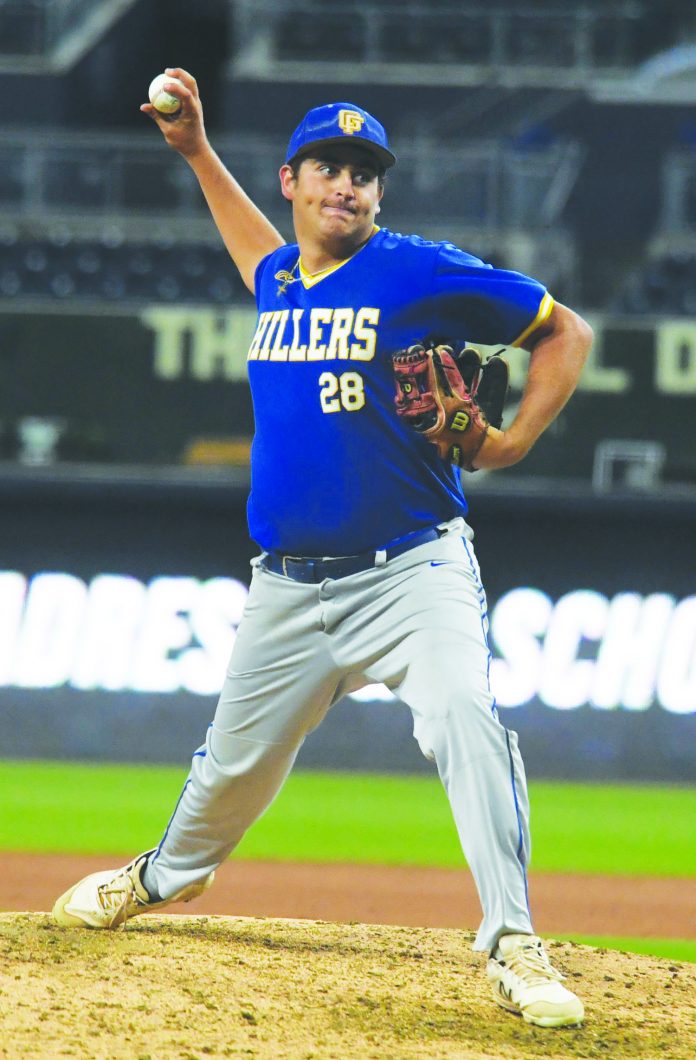 The Open Division playoffs are the highest level for any sports team in which to compete in the San Diego Section. Winning the Open Division championship is thus like being crowned royalty.
The Grossmont High School baseball team has amassed a full royal court of accomplishments over the past eight completed seasons with four Division I championships and one Division I runner-up showing.
The Foothillers won four Division II championships between 2005-08 in a royal flush rampage on the diamond.
The reigning Grossmont Hills League champions had a chance to pull an ace from the deck by advancing to this year's San Diego Section Open Division championship game after earning the No. 3 seed in the division playoffs.
But a crowning Open Division championship will have to wait after the Foothillers came up short in an 8-3 title game loss to eighth-seeded Eastlake, which claimed its third Open Division championship in the past four completed seasons.
"When you can win the highest division, it's a great honor," EHS baseball coach David Gallegos said. "A lot of coaches haven't won one and we have three. We've been blessed with great ballplayers."
Grossmont has been blessed with some very good ballplayers as well and look to continue to knock on the door for an Open Division title in the near future.
Three Foothillers, in fact, participated in the 2021 Padres High School All-Star Game June 24 at Petco Park: senior third baseman-catcher Isaiah Gomez, senior pitcher-outfielder Evan Vasiliou and senior pitcher Jaden Wilcox.
All three players contributed to the East team's 7-5 victory over the West team in front of a gathering of several hundred family members, friends and well-wishers.
Gomez was among eight players who participated in the pre-game home run derby.
Gomez and Vasiliou both scored runs while Vasiliou and Wilcox both took turns on the mound as the East team employed nine pitchers in the game, including five from East County.
Overall, 13 East County players took part in the Padres prep all-star game to underscore the parade of talent from the Grossmont Conference in particular.
Batter up
Grossmont (29-7 overall) finished league play with a 12-3 record in first place, followed by Granite Hills in second place with an 11-4 league record and Steele Canyon in third place with a 10-5 league mark.
Helix finished in fourth place with an 8-7 league record.
Granite Hills (28-10) received the No. 1 seed in the Division I playoffs and battled back through the double-elimination bracket to capture the division championship with a walk-off 3-2 win over second-seeded Point Loma on June 19.
The Eagles would go on to win the Division III Southern California regional championship with a dramatic 6-5 come-from-behind win over Riverside Arlington on June 26.
Steele Canyon (23-12) received the No. 4 seed in the section's Division II playoffs en route to a posting second-place finish following a 16-3 loss to second-seeded Carlsbad (21-9).
The Cougars defeated top-seeded St. Augustine (24-8-1) twice in the section tournament's double-elimination format, winning by scores of 4-1 and 10-3, to advance to the championship game.
Steele Canyon's season wasn't quite finished as the Cougars advanced to the Division IV Southern California regional semifinals.
Granite Hills and Steele Canyon joined Grossmont with three selections each to the 2021 Padres High School All-Star Game.
Around the horn
Despite eventually winning this year's Open Division championship, it wasn't a barrel of laughs this season for Eastlake (25-10).
The Titans, who finished runner-up to Bonita Vista in the Mesa League standings, definitely had their ups and downs, with their downs coming at the most inopportune moments. Of particular note, Eastlake lost three walk-off one-run decisions to the Foothillers this season, including two in tournament championship games.
Putting the three setbacks to Grossmont and the league runner-up finish to Bonita Vista behind them, the Titans embarked on their latest playoff assignment and made it count for everything.
"Nobody thought we could do this, but we believed we could as a team and a staff," Gallegos said.
Eastlake promptly made believers out of skeptics by upending the top-seeded San Marcos Knights, 2-1, in the opening round on June 9.
Senior Ethan Lizama scored the winning run on a throwing error while classmate Ray Cebulski went the distance by allowing just two hits while striking out nine batters.
Eastlake followed with a 10-3 win over fifth-seeded Sage Creek on June 11 to advance to a rematch against San Marcos — winners over fourth-seeded Torrey Pines (4-2) and Sage Creek (7-0) in the challenger bracket — in a fourth-round game on June 15.
The Knights (26-7-1) won 8-4 to force a double-elimination game between the teams on June 17.
"You want to stay in the winners bracket that first week to avoid playing more games later on," Gallegos said. "We played three games that second week. It hurt us but it also helped us because it helped set our pitching for the championship game."
Eastlake eliminated San Marcos, 6-1, in the upper bracket final to advance to meet the Grossmont Hills League champion Foothillers in the standalone championship game.
Final conflict
Grossmont advanced to meet the Titans with three consecutive wins in the lower bracket. The Foothillers bested sixth-seeded La Costa Canyon, 7-5, in the first round, then defeated seventh-seeded Santana, 4-2, in the second round. Grossmont avoided a loss in the fourth round with a 10-2 elimination win over LCC.
Senior Caleb Hommel had a big game in the elimination win over the Mavericks with three hits, including a home run, and four RBI. Senior Justin Brown also homered and collected three RBI in support of winning pitcher Jake Romero (five hits, five strikeouts) in a complete game effort.
Hommel drove in two runs in the win over Santana while senior Evan Vasiliou tossed a complete game victory with six strikeouts.
Grossmont made up a 5-2 deficit in the opener against LCC with five runs in the final two frames. Vasiliou scored two runs while Zamora and senior Isaiah Gomez both had two RBI. Senior Jaden Wilcox, with relief help from Romero, picked up the win.
That brought the teams to a fateful meeting in the division championship game.
The Titans needed to get the monkey off their back when facing the Foothillers for the fourth time this season, and they did.
The Titans struck for two runs in each of the opening two frames to build an early 4-0 lead. A three-run sixth inning explosion separated the teams on the scoreboard.
Sophomore Daniel Mora and senior MLB prospect Marcelo Mayer each stroked doubles while senior Bret Leonhardt hit a home run.
Cebulski pitched 6.1 innings before yielding to sophomore reliever Isaiah Martinez. Cebulski gave up four hits and walked two batters but struck out 10 Foothillers.
Junior Barron Zamora keyed Grossmont (29-6) with two doubles and one RBI while Vasiliou had two hits, including a double, and scored one run.
Vasiliou, who was tagged with the loss, coughed up nine hits and eight runs (four earned) in 5.1 innings. He walked two and struck out six Titans.
"I think our guys wanted revenge," the Eastlake skipper said. "We knew we wouldn't lose. We were ahead in the three other games we had played them. Once we got the lead, the kids knew they (the Foothillers) weren't coming back."
In this case, the fourth time proved to be the charm.
Grossmont's season wasn't quite finished after the Foothillers received the No. 6 seed in the Division I Southern California regional playoffs.
Grossmont, however, was not able to advance past the opening quarterfinal round following a 2-1 loss to third-seeded Orange Lutheran (30-6).
The Foothillers finished one win short of tying the school record for most wins in one season.
Follow the leader
Junior Noah Barnes topped the Foothillers with a .468 hitting average through 30 game appearances. He scored 37 runs, drove in 30, bagged eight doubles, two triples and six home runs while stealing seven bases.
Next up in the hitting department were Hommel (.455) and Gomez (.450). Gomez led the team with 14 home runs while scoring 52 runs (tops on the team) and recording 49 RBI. Hommel, also in 36 game appearances, slammed 11 home runs, scored 33 runs and knocked in 55 runners (tops on the team).
Vasiliou hit .370 in 36 games with 41 runs scored, 25 RBI and 13 extra-base hits. He posted an 11-1 record on the mound with a 1.74 earned-run average and 101 strikeouts in 80.1 innings.
Senior Justin Brown hit .353 in 36 games with 37 runs scored, 33 RBI and eight home runs. Senior Reggie Williams hit .313 in 32 games while Zamora hit .300 in 33 games with five home runs.
Wilcox was 7-3 with one save and a 2.35 ERA. Junior Jake Romero was 5-1 with a 2.44 ERA.
Grossmont hit .343 as a team with 49 home runs, stole 45 bases and posted a 2.57 ERA with 239 strikeouts in 248.1 innings.