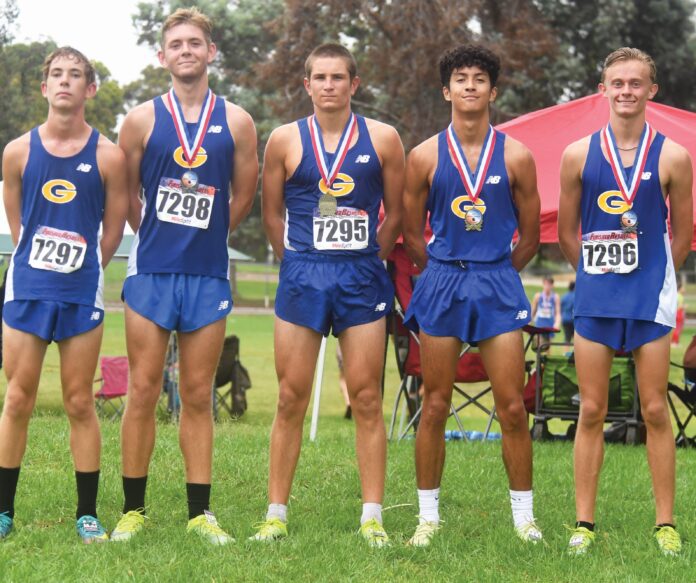 It takes five runners to score in a cross-country meet. Runners are assigned points as they cross the finish line in order … 1, 2, 3, 4, 5 and so on. Points are added up for each team by individual place-finish. The low score wins.
Grossmont High School's boys cross country team solved the equation last year in winning form in capturing the school's first-ever San Diego Section Division II championship.
Seven runners can be entered in a scoring race, with the top five scoring points. With four of last year's top seven runners returning, Foothillers head coach Ross Bartell is optimistic his team can repeat as CIF champions.
"We're trying to win back-to-back championships – that's a goal," Bartell said. "We don't have a solid fifth scorer right now but we're bringing along a couple of sophomores. We're still a work in progress. We're hoping to be ready by November."
Grossmont continues to progress this season after placing third in its division at last Friday's Ian Cumming/Tim Latham Invitational at Rohr Park in Chula Vista. State power St. John Bosco won the Mustangs boys varsity division with 56 points, followed in second place by Scripps Ranch with 75 points. The Foothillers edged Otay Ranch 81-82 to finish third among the 13 scoring teams.
Grossmont senior Russell Blakely finished first among the 86 individuals in the 5K race in 15:28.2 to best Point Loma senior Manuel Correia by 10 seconds at the finish line.
Overall, the Foothillers recorded three of the top six finishers and had four runners place among the top 10 finishers. Senior Ian Rosen finished fourth in 15:56.3 while senior Joshua Edwards was sixth in 16:14.5. Senior team captain Mason Coyle placed 10th in 16:35.2 on the wet course. The Foothillers' fifth scorer, sophomore Jonah Edwards, finished 61st in 19:01.1.
Rosen won a footrace down the final straightaway with Otay Ranch senior Jacob Juden (15:57.7) to provide the necessary extra point to edge the cohost Mustangs for third place. Blakley took the lead at the two-mile mark and added to it.
"I started out pretty easy and picked people off," he said. "I think we did well. But by November we'll do better as a team."
Coyle called the course slippery in parts.
"I didn't do as much summer training but now I'm slowly starting to get back where I was," Rosen said. "I feel we have a chance to repeat. We're close to where we were last year at this point of the season."
It definitely was a meteoric finish last year for the Foothillers. After winning the Division II section title, Grossmont went on to post a ninth-place finish at the ensuing state championship meet. Rosen finished seventh among individuals.
"It was great," Coyle said in reminiscing. "It wasn't our goal at the beginning of the season to win CIF. We wanted to win league and qualify for the state meet. We kind of knew it might be possible after the first couple invitationals. We didn't want to put limits on our ability to run well.
"At state it was nerve-racking. It was a bit intimidating because all the big schools were there. Our goal at state was a top 10 finish after CIF. I was impressed."
East County report
Helix finished ninth with 230 points while West Hills was 13th among scoring teams in the Mustangs boys varsity division. Helix senior Joshua Caneday (17:19.8) finished 20th among individuals in the race while sophomore teammate Joel Nickerson (18:00.1) was 38th. Additionally, Helix junior Jacob Breau placed 46th – one spot ahead of West
Hills' top two scorers: junior Elijah Eisenbach (47th, 18:26.0) and sophomore Daniel Vestemean (48th, 18:26.9).
Point Loma senior Manuel Correia finished second to Grossmont's Blakely with a time of 15:38.4, followed by St. John Bosco junior Aiden Aldana (third, 15:51.1).
San Diego edged Sweetwater, 73-76, to capture the Red Devils boys varsity division title. Mater Dei Catholic was third with 111 points. Mt. Miguel (166 points) and Monte Vista (192 points) finished eighth and ninth, respectively, among the 12 scoring teams.
Francis Parker junior York Bourgeois was the runaway winner in 15:49.5 – about 46 seconds ahead of runner-up Captain
Burnett, a senior from San Diego High. Monte Vista senior Finn McClure finished third in 16:54.0 while Mount Miguel junior Garrett Cloyd was fourth in 17:03.0.
Monte Vista's No. 2 runner in the race was senior Steven Valadez (eighth, 17:23.3) while Mount Miguel's No. 2 finisher in the 92-deep field was junior Dason Hege (14th, 17:58.0).
There was a total of eight races on the day, some of which took place amid a light rain. Two boys junior varsity races stepped off the 919-strong meet, followed by two boys frosh-soph races, two girls varsity races, two boys varsity races and two girls JV races.
Otay Ranch bested Mesa League rival Eastlake by 40 points to win the opening JV Mustangs Division race. Helix placed fifth after Point Loma (third) and Bonita Vista (fourth).
Point Loma junior Toby Feiler (14:55.3) won the 2.5-mile race ahead of Bonita Vista sophomore Alex Calihan (14:57.3).
Helix freshman Tyus Joseph (15:12.0) was the top East County finisher in sixth place in the 84-deep race. Helix teammates Ryan Pierce (16:01.6) and Wyatt Robertson (16:02.3), both sophomores, were 18th and 19th, respectively to make the top 20 cut.
Christian junior Braxton Pingleton won the boys JV Red Devils Division with a time of 16:01.2. He finished 30 seconds ahead of runner-up Ernesto Zepeda, a sophomore from Castle Park, who timed 16:31.3.
West Hills finished fourth as a team in the boys frosh-soph Mustangs Division while Valhalla was fifth and Grossmont was seventh.
Point Loma won the division title by a 30-point margin over Scripps Ranch with the top two individuals in the 2.5-mile race: sophomore Maximus Kelly (first, 14:32.4) and freshman Logan Aldrich (second, 14:45.5).
Valhalla freshman Jaden Tawasha finished sixth in the 132-deep field in 15:07.3 to lead East County runners.
Mt. Miguel sophomore Josh Simon was the top Easat County finisher in the boys frosh-soph Red Devils Division in seventh place in 15:13.
Grossmont junior Suhey Arce was the top East County finisher in the girls varsity Mustangs Division in ninth place with a time of 16:40.2 for 2.5 miles.
Monte Vista junior Samantha Tompkins was the top East County finisher in the Red Devils Division in 18:30.4 in 12th.