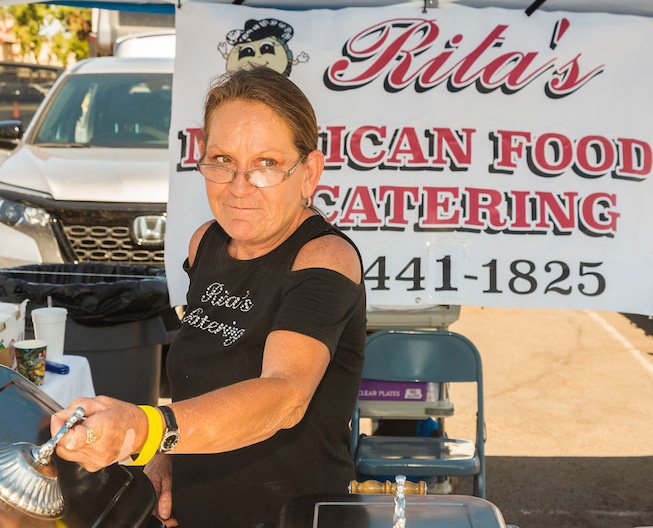 The city of El Cajon is sponsoring the El Cajon Foodie Fest on Saturday, Oct. 9 from 4-8 p.m., a collaboration between the City, the Downtown El Cajon Business Partners, the San Diego East County Chamber of Commerce, and St. Madeline Sophie's Center bringing local restaurants, music, and arts and crafts to the Prescott Promenade in hopes to reignite El Cajon's restaurant and food industry and increasing a presence in downtown El Cajon.
El Cajon Council member Steve Goble brought this conversation up before City Council, especially with the city's inability to hold its annual America on Main Street event.
"The pandemic really hurt our restaurants and caterers more than any other businesses," he said. "They are really hurting, and some are still hurting because they cannot get staff back to work."
Goble said he wanted something to raise the visibility of those restaurants and wanted an event that let the community know that they are open, they are still doing well, and that they want people to try new foods and give them the opportunity to get them in front of the public.
Goble said they are incentivizing restaurants and caterers, using the American Rescue Plan.
"We think that is an appropriate use given the economic hardship they have endured," he said. "So, they are getting $3,000 to participate because we want them to tell people that they are still in business and are ready to serve people. Whether you are a restaurant or a catering company, we really want to help our small businesses."
Goble said the event is outdoors with good ventilation, offering a safe environment, and that they just "want people to come out and have fun."
Director of Parks and Recreation Frank Carson said along with the food, the event will open with music by The Original Starfires, a 60s tribute band at 4 p.m., and closing the festivities with Gary Puckett and the Union Gap at 6:45 p.m., with the collaboration with the Downtown Business Partners.
"The entertainment and arts and crafts will be free," he said. "If you get a pre-ticket. It is $4 for kids, $8 for adults. If we still have them, day of the event costs are $5 for kids, $10 for adults, but tickets are limited to 5,000."
Carson said all ticket proceeds are split up between the Chamber, St. Madeline, and the Downtown Partnership, and that the city will receive no money for this event.
"The money that we are spending on it from the American Rescue Plan goes directly to the restaurants that are showing up, as well as to the partners for assistance coordination," he said.
Carson said it expects up to 40 restaurants and said this is important as this is a very transitional time for everybody.
"It is important for the city to demonstrate through the support of City Council, that we are open for business, and that we want our businesses to thrive," he said. "We are supporting them through this American Rescue Plan, so it is definitely an effort from City Council to reignite our restaurant industry, so they feel supported by their local government."
SDECCOC President and CEO Rick Wilson said the purpose of this event is to help "kickstart" some of these restaurants and food businesses really struggling during the pandemic.
"To find out more information and to purchase presale tickets, visit www.downtownelcajon.com/#foodie-fest/.