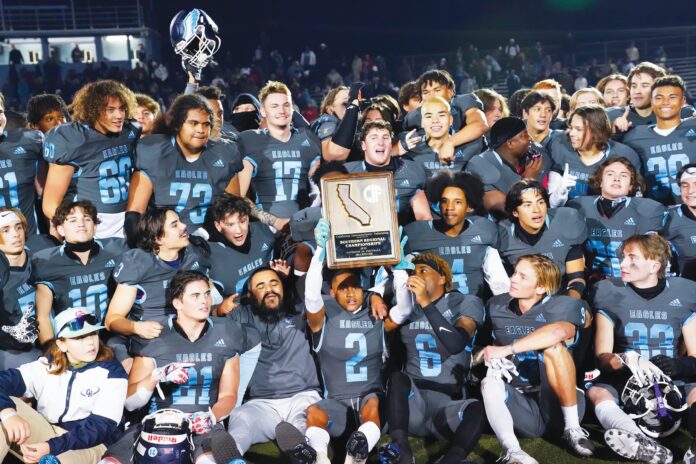 This year's Granite Hills High School football team is certainly one for the record books.
After having never won a San Diego Section divisional championship in school history, the top-seeded Eagles swept through the playoffs to claim this year's Division II title, a first in school history.
Those same Eagles defeated visiting Etiwanda, 41-21, last Saturday to capture the Southern California Division 2-A championship.
And they will play Northern California regional champion San Ramon Valley of Danville in this Saturday's Division 2-A state championship game at Saddleback College.
Granite Hills (12-2) takes an eight-game winning streak into the noon match-up against the Wolves (12-2).
Eagles head coach Kellan Cobbs said it's been "a special run with a great group of kids."
"The defense and run game were really working for us," Cobbs said after the win over Etiwanda. "We had 336 yards on the ground and created five turnovers. Any time we are able to do that we will have success."
Granite Hills did all the scoring in the first half in building a 21-0 lead.
The teams exploded for 27 points in the third quarter with the visitors holding a 14-13 scoring edge to narrow the host Eagles lead to 34-14. Both teams scored one touchdown in the final quarter.
Granite Hills rolled up 416 yards in total offense in the victory with two passing touchdowns and four rushing touchdowns.
Sophomore Isaiah Jackson (12 carries, 104 yards) and senior Zak Darling (eight carries, 91 yards) both scored twice on the ground while senior Parlan Sanders completed four of five passing attempts for 105 yards with scoring strikes to senior Joaquin Thomas Jr. (one catch, 72 yards) and senor Colin Riley (one catch, six yards).
Sanders recorded 157 total offensive yards (52 rushing, 105 passing) to lead the reigning Grossmont Hills League champions in that department while Darling accounted for 115 total offensive yards (91 rushing, 24 receiving).
Junior Jordan Glaze keyed the Granite Hills defense with 10 tackles while three players each recorded eight stops: seniors Derek Ibarra and Easton Peterson and junior Tyler Bertalan.
The Eagles recorded two sacks – one each by junior Damarrion White and senior Bryaden Becker. Granite Hills also had three interceptions in the game – one each by seniors Tyler Black and Daniel Netto and junior Nokoi Maddox , who returned his pick 41 yards. Junior Rowan Hatnes had one fumble recovery. Junior Robert Petrich finished the game with five kicking points.
Thomas averaged 41.3 yards on three punts
On the season, Jackson has rushed for 892 yards with 13 touchdowns while Darling has rushed for 815 yards and 11 touchdowns. Sophomore Maxwell Turner has rushed for 730 yards and 10 touchdowns.
Overall, the Eagles have scored 45 rushing touchdowns and 21 passing touchdowns.
Senior Nico Tomasello has thrown for 1,028 yards and 11 touchdowns while Sanders has passed for 727 yards and eight touchdowns.
Riley tops the team with eight receiving touchdowns while junior Josh Zander has four TD receptions. Jackson leads the team with 1,002 all-purpose yards.
Glaze has 114 tackles to brace the Granite Hills defense while Ibarra has eight sacks. Peterson has eight interceptions.
As a team, the Eagles have 27 interceptions and 16 fumble recoveries.
San Ramon Valley defeated previously undefeated Marin Catholic, 19-17, last Saturday to earn the state championship berth opposite Granite Hills.
Junior John Pau Mendoza had one rushing touchdown while sophomore Owen Scott caught a touchdown pass from junior quarterback Luke Baker. Junior
Austin Shelton recorded seven kicking points with one point-after-touchdown conversion and two field goals.
The Wolves have won seven games in a row.
Going for gold
All six 11-man San Diego Section champions qualified for the state regional playoffs. Besides Granite Hills, Open Division champion Lincoln (12-1), Division I champion Mater Dei Catholic (10-4) and Division V champion Classical Academy (11-3) all won their regional playoff game last weekend to play for state titles this weekend.
Mater Dei Catholic will play for the Division 2-AA state championship for the second consecutive year after shading host Downey, 22-21, in last Friday's regional championship game.
The Crusaders, winners of 10 consecutive games after a 0-4 start to the season, will match up with Oakland McClymonds (12-1) in the state final Friday at 4 p.m.
The Metro-Mesa League champions rallied from 14-0 and 21-8 first-half deficits to nip the Vikings at the end.
Lincoln defeated Sierra Canyon, 37-14, last Friday while Classical Academy defeated Lancaster, 34-14, last Friday.
Senior Roderick Robinson rushed for 181 yards and scored four touchdowns to lead the Hornets, who will tackle De La Salle (10-3) in Friday's Division 1-AA state final (8 p.m. kickoff).
Lincoln erupted for 27 points in the third quarter to expand on a narrow 10-7 halftime lead. Robinson is averaging 166.2 rushing yards per game and has scored 33 rushing touchdowns this year.
Classical will play Santa Teresa (9-5) in Saturday's 6-AA championship game.
University City (11-3) lost a high-scoring game, 49-45, last Friday at San Jacinto (13-2) in the Division III regional while Palo Verde Valley (13-2) dropped a 33-7 home game to Muir (9-6) last Friday in Division IV action.
Granite Hills Eagles: A prep football odyssey
Granite Hills High School 2022 Football Schedule
REGULAR SEASON
Non-League
Poway 31, Granite Hills 19
Granite Hills 59, Valhalla 6
Granite Hills 28, Oceanside 0
Granite Hills 38, Eastlake 9
Granite Hills 42, Central Union 7
Madison 15, Granite Hills 12
Granite Hills 41, Christian 3
Grossmont Hills League
Granite Hills 55, Grossmont 0
Granite Hills 34, Steele Canyon 0
Granite Hills 46, Helix 44 (4OT)
SAN DIEGO SECTION
DIVISION II PLAYOFFS
(1) Granite Hills 56, (8) La Jolla 25
(1) Granite Hills 45, (5) Mira Mesa 8
(1) Granite Hills 48, (3) Ramona 12
SOUTHERN CALIFORNIA REGIONALS
Saturday, Dec. 3
Granite Hills 41, Etiwanda 21
DIVISION 2-A STATE CHAMPIONSHIP
Saturday, Dec. 10
Granite Hills (12-2) vs. San Ramon Valley (12-2), noon at Saddleback College