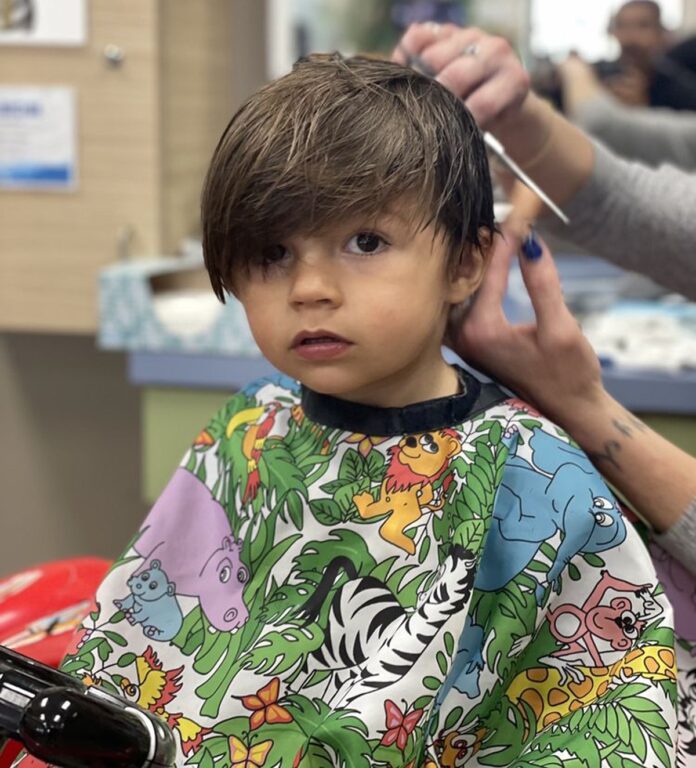 Since 1986, family-owned and operated Kids Hair Salon at Grossmont Center work to ensure children of all ages have a fun experience while getting their haircuts. Kids Hair Salon specializes in first haircuts, children with special needs, and despite its name, serves babies to toddlers, teens, tweens, and mom and dads.
Owner Kristina Norris said when her mother Gina Walker bought the salon 36 years ago, it was attached to a boutique with the salon in the back. She was bookkeeping for the boutique and told the owner she would buy when she wanted to sell, and did, only keeping the salon name, Heavens to Sevens Kids Hair Salon.
"We only had two booths," she said. "She had it for around 24 years and I have had it for the remainder of the time. I come from a sales and marketing background, and she told me that she wanted me to retire while I was on maternity leave. So, I started doing bookkeeping with her. One thing led to another, and I bought it from her."
Norris said she worked hard in getting their ratings up on social media platforms, utilizing her sales and marketing skills, create a logo, and a website.
"We made it through the pandemic," she said.
Norris said that neither she nor her mother have ever cut hair, but manage the salon, which now has 11 stations, but due to the pandemic, right now she only has two hair stylists. Norris said she hopes her ability to hire new stylists will improve as the pandemic continues, hopefully winding down enough to get more employees.
"Nowadays, people looking for jobs, the expectations are so high that it is very hard for us as employers," she said. "Once we had to pay higher wages, it is a trickling effect, so I am trying to hold my own, and I am thinking about going back to the old-school, with only four stations and trying to rebuild up after that."
Norris said though it specializes in kid's haircuts, it also has adult clients, moms, dads, and grandmas. She said her staff are trained to work with special needs children, another specialty for the salon.
"I have had a baby come in that was six days old with tons of hair and my oldest customer is around 80 years old," she said. "I still have one of our original stylists that has been with us for 30 years, which is kind of strange, because she is the last out of the originals as all the others have retired through me. Many people know who Brenda is."
Norris said it is not a normal salon like large beauty salons, but they do bright fun vibrant colors for the kids, and colored hair extensions.
"You can have birthday parties here, princess parties," she said. "I either go to their house and do the party or they can bring the children in, have their hair and nails done. They get crowns. They get to take pictures. That is really fun. I do not have any girls, so that is my girly time getaway."
She said even though the salon has moved about five times at Grossmont Center, they still have the plane. The salon used to be at the old courtyard, but now is located by the Olive Garden. Norris said there is a red plane hanging in the salon that was there when her mother purchased the salon.
For more than 30 years, Kids Hair Salon's Wigs for Kids provides hair replacement systems and support for children who have lost their hair due to chemotherapy, radiation therapy, Alopecia, Trichotillomania, burns, and other medical issues at no cost to children and their families.
Kids Hair Salon is located at 5500 Grossmont Center Drive, #424 in La Mesa.