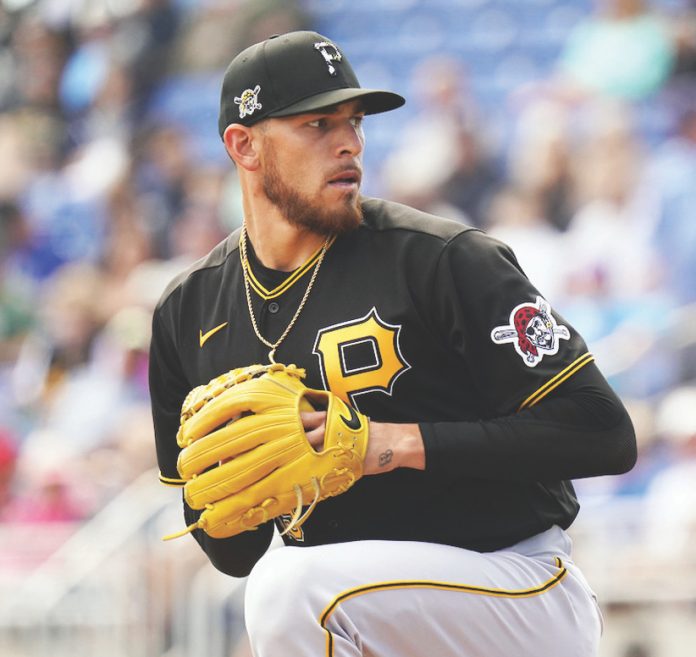 The Pittsburgh Pirates can almost be called Team San Diego with five players from the region on their roster this summer.
Two are from East County: Grossmont High School graduates Joe Musgrove and Steven Brault, both pitchers.
Infielder Phil Evans (La Costa Canyon), pitcher Trevor Williams (Rancho Bernardo) and shortstop Kevin Newman (Poway) all hail from North County.
The Pirates are no stranger to signing or developing talent from America's Finest City.
Former Southwestern College standout and native Chula Vistan John Jaso ended a 10-year Major League Baseball career after retiring in 2017 following a two-year stint in the Steel City.
Jaso, who was inducted into the college's athletic hall of fame in 2018, compiled a career .258 hitting average with 55 home runs and 281 RBI.
Jaso inked a two-year $8 million deal to play in Pittsburgh from 2016-17. He recorded a team first at PNC Park by hitting for the cycle in a game against the Chicago Cubs on Sept. 28, 2016.
The Pirates franchise is steeped in history. Since its formation in 1881, the club has won five World Series championships, nine National League pennants, nine National League East Division titles and has made three appearances in the Wild Card playoff game.
But the Pennsylvania-based team has struggled in recent years. The club eclipsed the 100-loss mark in 2010 with a 57-105 record.
It's been a rocky start for the Pirates in the abbreviated 60-game summer 2020 MLB campaign. The team seems mired at the bottom of the National League Central Division standings with a 14-30 record in 44 games — 12 games behind the division leading Chicago Cubs,
It's been a particularly rocky start for Musgrove.
The 27-year-old Foothiller grad started the season 0-4 with a 6.62 ERA and 21 strikeouts in 17.2 innings. He was 0-3 in three starts with a 6.75 earned-run average with 17 strikeouts in 14.2 innings on the mound.
He enjoyed one of his best outings on the summer in a 5-4 win over the Chicago White Sox on Sept. 8 by pitching four innings of scoreless ball with two walks and five strikeouts.
He did not pick up the win but did lower his ERA to 5.40 while upping his strikeout count to 26 in 21.2 innings.
Brault, 28, is 0-3 in nine game appearances with a 4.73 ERA and 24 strikeouts in 26.2 innings.
Both Grossmont High alums have seen better days with the Pirates, who hope to see better days in the future.
Musgrove, who is in his third year in Pittsburgh after playing two seasons in Houston (winning a World Series championship in 2017), logged an 11-12 record in 2019 with a 4.44 ERA and 157 strikeouts in 170.1 innings. He was 6-9 in his first year with the Pirates in 2018 with a 4.06 ERA and 100 strikeouts in 115.1 innings.
Brault, who is in the midst of his sixth season in Pittsburgh, posted a 6-3 record with a 4.61 ERA and 82 strikeouts in 91.2 innings in 2018. He was 4-6 with a 5.16 ERA and 100 strikeouts in 113.1 innings last season.
He suffered his third consecutive loss this season following a 4-3 setback to the Kansas City Royals on Sept. 11 in which he threw 97 pitches in four innings, yielding five hits, three runs, three walks and four strikeouts.
He said falling behind hitters was a detriment in his latest setback.
"My fastball command wasn't as good early in the game," he told the media after the loss. "It got better as (the game) went on. They did a really good job of fouling balls off and kind of staying in counts and taking pitches.
"I have to get ahead of hitters more, attack. That's something I've got to take to my next outing."
He remains optimistic about the rest of the rapidly-dwindling season.
"Eventually the baseball gods will even it out," he said.
Musgrove said coming out of the bullpen with the Astros helped him gain experience to become a starter with the Pirates.
He was 4-4 with a 4.06 ERA and 55 strikeouts in 62 innings his first year with Houston in 2016. During the Astro's World Series championship season, the former Foothiller compiled a 7-8 record, 4.77 ERA with 98 strikeouts in 109.1 innings.
He appeared in seven postseason games to cap the 2017 season, including four World Series games. In four innings pitched, he allowed three hits and three runs, but threw a scoreless top of the 10th inning in Game 5 against the Los Angeles Dodgers to earn the win on the mound.
The victory kept the momentum going for the Astros, who eventually defeated the Dodgers in seven games.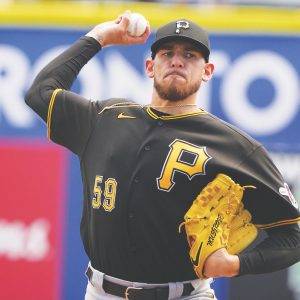 Musgrove said memories of that World Series triumph will stick forever in his mind.
"It's not very often that a player gets to be a part of an organization like the Houston Astros," Musgrove posted on social media. "From top to bottom, this organization treated my family and I with the highest level of respect. I feel so blessed and fortunate to have been able to be a part of a clubhouse that will go down as one of the best teams in history. I now have memories and a World Series ring that I will carry with me for the rest of my life.
"To the fans of Houston … You have shown me a whole new meaning to the word 'family.' What you all did for our team and for the city of Houston during Hurricane Harvey will never be forgotten. The Houston Strong will always have a special place in my heart.
"I am very excited to get to spring and meet my new teammates, and to use the things I've learned and the experience I've gained to help the Pirates build something special."
As for the other San Diego locals on the Pirates roster:
Evans had logged a .359 hitting average with nine RBI in 11 games before being sidelined for the rest of the season following a collision with teammate Gregory Polanco while in foul territory in an Aug. 8 game against the Detroit Tigers in which Evans suffered a concussion and fractured jaw.
Newman had rapped out 30 hits, with one home run and nine RBI in 36 games to go with a .222 hitting average this season while Williams was 1-7 with 42 strikeouts in 45.1 innings to go with a 6.35 ERA.
Around the bases
Steele Canyon alum (and Alpine product) Alex Vesia has appeared in five games for the Miami Marlins this season with a 0-1 record and five strikeouts in 4.1 innings.
The Marlins (23-21) trail the Atlanta Braves (28-19) by 3.5 games in the NL East standings.
El Capitan alum Kevin Ginkel is 0-2 with a 6.75 ERA and 28 strikeouts in 24.1 innings for the Arizona Diamondbacks this summer.
Valhalla grad Greg Garcia has appeared in 29 games for the Padres this season with a .255 hitting average, three doubles and nine RBI.
The Cubs (28-20) lead the St. Louis Cardinals (20-20) by four games in the NL Central standings while the Padres (31-17) have narrowed the Dodgers' lead in the NL west standings to 2.5 games.
The Dodgers (33-14) continue to have the most wins in MLB.
American League division leaders include the Tampa Rays (30-17 in the AL East), Chicago White Sox (30-16 in the AL Central) and Oakland Athletics (29-17 in the AL West).
The White Sox are being chased by the Minnesota Twins (30-18) for the AL Central lead, holding a one-game advantage, while the A's lead the Astros (23-24) by 6.5 games for supremacy in the AL West.
Hiller pride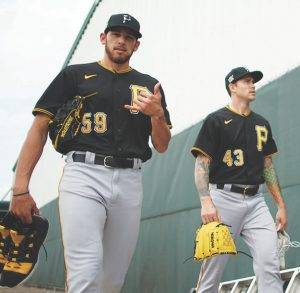 Musgrove, who graduated from Grossmont in 2011, logged 73 games with the Foothillers wth a .386 career hitting average, 70 RBI and 171 strikeouts in 158.2 innings.
Brault, a 2020 GHS grad, appeared in 74 career games with a .369 hitting average, 2.99 ERA and 82 strikeouts in 103 innings.