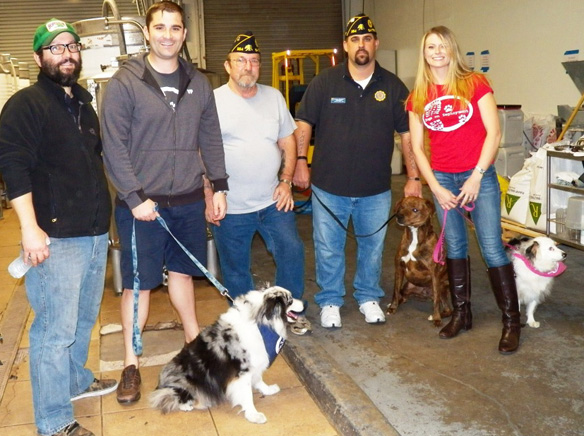 Tails wagged, smiles abounded, and both canine and human tongues were hanging out for attendees anticipating dog treats and free-flowing beers, respectively.
Tails wagged, smiles abounded, and both canine and human tongues were hanging out for attendees anticipating dog treats and free-flowing beers, respectively.
Dogs on Deployment was founded to help ensure responsible care for those pets left behind when their military companions are called to active duty or are incapable, due to service-related injury or homelessness, of providing for their animals. Santee's six-month-old craft nano-brewery Butcher's Brewing hosted Dogs on Deployment's first-ever Beer, Dogs and Veterans Fundraiser on Friday, Nov. 22, collecting donations, which the group dedicates, "for the common love of dog and country."
Alisa and Shawn Johnson are president and vice president of Dogs on Deployment. The married couple co-founded the nonprofit organization three years ago, after they faced the challenge of placing their beloved miniature Australian shepherd, JD, into a temporary home while military orders separated both of them from their pet. Alisa Johnson, 1st Lt., United States Marine Corps, was assigned after commissioning to six months of training in a barracks at Quantico, Virginia. U.S. Navy Lt. Shawn Johnson was called up for deployment. After pricing the cost of professional pet sitting and finding it excessively expensive, they considered themselves fortunate that extended family members then offered to take JD in. Their thoughts turned, however, to other military pet companions who had no one available to step into that void.
Dogs on Deployment provides a website, dogsondeployment.org, as an online resource offering possible linkages between volunteers willing to temporarily board military pets and troops whose animals would otherwise be homeless due to military service, and who can then partner in agreement arranging for a pet to be provided for during the separation.
Also on hand supporting Dogs on Deployment were Legionnaires from Santee's American Legion Post 364. Post Commander Eugene Michonski described how plans were hatched for the fundraiser at the recent Santee Car Show, where his veterans service organization, Dogs on Deployment, and Butcher's Brewing were exhibitors. Butcher's owner-brewmaster Rey Knight recognized brewery regular Shawn Johnson, a member of the Veterans of Foreign Wars Post co-resident with Michonski's Legion Post, and he enlisted their assistance for acquiring volunteers, donors, and greater community awareness for his organization—the result, synergy.
"Once we set that all out, we put the idea together," Michonski said, "For spreading the word and getting members of the American Legion and VFW and volunteers in the community to come on out."
Alisa Johnson said that it is "all about the community." Dogs on Deployment is a national nonprofit offering services not only to active duty and reservists called to deploy, but also to homeless veterans and wounded warriors in hospice care, and is open not only for dogs but also for all companion animals in military families. The organization plans to expand services providing financial aid to military pet owners enduring hardship to help meet expenses. Proceeds from the Butcher's Brewing event will go toward redesign of the website for greater efficiency and stability.
Butcher's Brewing has been in operation since May at the Prospect Avenue site formerly housing Manzanita Brewing Co., which moved to its expanded location.
"Business is good, the community is supportive," said Knight. "We love the locals."