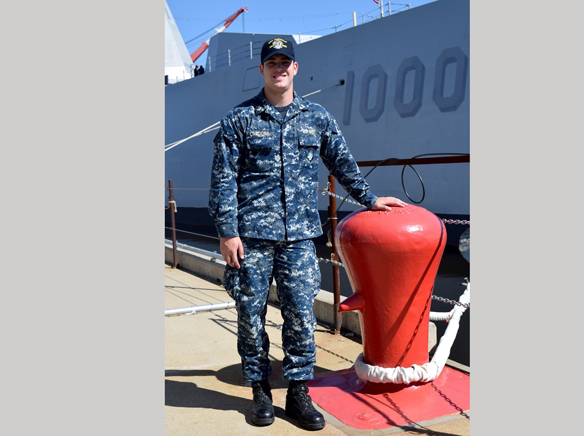 By Bill Steele
U.S. Navy Chief Mass Communication Specialist
A 2010 Granite Hill High School graduate and El Cajon, Calif. native is serving aboard a U.S. Navy destroyer that, while more than 600 feet long, looks as small as a fishing boat to enemy radar.
By Bill Steele
U.S. Navy Chief Mass Communication Specialist
A 2010 Granite Hill High School graduate and El Cajon, Calif. native is serving aboard a U.S. Navy destroyer that, while more than 600 feet long, looks as small as a fishing boat to enemy radar.
Ensign Joe Cardona is an administrative officer aboard the Zumwalt-class guided missile destroyer, USS Zumwalt, currently under construction at a shipyard in Bath, Maine. In addition to his active service in the Navy, Cardona is a long snapper for the New England Patriots of the National Football League.
A Navy administrative officer is a conduit between the ship's chain of command and any administrative work that needs to be disseminated to the crew.
"I'm exposed to a broad spectrum of the ship, different departments, and the work that people do on the ship. I have a broad spectrum view of what's going on that you might not get in a single division," said Cardona.
For the first time in 25 years, there is true competition for control of the seas, Navy officials assert. Zumwalt has been designed to combat the threats of today as well as those of coming decades.
Looking more like a spaceship than a surface ship, Zumwalt has a unique wave-piercing inverted bow that increases speed and stability by cutting through the water. The ship was also built with an innovative design that dramatically reduces its radar signature, giving it the advantage of stealth, something generally associated with military aircraft, and not with Navy destroyers.
As the lead ship of its class, which will ultimately include three ships, Zumwalt has advanced technologies in every area including energy efficiency, main engines, weapons systems, shipboard electronics and sensors. When at sea, the ship will perform a variety of missions including attacking targets on land – it carries cruise missiles and features two advanced gun systems capable of firing long-range projectiles more than 70 miles — hunting and tracking submarines, airspace surveillance and providing support to special operations forces such as U.S. Navy SEALS.
"The sophisticated new technology incorporated aboard this ship, combined with its multi-mission capabilities, will ensure it is a relevant and integral part of our battle force for years to come," said Secretary of the Navy Ray Mabus, prior to the ship's christening ceremony.
That the innovative new ship – indeed, the entire class of ships – is named for Admiral Elmo "Bud" Zumwalt, Jr., is no coincidence, the Navy says. Zumwalt was the Navy's youngest Chief of Naval Operations and one of the most influential sailors of the 20th Century, radically changing the face of the Navy as both a surface warrior and a social reformer.
During World War II, he earned a Bronze Star with Valor for his actions during the Battle of Leyte Gulf. After the war, Zumwalt served at a variety of commands, honing his expertise in surface warfare, including Commander of Naval Forces Vietnam, where he revolutionized the use of riverine forces.
As Chief of Naval Operations, Zumwalt was legendary for his Z-Grams, personal messages and directives sent directly to sailors. Z-Grams ushered in many monumental changes in the fleet, such as benefits for minorities and women, relaxed grooming standards, and better quality of life for the average sailor. Z-66 promoted equal opportunity in the Navy, pushing the Navy forward in a racially divided military.
USS Zumwalt also helps the Navy be greener. It is the first U.S. Navy ship built with an innovative integrated power system, which provides power to virtually all ship's needs, including the main engines, electrical and combat systems and other onboard equipment, according to Navy officials. This allows for significant energy savings and ensures that the ship can be outfitted in the future with high-energy weapons and sensors as they are developed.
"The USS Zumwalt is the most technologically advanced ship in the Navy and the sailors selected for duty are our nation's finest," said Capt. James A. Kirk, Zumwalt's commanding officer. "Just as Admiral Zumwalt helped shape our nation's Navy as Chief of Naval Operations, this ship will lead change in the future surface Navy.
With a crew of more than 150 sailors, jobs are highly specialized and keep each part of the destroyer running smoothly, according to Navy officials. The jobs range from caring for fellow crewmembers to maintaining engines and handling weaponry.
"There's a great deal of pride being the first crew onboard and it's great to be in a position to make the kinds of decisions that will influence this ship for the rest of its service life," said Cardona.
While the ship is undergoing construction, many sailors use this opportunity to improve upon their own personal and professional goals. The crews are highly motivated, and quickly adapt to challenging conditions. It is a busy life of specialized work, watches and drills.
"Military service gives you an appreciation for everything you have in this country, and the long line of sailors who've come before you. I take a great sense of pride in being a part of that. This ship is very unique in the crew setup and it's going to be a learning process for all. There's a great sense of excitement for what's coming next as we move the ship [to San Diego]," Cardona said.