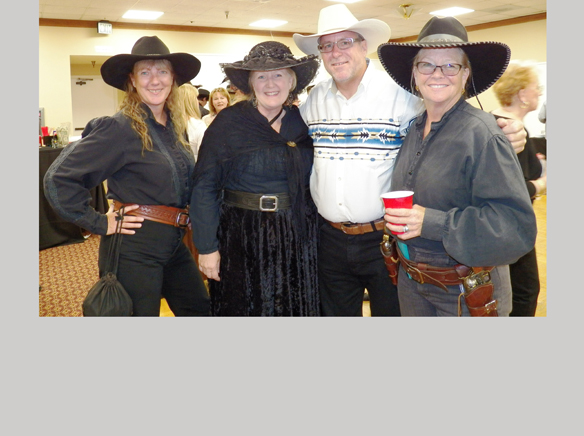 What is no gamble at all? It is when members of the El Cajon Valley Host Lions Club get together with the Winchester Widows. Everyone will have a good time and good things will happen on behalf of local charities.
What is no gamble at all? It is when members of the El Cajon Valley Host Lions Club get together with the Winchester Widows. Everyone will have a good time and good things will happen on behalf of local charities.
Cowboys, saloon gals and other assorted western characters showed up in their best duds and boots, for a casino night of gambling and carousing on June 18—alias Gunsmoke VI, re-creation of an Old West saloon. The event, complete with games of chance, western background music, food and drinks, was intended to raise money for local charitable endeavors. The evening's festivities were hosted by the El Cajon Lions and the Winchester Widows, collaborating for a third consecutive year, this time in the Pacific Southwest Service Center, at 1150 Broadway in El Cajon.
The El Cajon Lions have been staging one such big fundraiser annually. Van Willsey is the local Lions Club's current president and chairman of this year's Gunsmoke, who also co-chaired last year's similar gathering.
"I most enjoy seeing everybody have a good time here," Willsey said. "We typically raise about $15,000, and that allows us to help around 200 students with the Eyeglass Program each year, kids living from El Cajon to Alpine."
What would Willsey like members of the community to know about the El Cajon Lions?
"One hundred percent of the money we raise goes directly to charities. We have no administrative costs that cut into our donations. And we'd like young business people here in East County to consider joining us. This is a great way to help our local communities and meet like-minded people," he said.
Each attendee received "$200" in chips as a gambling stake, for taking a chance at poker, craps and roulette. Luckiest players at night's end could choose in a Chinese raffle among prizes including tickets to next month's All-Star Baseball Game in downtown San Diego, a Phantom 3 Drone Camera, an Amazon Fire tablet, and a beach cruiser bicycle. Attendees could also test their luck at a silent auction and a 50/50 drawing. Sponsorship opportunities were available for those wishing to be donors.
The El Cajon Lions Club's vision assistance projects were slated to receive event proceeds, especially for the Student Eyeglass Program providing eye examinations free of charge to needy East County children and youth, including free glasses for any youngsters who need them. Other Lions charities are Camp Jack offering two weeks of camping for economically disadvantaged youths in East County, and Christmas food baskets given to needy El Cajon families for the December holidays.
The Winchester Widows had chosen two charities for support, including the group's frequent fundraising recipient, the Challenge Ranch, a 10-acre Dehesa Valley ranch that offers programs to assist underprivileged youth ages 7 to 18, through horseback riding and associated activities. New this year was the Winchester Widows' support for Heart and Hooves Therapy, a Ramona-based nonprofit organization dedicated to enhancing the lives of people undergoing trauma and life difficulties through comforting interactions with miniature horses.
Sherry Nichols Allen, this year's vice president for the Winchester Widows, said that she had been impressed when late in 2015 she met Melissa Sargent, CEO and founder of Heart and Hooves Therapy.
"I think this is a wonderful and fun way to give back to the community," Allen said.
The Widows dress in black garb circa 1880 to depict the strength of western women who were often widowed early in life when their men met untimely ends. Allen joined the Widows group three years ago. The Winchester Widows participate in several events throughout each year, including appearances in skits and at several area parades.
"I really love the little kids at parades, especially the city kids," Allen continued. Her 15-year-old horse, Willow, is her appearance companion. "One little brown-eyed seven-year-old boy asked me seriously, is that a real horse?"
Bob Moreau knows a lot about encounters like that. The former police chief of El Cajon, now retired, has been a Lions Club member since 1985, and he served as the group's president in 1990. "I have been at every one of them," he said of the Gunsmoke fundraisers. "I love interacting with the community, and we usually raise between $5,000 and $10,000 here to help out," Moreau stated. Moreau rides his senior-age Palomino, Honey, weekly, and he said that he is looking forward to participating in this year's Mother Goose Parade.
El Cajon Valley Host Lions Club members meet each Monday, except holidays, at noon. Their meeting site is the Renette Park Community Center at 935 Emerald Avenue. More information about the group can be found online at www.ecvlionsclub.com. Women with horses and a sweet, adventurous spirit for volunteering can find contact information about the Winchester Widows at www.winchesterwidows.wix.com/winchesterwidows.