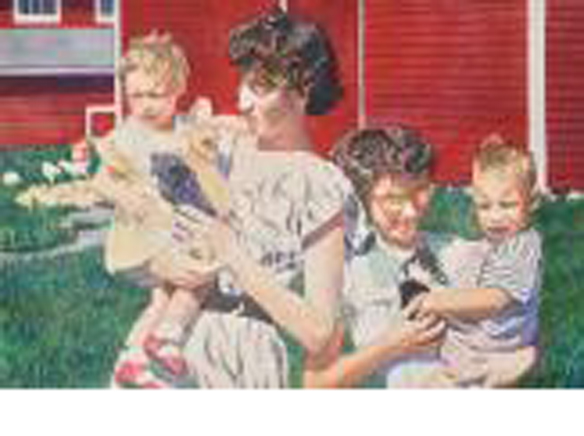 Michael Garberick an artist and resident of El Cajon, won the First Place award in the highly competitive Member's show, "The State of Art", currently at The San Diego Watercolor Society. His painting titled "Too Bright!" was given the honor by award-winning artist and juror, Sean Barrett. According to Barrett, "I value family and you can see that quality in this painting based on an old family photograph. I just really love this painting. The colors and composition are excellent."
Michael Garberick an artist and resident of El Cajon, won the First Place award in the highly competitive Member's show, "The State of Art", currently at The San Diego Watercolor Society. His painting titled "Too Bright!" was given the honor by award-winning artist and juror, Sean Barrett. According to Barrett, "I value family and you can see that quality in this painting based on an old family photograph. I just really love this painting. The colors and composition are excellent."
Michael Garberick is an award-winning San Diego artist who is known for his nostalgic style. His background in graphic design is evident in his mastery of composition of visual art.
The exhibit will continue at the San Diego Watercolor Society's gallery through Saturday, Jan. 27. The gallery is located in The Arts District Liberty Station at 2825 Dewey Road, Bldg 202 and is open Wednesday through Sunday, 10 am to 4 pm. The exhibit is free to the public. Log on to www.sdws.org to see all of the exhibition paintings.
About San Diego Watercolor Society
The San Diego Watercolor Society, a 501(C)(3) non-profit organization founded in 1965, is dedicated to expanding the appreciation of and involvement in watermedia painting through education, exhibition and promotion. SDWS was voted 2nd best Gallery in San Diego by the San Diego A List and was awarded the Gold Medal for Best Gallery in Point Loma by the Peninsula Beacon's People's Choice Award. SDWS presents a new-juried exhibition at its Gallery in the Arts District Liberty Station each month with an Opening Reception on the first Friday of each month from 5-8 p.m. with great original art, refreshments and the companionship of other art enthusiasts. Both the Gallery Exhibition and the Reception are free. More information can be found at www.sdws.org.