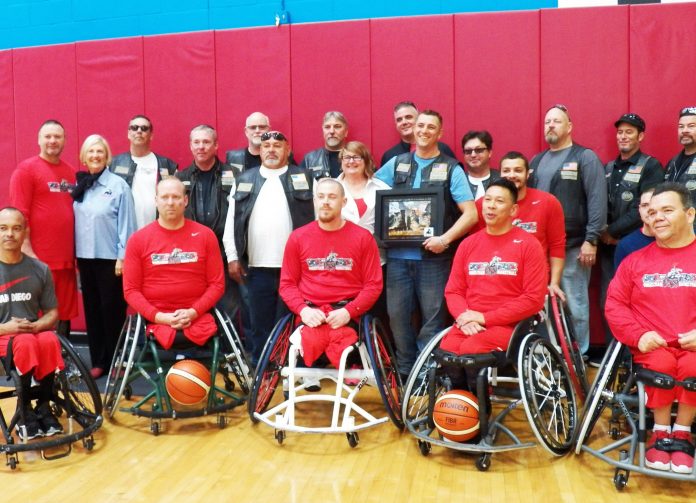 In its second year, the Brad Rich Annual Wheelchair Basketball Tournament more than doubled in size. Players and volunteers represented East County during the three-day series of games.
In its second year, the Brad Rich Annual Wheelchair Basketball Tournament more than doubled in size. Players and volunteers represented East County during the three-day series of games.
Seventeen teams from throughout the country and as far away as Toronto entered in this year's tournament, compared with eight during the competitive event's inaugural year of 2017. The local team Wolfpack, based out of Naval Medical Center San Diego, was among those participating at the largest nationally recognized wheelchair basketball tournament, held Feb. 9-11, in and near Balboa Park. The Wolfpack is supported by the local nonprofit Warrior Foundation Freedom Station, which oversaw staging of the tournament. The Wolfpack is the only national all-military wheelchair basketball team. Members are active duty and veteran service members who have sustained injuries or diagnoses involving amputation, spinal cord damage, and orthopedic or neurological disorders.
Issac Blunt, a Wolfpack player, served in the Marine Corps for four and a half years. Blunt retired in 2013. Blunt started playing with the Wolfpack during 2012 and has been playing continuously with the team since the end of 2016.
During an interview between tournament games, Blunt described his experiences with the Wolfpack and his expectations for success during the competition. Being on the Wolfpack restores the camaraderie of military service, Blunt said.
Sandy Lehmkuhler, president of Warrior Foundation Freedom Station, said, "This gives guys the opportunity of going fast and doing combat again."
She referred to Blunt as the team's "poster boy." Indeed, a photo of Blunt in court action graces the cover of a new informational pamphlet about the San Diego Wolfpack.
"This is a great team," Blunt said. "I have a good feeling about how we are going to do in the tournament."
The team trains year-round, practicing three times weekly. He believes the Wolfpack will return again this year to the National Wheelchair Basketball Association playoffs in Louisville, Kentucky.
Blunt lived in El Cajon before receiving a specially designed, wheelchair-accessible home in Fallbrook from Homes for Our Troops.
Blunt's caregiver and companion, Kami Koplentz, offered the off-court perspective.
"This program brings back mental clarity and passion for the guys," she said. "They are part of a brotherhood again."
For Blunt specifically, she said, "I see how Issac lights up when he comes onto the court to be with the team. For all the guys, this adds structure, discipline and focus. This really improves their quality of life."
Most wheelchair basketball players must pay their own way for flights, hotels and meals while on the road. The Warrior Foundation Freedom Station covers all those Wolfpack expenses. For all participating teams at the Brad Rich tournament, the nonprofit provided each player a gray gym bag filled with water, sports drinks and snacks, as well as game-time towels and a smaller travel bag.
The foundation received organizational assistance with the tournament from the Veterans of Foreign Wars Motorcycle Club riders in San Diego Chapter and Empire Chapter. Bill Jones, Quartermaster at Santee's VFW Post 9327, helped with serving meals and snacks before joining game watchers on Saturday. He said that he was enjoying the tournament as he rooted for the Wolfpack.
Players compete in specially designed basketball wheelchairs, switching out from their "everyday" chairs. Games for the tournament were held simultaneously at the Municipal Gym in Balboa Park and the nearby San Diego City College Basketball Gym.
This San Diego tournament is named in honor of Marine Corps Staff Sergeant Jacob Bradley Rich, who was an inspirational competitor in wheelchair basketball, wheelchair rugby and hand biking marathons after his diagnosis in 2012 with cancer of the spine. Brad Rich died at the age of 28 on May 7, 2015 in his home state of Texas.
The Warrior Foundation Freedom Station also assists injured military service members with pre-separation transitional housing, quality of life items and support services. More information about foundation programs can be acquired online at www.warriorfoundation.com.