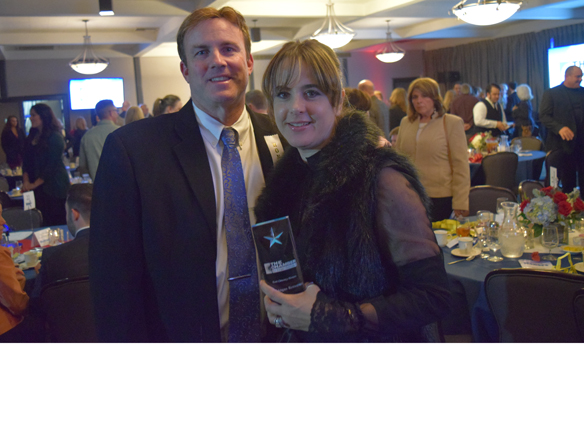 It was an excellent evening for celebrating the best at the San Diego East County Chamber of Commerce's East County Honors Annual Gala Awards on Feb. 16. With a "Top Gun" theme to the evening, the MCAS Miramar Officers Club was a perfect venue for the event that drew hundreds of East County businesses and community leaders to the event.
It was an excellent evening for celebrating the best at the San Diego East County Chamber of Commerce's East County Honors Annual Gala Awards on Feb. 16. With a "Top Gun" theme to the evening, the MCAS Miramar Officers Club was a perfect venue for the event that drew hundreds of East County businesses and community leaders to the event.
2017 Chair Bob Burton said that the SDECCOC is in a great state this year both fiscally and leadership wise and looks forward to working with the Board of Directors that has laid a solid foundation on which to build upon.
"I'm on the long list of chairs of the SDECCOC over the past 100 years," he said. "Tonight is our annual awards gala in which we get to celebrate the accomplishments of 2016 and look at what is coming up in 2017. We have some great awardees and it should be a great and fun night."
Immediate Past-Chair Leah McIvor said that in reflection the Board has raised the bar for its own performance and that the continuing success is due to the work of her colleagues.
"Organizational change is not easy," she said. "There have been processes of internal development and professionalization is an ongoing process. The progress to date, and the progress of tomorrow are in big part to my co-conspirator Dana Rivers. In recent months, our chamber, with the support of all of its membership looked out at new directions. Our president, Eric Lund and his staff are bringing our goals of our strategic plan alive."
This year's 2016 East County Honors Community Services Awardees were honored for their service to the Chamber and its community. With prior knowledge, Foothills Christian Church put together videos of this year's honorees giving them a chance to thank the Board and the community for the honor of receiving these awards.
Ambassador of the Year
Sherral Bearss
Business Volunteer of the Year
Daryl Priest
Business & Education Person of the Year
Jeff Wood
Public Service Person of the Year
Jane Moore
Community Partner of the Year
Kevin Miller
Leadership East County Person of the Year
Rebecca Collier
Without prior knowledge, the 2016 East County Honors Business of the Year awardees stood in tight competition. But celebrations continued as each category's winner was revealed.
Best Restaurant went to Black Angus Restaurant in El Cajon for consistently demonstrating top-notch customer service with more than 60 employees and it commitment to the community in serving complimentary food to local non-profits with "unparalleled service." Also a board member, Black Angus General Manager Randy Young accepted the award.
Diego Valley Public Charter earned the Education Industry Award for serving more than 500 at-risk and dropout youth with a one-on-one approach in personal learning. More than 200 students graduated in 2016, obtaining a diploma that they might not have earned otherwise. It is also involved with many local non-profits, events and meeting in El Cajon and the Chamber.
The Helix Water District, specifically Lake Jennings earned the Entertainment & Recreation Award. A not-for-profit local government agency, it serves more than 270,000 people for the cities of La Mesa, El Cajon, Lemon Grove, parts of Santee and the community of Spring Valley. Its running of Lake Jennings, a go-to spot for many East County residents for outdoor recreation builds a sense of community through nature.
Waste Management took home the Environmental Stewardship Award as the nation's leading environmental solutions provider. It's facility in El Cajon offers the highest level of trash and recycling collection series making it easier to dispose of hard to handle material in a safe environment. For the ninth year in a row, Waste Management was named as one of the world's moth ethical companies. In materials, money and personal time spent of its employees is a stronghold of its support for its local community.
California Coast Credit Union received the Financial Services Industry Award as it values its partnership with its community. In 2016, it staff contributed 1,785 volunteer hours. It provides support to hundreds of non-profit entities and local schools. The Cal Coast Cares Foundation awards scholarships for students and grants for educators.
The largest health care facility in East County, Sharp Grossmont Hospital walked away with the Health Services Industry Award. In 2016, it completed the Central Energy Plant and took the hospital off the SDG&E grid reducing electric bills by approximately $180,000 per month.
Trident Maritime Systems earned the Manufacturing Industry Award. Working with El Cajon Valley High School, its two-year Metal Masters Pathway customized education that included hands-on training, increased post-secondary credentials for students and integrated industry standards and worked based learning into the curriculum with more than 450 hours of staff commitment. Seven students, the first year and 12 the following year took and passed certifications for the specialized marine welding sector, all of which accepted job offers from Trident-USJ.
The new Member Business Award went to American Medical Response. AMR San Diego employs more than 1,200 caregivers and responds to more than 200,000 emergency medical transports each year. Operations Manager Kevin Mercer joined the current SDECCOC Leadership Class.
For its work with youth centers for at-risk teens, and sending hundreds of kids to winter and summer camps each year, Foothills Christian Church earned the Non-Profit Business Award. Foothills also offers free counseling, emergency food and more than $250,000 in Benevolence in 2016 alone. With hundreds of volunteers, more than 30,000 hours were used in reaching out to the military, pregnant mothers, families in need, youth and the homeless.
San Diego Business Supply earned the Professional Services Award for its quality work in the business sector and projects completed for the East County Chamber of Commerce.
the Real Estate & Housing Award went to FBS Property, AMO. It joined a very selective group by earning the highest honor for a management organization and won the 2016 Better Business Bureau Torch Award for Ethics in Business.
Pacific Southwest Association of Realtors earned the Real Estate & Housing Industry Award. It is a leading trade group for San Diego area realtors with more than 2,800 members. It also provides educational training, advocacy and resources to its realtors and affiliate members.
The Retail, Sales & Marketing Industry Award went to House of Magnets that produces low-cost high-quality marketing and business products for independent and small businesses. Its devotion in providing affordable business products and its generous and continuous support to local charities is part of the foundation of its business model.