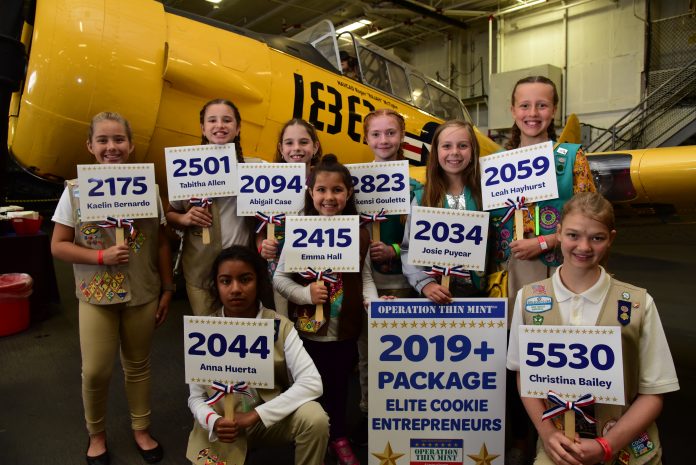 The Girl Scout Cookie season may be over for San Diegans, but for some military troops and veterans, it's still in full swing!
Through Girl Scouts San Diego's Operation Thin Mint (OTM) program, deployed U.S. military troops and local veterans receive "a taste of home and a note to show we care."
Thanks to enterprising local Girl Scouts and generous San Diegans, 165,355 packages of cookies (4,200 more than last year!) and hand-written notes of support are on their way to military personnel stationed in Afghanistan, Japan and northern Africa.
Since OTM's inception in 2002, San Diegans have donated more than 3 million packages of every variety of Girl Scout cookies. Cookies have been distributed to U.S. Army, Navy, Air Force, Marines, National Guard and Coast Guard troops around the world.
East County Girl Scouts supporting OTM included the following "Elite Cookie Entrepreneurs (Girl Scouts who sold at least 2,019 packages of Girl Scout Cookies in 2019): El Cajon residents Tabitha Allen, Leah Hayhurst, Emma Hall; Josie Puyear of Jamul; Lakeside residents McKensi Goulette and Layla Lucore; Anna Huerta of La Mesa; Christina Bailey and Abigail Case of Santee; and Spring Valley resident Kaelin Bernardo. Collectively, the girls secured 1,488 OTM donations.
Christina (at 5,530 packages overall) was the top entrepreneur in the San Diego-Imperial county region. She and the other East County Girl Scouts were among forty-eight Elite Cookie Entrepreneurs who took center stage during Girl Scouts San Diego's 18th annual Operation Thin Mint Sendoff family festival in May aboard the USS Midway Museum.
During the event, attendees saluted the military, congratulated the Elite Cookie Entrepreneurs, and celebrated the "send-off" of Operation Thin Mint Cookies. The gathering featured music, activities hosted by community partners, and opportunities to create thank-you notes for the military and explore the museum's restored aircraft exhibits. 
Special guests included U.S. Army Staff Sergeant Adrienne Burgess, who received cookies while deployed and Nina de Burgh, the great-great niece of Girl Scouts founder Juliette Gordon Low. De Burgh is honorary chair of Girl Scouts San Diego's upcoming fundraiser, Urban Campout: All that Glitters is Gold, set for Friday, Sept.13.
Through the Girl Scout Cookie Program, Girl Scouts learn key skills that prepare them for future success. Net revenue stays local to fund troop activities, camp, outdoor adventures, programs in science and technology, and the financial assistance that keeps Girl Scouting available and affordable for all.
Girl Scouts is the world's best leadership organization for girls (#BestPlace4Girls). Through programs focused on the outdoors, STEM, life skills, and entrepreneurship, Girl Scouting prepares girls for a lifetime of leadership. For information about joining or volunteering, contact Girl Scouts San Diego Regional Recruitment Specialist Ana Luisa Ponce, 619-610-0715, or aponce@sdgirlscouts.org, or visit www.sdgirlscouts.org.