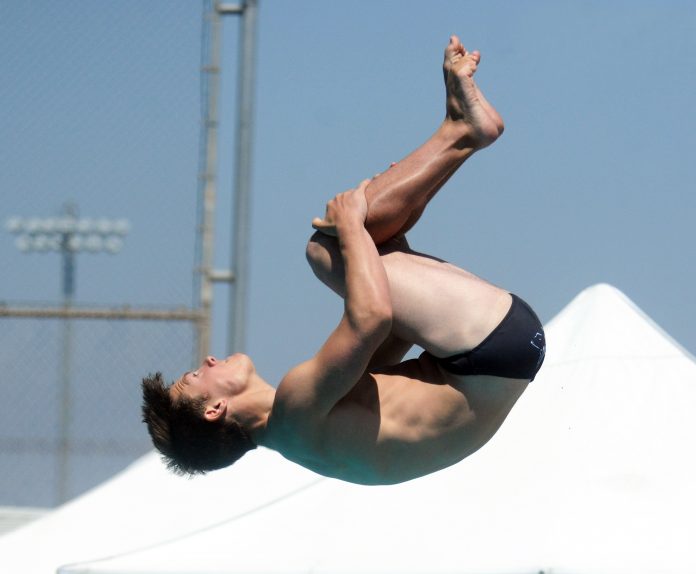 Throughout the decades one thing has been a constant within the San Diego Section aquatics community: East County continues to produce championship divers.
It was no different this year as Granite Hills junior Reece Robles captured the Division I championship and West Hills senior Devin Hunt won his second consecutive Division II title in competition Friday, May 3, at San Diego Mesa College.
Robles spoke about tradition after entering his name in the section record book's annual list of CIF champions.
"This is my third year on the team and I've watched my friends win CIF – Cody Dreesen (Granite Hills) my freshman year and Jack Macceca (Patrick Henry) my sophomore year – so I wanted to continue that tradition," he said.
A quick check of the elite list shows just how dominant East County divers have been in recent years.
Valhalla's Tanner Knorr won four consecutive Division II titles from 2004-2007 while Granite Hills' Kevin Dreesen won Division I titles in 2009 and 2001. Cody Dreesen, Kevin's younger brother, won three consecutive Division I titles from 2015-17. 
Santana's Chase Webster won back-to-back Division II championships in 2013-14 while Christian's Cole Owens won back-to-back Division II titles in 2016-17.
Grossmont's Randin Lambrecht won the Division II title in 2003. Steele Canyon's Ryan Krantz won the Division II title in 2012. Grossmont's Tyler Jewel won the Division I gold medal in 2013.
In fact, Jewel and Webster made it an East County sweep of both division titles in 2013.
Hunt won the 2018 title with 301.30 points in the six-dive program; he eclipsed that this year with his winning total of 315.40 points.
"It's nice to end my senior year as a champion," Hunt said. "I wasn't sure if I'd be able to dive after injuring my foot but my mother encouraged me to compete, and I'm glad I did."
The West Hills diver won by a commanding margin over runner-up Jacob Nelson of Ramona (237.00 points) and third-place finisher Zachary Greene of Point Loma (234.60 points).
"I owe a lot to coach Roland McDonald at the Aztecs Divers San Diego club," Hunt said. "I dove with them for eight months and I improved so much.  I wouldn't have been able to do this without their help."
Robles will be bidding to win his second consecutive CIF diving championship next year after out-pointing this year's Division I field.
Robles used a strong final dive to edge San Pasqual's Jacob Rewa by just 1.5 points to capture the gold medal.
"I was confident I would do well," said Robles, who credited his background in gymnastics as an asset. "I try not to get too stressed out. Having fun is one of my go-to's in a meet, getting on the board and having a smile on my face."
"His dives are executed so gracefully," Granite Hills coach Ron Ortiz noted.
Robles' top score for six dives this season is 303.75 points and 455.35 points for 11 dives.
He scored 252.80 points last year to place fourth and 243.70 for fifth place as a freshman.
He said he would like to continue his diving career in college.
"I like being around my teammates, they push me," Robles said. "It's a lot of fun … seeing yourself evolve and progress is really cool."
Del Norte's Samuel Schneider finished third with 271.05 points while Poway's Thomas Nugent was fourth with 234.10 points.
Valhalla senior Matthew Ramey finished fifth with 211.80 points after placing fifth last year and sixth as a sophomore.
"Today was not one of my best days but I'm still happy with my performance against some really good divers," Ramey said.
The top four divers, regardless of division, earned the right to compete in this weekend's state championship meet at the Clovis Olympic Swim Complex at Clovis West High School. Hunt and Reece, along with Rewa and Schneider, will represent the San Diego Section in the boys program.
Schneider recorded the section's top regular season mark of 472.65 points.
A total of 14 East County divers competed at last Friday's boys finals. The top eight finishers received medals.
Helix had four divers compete in the Division I boys field: sophomore Avery Baker (13th, 192.40 points), freshman John Funk (20th, 168.15 points), sophomore Stone Eastman (21st, 166.35 points) and freshman Miles Ball (28th, 144.15 points).
Baker entered the meet with a high of 174.7 points after placing sixth at the league finals.
Funk's highest point total during the regular season was 189.1 points.
The youthful foursome begs one to watch in upcoming seasons.
In fact, each of the Highlander divers performed at least one dive to applause from the capacity crowd. Eastman executed one of the more graceful dives on the day.
Steele Canyon also had four divers compete in the Division I boys field: Austin Moore (18th, 172.40 points), Mason Turley (19th, 170.25 points), Ty Hunt (27th, 149.80 points) and Joel Arias (30th, 136.25 points).
Granite Hills's Tyler Ervin, a championship mountain bike racer, finished in 24th place in the Division I dive card with 160.35 points.
Santana's Logan Wade finished 12th among Division II divers with 146.20 points while the El Capitan tandem of Dawson Wright (144.00 points) and Jefferson Liddle (134.05 points) finished 13th and 14th, respectively.
A total of 45 boys competed between the two divisions. Overall, 102 divers competed in both gender fields, including 57 in the girls field.
Canyon Crest Academy's Jaye Patrick won the Division I girls title with 318.55 points, followed by San Ysidro's Eva Reyes with 297.40 points.
A pair of Valhalla divers earned medals in the Division I girls field: sophomore Olivia Zamudio finished fifth with 262.15 points while freshman Jordan Alstad was eighth with 208.60 points.
"It's nice to do this against upperclassmen because we're so young," Alstad said. "We both exceeded our expectations. I didn't think I would medal at all."
Granite Hills had two divers compete in the Division I girls field: Alyssa Black (10th, 204.75 points) and Audrey Laskey (19th, 176.40 points).
Steele Canyon's Halle Severson finished 27th with 151.00 points among Division I girls.
Twenty-six girls competed in the Division II finals.
West Hills's Adrienne Riley finished ninth in the Division II girls dive card with190.30 points while Santana's Lexie Caraveo placed 13th with 174.10 points.
El Capitan's Chelsea Schoonderwoerd finished 15th with 166.45 points, followed by Santana's Kimberly Murphy with 164.75 points in 16th place.
Santana's Annie Auer finished 19th with 162.15 points while West Hills's Madison Shelton was 22nd with 153.55 points. El Capitan's Sophia Morton placed 24th with 151.50 points.
The girls state finals start at 8:30 a.m. on Friday, May 10; the boys state finals start at 8:30 a.m. on Saturday, May 11.
For updates, visit the website at www.cifstate.org.