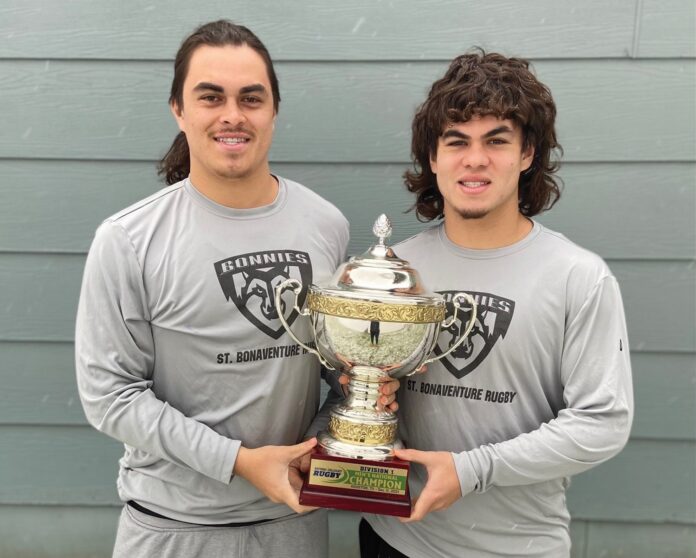 Nikulas (Niku) and Lukas Otineru were both born and raised in East County. The brothers have found success on both the football and rugby playing fields.
After attending Santa Sophia Academy and Hillsdale Middle School, the Otineru boys attended Cathedral Catholic High School and are now at St. Bonaventure University in New York.
Nikulas, a 2019 graduate of Cathedral Catholic, was a member of the Dons' 2016 and 2018 San Diego Section football championship teams, including the 2016 state championship squad. His rugby credentials include a SoCal Rugby Sevens championship with Belmont Shore in 2019 and a National Collegiate Division I rugby championship with St. Bonaventure in 2021.
Lukas, a 2021 Cathedral Catholic grad, won a CIF football championship with the Dons in 2018 and was the Southern California Interscholastic Rugby Federation 2021 Player of the Year after earning all-league select status in 2020.
Nikulas played club rugby for Belmont Shore Rugby Club while Lukas played club rugby for the San Diego Legion Academy.
National Collegiate Rugby was created to in 2007 to support and encourage the development and organization of small college rugby in the United States.
The organization has seen massive growth, which required a re-branding from the National Small College Rugby Organization to its current name in 2020.
National Collegiate Rugby offers both 15s and 7s national championships for men and women.
The top-seeded Bonnies held on to edge No. 2 Penn State, 19-18, in the 15s men's national championship match on Dec. 11 in Houston.
St. Bonaventure defeated Mary Washington, 39-7, on Nov. 20 and Kutztown, 27-15, on Dec. 4 to advance to the national championship game while Penn State defeated Brown and Queens University by a single point in each match to meet the Bonnies.
St. Bonaventure finished its national championship season with a 10-2 record.
The Bonnies started the 2022 spring season with a 41-24 win at Ohio State on Feb. 26.
The Collegiate Rugby Championship Sevens is scheduled May 28 in New Orleans.