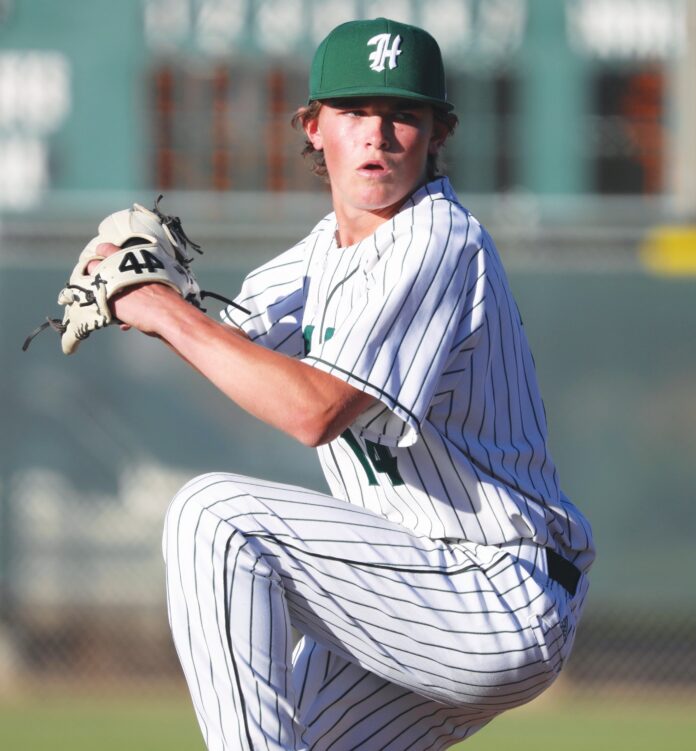 The 71st San Diego Lions tournament, which annually fills dates between Palm Sunday and Easter, treated fans to high-profile high school baseball games this past week on fields throughout San Diego County.
One notable difference this year because of changes in scheduling within the San Diego Section, is that the event is now a four-game tournament. Two brackets are set up between divisions, with the bracket winner advancing directly to the championship game.
There were no semifinal games, as in past years.
Twelve East County and 14 South County high school baseball teams participated in this year's event, which was founded in 1951, thus preceding the formation of the San Diego Section.
Granite Hills and Helix Charter high schools were part of the Dennis Pugh Open Section A division while Santana and Grossmont were part of the Mike Morrow Open Section B division.
Eastlake was part of the John Baumgarten Classic A division while Steele Canyon and Bonita Vista were part of the Les Cassie Classic B division.
Otay Ranch was part of the Dick Serrano Premier A division while Montgomery and Mater Dei Catholic were part of the John Netterblad Premier B division.
Valhalla and West Hills were part of the Mike Luitzi Division 4A division while Monte Vista and Olympian were members of the Bob Hinshaw Division 4 B division.
Mount Miguel, San Ysidro, Foothills Christian and El Capitan were part of the Gaylord Stickney 3A division while Mar Vista and Hilltop were part of the Ray Hummel 3B division.
Chula Vista was part of the Bill Burrows 2B division while Southwest-San Diego and High Tech High Chula Vista were part of the Jim Gordon 1A division.
Sweetwater and Castle Park were both of the Jim Reed 1B division while El Cajon Valley was part of the Bob Merchant 1C division.
Pool play began Monday and wrapped up with championship games on Thursday. The annual Lions tournament is regarded as the fourth best high school baseball tournament in the country and usually tops 120 teams each year.
Many top 25 teams in the nation have played in the tournament. Grossmont and Sweetwater high schools were part of the inaugural eight-team tournament held at the Navy Fields along with La Jolla, Point Loma, San Diego, Hoover, University and St. Augustine.
Out-of-town teams began to attend the tournament in the mid-1980s.
The tournament has produced a slew of players who have gone on to play in Major League Baseball.
Batter up Granite Hills (13-2, 4-0 in Grossmont Hills League play) defeated Sage Creek, 5-1, in Monday's tournament opener as Hudson Beamon drove in a pair of runs with a pair of hits and scored once while Jacob Embleton and Grant MacArthur both plated runs.
MacArthur hit a home run (his eighth of the season) while
Beamon had a triple. Tanner Vielguth fired a complete game two-hitter with seven strikeouts.
Santana improved to 12-3 on the season following Monday's 9-2 win over Las Vegas Desert Oasis. Ethan Wright drove in three runs with four hits, including a double, while Jason Gonzalez, Bowen Sanford and Elijah Reber each collected one RBI. Gonzalez smacked a triple
while Reber scored twice.
The Sultans (3-0 in Grossmont Hills League play) used three pitchers: Ethan Moutaw, Destin Allen-Fox and David Rodriguez.
The latter got the win. The trio allowed four hits, seven walks and struck out seven batters.
Helix improved to 7-7 by defeating Rancho Bernardo, 2-0, on Monday despite producing just one hit. Wyatt Laub got the hit — a two-run home run — to plate both himself and teammate Benjamin Haar in the bottom of the fourth inning.
Haar went the distance on the mound while scattering five hits and striking out seven batsmen. In 13 games, Haar has notched a 0.429 hitting average with 18 hits, 15 runs scored and 22 RBI to go with three doubles, one triple and four home runs.
On the mound, he is 2-2 with a 2.01 earned-run average and 38 strikeouts in 31.1 innings.
El Capitan (2-0 in Grossmont Valley League play) posted a 6-5 win over Bakersfield Christian on Monday to even its record at 8-8. Clayton Brown drove in two runs while Preston McMillin and Jaylin Padilla combined to scatter five hits, Padilla struck out six batters in four innings.
West Hills (2-0 in GVL play) improved to 11-6-1 after Monday's 16-0 win over The Meadows School from Las Vegas.