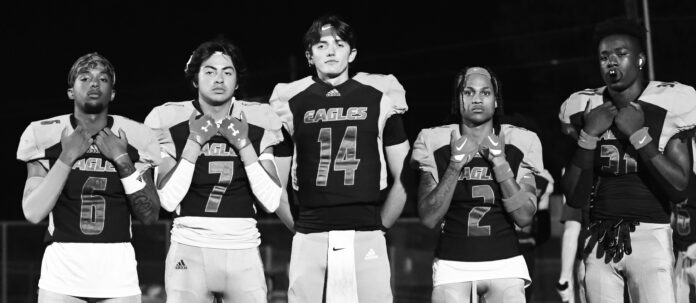 There was an hour-and-a-half delay because of lightning at Granite Hills High School for the non-league clash between the Granite Hills Eagles and Christian Patriots on Oct. 6.
But the weather couldn't stop the first-ever matchup between the teams that share use of the same stadium.
With the lightning moving in the distance over the nearby mountain ranges, the game proceeded with only a few droplets of moisture and ended with a commanding 41-3 win by Granite Hills, officially the home team.
The Eagles scored touchdowns on all three of their possessions in the first quarter to build a 21-0 lead, then added another touchdown in the early moments of the second quarter to boost the lead to 28-0.
Senior Zak Darling opened scoring on a 22-yard run, sophomore Maxwell Turner followed with a three-yard run and senior quarterback Parlan Sanders tacked on a breakaway 54-run through the Christian defense to reach the endzone.
Senior Joaquin Thomas Jr. scored on a pass play to give the Eagles a four-touchdown lead. Senior Easton Peterson scored a
defensive touchdown on a 60-yard interception return while junior Robert Petrich finished as the game's top scorer with 11 kicking points on five extra-point conversions and a pair of field goals.
Christian scored its lone points on a field goal on the last play of the game by Hunter Provience.
Granite Hills scored three rushing touchdowns and one passing touchdown on offense, which collected 310 total yards.
Sanders led the team with 110 total offensive yards (87 passing, 69 rushing). Darling gained 59 yards on six carries while Turner rushed five times for 55 yards.
Sophomore Isaiah Jackson had six carries for 39 yards as the Eagles rolled up 223 rushing yards on the night.
Thomas had two catches for 21 yards while junior Josh Zander had two catches for 20 yards. Jackson had one catch for 16 yards while senior Juan Orozco had one catch for 13 yards. Senior Colin Riley had one catch for 12 yards while senior Davion Green had one catch for six yards.
Sanders and senior Nico Tomasello combined for 87 passing yards. Tomasello completed three of seven attempts for 46 yards while rushing once for five yards.
Thomas and junior Tyler Bertalan shared one sack while junior Nokoi Maddox recorded a pass deflection on defense.
"It's been good," said Granite Hills head coach Kellen Cobbs, who picked up his school record 74th win with the program. "We're coming together defensively and offensively. The run game is coming through. Hopefully, we'll peak at the right time of the season."
The Eagles are definitely looking ahead to better things at the end of the season. Grossmont Hills League play kicks off Friday when Granite Hills hosts the winless Grossmont Foothillers (0-7).
After three games of league play, the Eagles are almost assured a playoff berth among Division II teams. Granite Hills entered this week No. 1 in the division according to rankings posted by the MaxPreps website but are third overall in the rankings that will be used by section officials to seed the playoffs.
The Eagles dropped from Division I to Division II this season.
"At first it was a bit disappointing, but we now have a chance to play for a championship," Cobbs said.
Mira Mesa (5-2) currently owns the No. 1 seed for the Division II playoffs by the section rankings formula while Ramona (4-3) is third.
Twelve teams qualify for the division playoffs. Christian (3-4) is ranked 10th. By the MaxPreps rankings, Mira Mesa is second, Ramona is third and San Marcos (4-3) is fourth.
"We'd like to be seeded No. 1 or No. 2 and have some home games," Cobbs said. "But we might have to pull off an upset or two depending on where we're seeded. The thing about the playoffs is that you have to keep winning no matter where you are in the bracket."
Granite Hills closes out regular season play by hosting Steele Canyon on Oct. 21 and playing a road game at Helix on Oct. 30.
Christian kicks off City Eastern League play this Saturday with a game against Mira Mesa (5-2), then plays at La Jolla (Oct. 21) and San Diego (Oct. 28) to conclude regular season play.