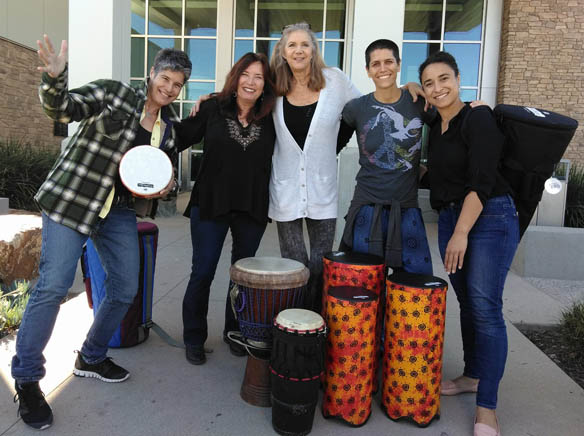 It was a crisp morning at the beginning of February when a group of soulful women pulled up in the parking lot of the Las Colinas, the newly modernized detention center for women in Santee. Few dozens of big boxes were uploaded in giant laundry carts and industrial dollies and carried inside the facility.

It was a crisp morning at the beginning of February when a group of soulful women pulled up in the parking lot of the Las Colinas, the newly modernized detention center for women in Santee. Few dozens of big boxes were uploaded in giant laundry carts and industrial dollies and carried inside the facility. The hope was that this second time around, they had enough instruments for all the inmates who signed up to be part of what for many was their first ever "drumming circle." The women were bringing in colorful Djembe African drums and Cajons – those big wooden percussion boxes made out of birch with strings attached from the inside that can be tuned to play. Each and one of these instruments had to go through the check up, each bag opened and inspected thoroughly. There were at least thirty drums. The women weren't allowed to bring in anything else, but their car keys. No pens, no phones, not even a bottle of water.
We were here as part of the third annual "It's About Time" music festival sponsored by the San Diego Symphony and focused on exploring the "rich world of rhythm and the way we hear musical time" through percussion instruments. "It's about listening to the sounds of the outside world, to our heartbeats, to noises of contemporary life" – as pointed out by the festival curator Steven Shick, also a percussionist and professor at University of California San Diego. Besides the regular festival concerts, San Diego Symphony wanted to reach out to local groups to include the community in the festival. When Chelsea Allen, Manager of Community Engagement, reached out to Kerem Brulé, a local musician and facilitator and owner of Beautiful Sounds music store, to help "organize a series of free drumming events around San Diego," as Brulé mentioned, there was already an intent to partner up with Las Colinas Detention and Rehabilitation Center. Brulé reached out to Vicki Morgan, founder of the San Diego Women's Drum Circle, who has been involved with the community for over twenty years, working with "women recovering from addiction, cancer, and abuse." A small group of volunteers was created to go to Las Colinas to drum with the women inmates for the months of January and February, with the hope to make this an on going event. Morgan said the drum circle leads "all the marches – the Women's march, the Me Too march, Climate Change. We've done a lot of cancer walks, went to a lot of hospitals and we get called all the time to lead large community events," said Morgan, noting that "the calls of the drum is a great unifier for the people. In Africa, they use drums to communicate among the tribes and so through our drums we are constantly sending a positive message."
The positive message of this crisp, but sunny Monday morning is that the Women's Drum Circle came to Las Colinas not just to teach women inmates how to reconnect to self and to the world through a drum beat or two, but also to learn. It's an enlightening experience for both teachers and students when the circle surrounds (and surrenders to) the liberating sound of drumming and no matter the persona journey, we all get a chance to free ourselves from the "fear that's inside us all," Morgan said. "I noticed a lot of these women were in a lot of fear, but after drumming, many had a breakthrough." The reason why is that "we are completely connected through our heart beat and born with rhythm by being in our mother's womb as little energetic cells." Morgan believes science is finally and deservingly approaching the truth of the healing power of drumming and wishes there were studies on EMDR, drumming and PTSD, as drumming is "just another form of therapy."
Stepping through the heavy doors automatically locking behind us inside Las Colinas is not what an avid viewer of any TV crime series would expect to see in a prison. Las Colinas's architects and designers made a point in imagining this detention facility as an academic campus, as explained by the affable officer who is escorting us to one of the many modern buildings around. The focus is on the rehabilitation, not punishment. Large open spaces of greenery and shaded benches shaped to suggest a Greek amphitheater, streamed paved paths forming wide, welcoming curves and circles – symbolic of the feminine nature – linking the housing, laundry and religious areas to the "receiving and transfer" and visitation, to the other buildings for inmate industries created with the goal of rehabilitations of this state of the art and award winning 465,000 square feet detention center built on 45 acres and encompassing 25 buildings. The construction costs $221,5 millions and was completed in 2014 to replace the old 1960's detention center for women on Cottonwood St. It's now hosting 1,216 beds of "minimum, medium and maximum security, 32 mental health beds, 22 medical patient beds," as stated by the Vanir Construction Management, Inc., the construction management company for the site.
We are led inside a medium size building all glass exterior, with natural honey oak wood placating the walls inside, soft grey carpet matching the ergonomic chairs stacked along the walls, probably used for TV viewing, as indicated by the large flat hung high on one side. We unpack all 30 drums with eagerness, spreading chairs alongside the walls in a large circle. The inmates are lined up outside led by two officer and one administrative worker, waiting silently, with some smiling excited if they were here during the first out of the three sessions of drumming circle approved by Las Colinas. There are enough drums and Cajons for everybody, excepting for Chelsea Allen, the sponsor, who gets ready to drum on her lap. The sunlight is filling up the room from all directions, but the smartly designed roof angle stops the bluntness and only allows in the softness of it, filtered. Morgan was right to point out to the fear as the common denominator among us humans. Many of the women here look tense and embarrassed. Not many return the direct, friendly gaze. Their bodies are curled toward the drums, in a half-there fetal position. Most of them start out shy and tense, but once they touch the drum, magic happens and the room lights up from the inside as well, soon exploding in hot rays of sounds and exciting rhythms that are very unique and specific to each and one of us, as we each find our drumming voice.
The drumming circle facilitators took their positions up front. Brulé, tall, keeps the main beat on her huge Djun Djun drum. Brulé became very passionate about drumming after college and is now a professional musician.
"I also found a side purpose in bringing joy, humor and lightness…and I took that role very seriously,"she said.
To her, drumming is "a powerful way to unite people in a common pulse and a common purpose simultaneously, an universal language with the potential to create healing and connection on a very broad scale." Morgan said about Las Colinas, "They can't come out, but we can go in." Brulé believes "women all really enjoyed the circles and we built up a very nice rapport the first time. There were many smiles, laughs and tears as well."
Brulé keeps the rhythm today on her big Djun Djun drum with two beaters as Devra Gregory is teaching the women inmates "a traditional West African rhythm played for women who are experiencing their «wish come true». Gregory "began drumming in Shamanic drum circles about 25 years ago, " she says, "and they opened me up to a sense of freedom I had yet to encounter." She studied the West African drumming with master Mamady Keta from Guinea and also with world-renowned drummer Monette Marino, also with the SD Women's Drum Circle. Gregory plays the Djembe drum at her own events, Sacred Flame Fire circles, "which combines ceremony with rhythm and dance." At Las Colinas, "they offered the women a chance to raise their energy, get a sense of playing together and get a chance to play a drum, Gregory believes "drumming together is a profound experience. In tribal cultures it is used to resolve problems, celebrate many occasions and to communicate to the spiritual world. I find all of these aspects essential to a vibrant community."
The energy in the room is through the roof as walls are trembling, the ground is moving and the "ball of fear" inside all of us, how Morgan likes to call it, is all gone. Morgan thinks we are like pinball machines, with the fear clogging the system and we need to drum to shake it up and free ourselves. And here comes sweet Gia George, a very friendly, beautiful singer-songwriter exhaling Zen mood, who starts guiding everyone through an "empowering chant to the Hindu goddess Kali." George plays several instruments and is releasing her third solo abloom soon, leading the chants during the drumming circles. "We danced and laughed. It really freed everyone's spirit," said George about her "amazing session" at Las Colinas.
Approaching the facilitating work in a more structured and methodical way, Joy Lynn Freeman D.C. Ph.D. cand. comes from "the field of personal growth and transformations" with an 30 years experience as a "shame and trauma therapist, author and workshop facilitator." Freeman is a published author of several books and CDs on self-help and yoga. She teaches drums, dance and singing. One by one, Freeman instructs the women inmates about the basics of drumming, separating them into groups playing "interlocking rhythm parts. " The goal was to "give them the idea that is they pick any simple rhythm and repeat it for a while and others to the same thing, it can actually create beautiful music. They get to see that a part does not have to be complicated as long as it somehow falls in line with the main drum beat (the Djun Djun played by Brulé) which is usually loud, deep and strong enough that anyone can feel it." The circle is on fire while the women are beating on the rhythm of their own names, taking turns to perform solo and picking friends to take the lead.
Morgan decided to keep the circle for women only and she tells the story of her first drum circle created two decades ago for one of her close friends diagnosed with breast cancer, trying to help her before she went in for the surgery. Then she discovered the necessity to keep going and added more friends to each circle to the point where there are now over a hundred women attending each month in San Diego only, with many of them opening their own drumming circles. Morgan believes women need a place to experience "their fragile experiences without having to be of service to their husbands, partners and children. It's just one time when women get to come in and offload, express themselves without judgment, to dance and to drum. It's their time to get ignited with their rhythmic drum medicine." Morgan said she had men upset the circle is not open to everybody, "which I understand," and that "one man got very aggressive about it once."
Morgan is giving everyone 6-months free passes for the drum circle. One woman who appears to be in her 60s, long silver hair and a joyful demeanor, is anxious: "Are you still going to be open in December?" We are reminded though that everything is temporary and as Brulé pointed, being here "has helped me not take my own freedom of movement in the world for granted. When we make music together, everyone is equal, and everyone counts, everyone has a voice, and we are connected." We will be open in December, "Yes, for sure, so come on and drum with us," says Morgan. Somebody shouts out, "But where is Francesca, she was here last time!" A loud cheerful choir forms instantly, as the women start sharing that Francesca, an inmate at Las Colinas, is in labor right now, giving birth to a baby girl. At once, we all have the idea of one last drumming jam, just for Francesca and her child. With her explosive and healing energy, Morgan facilitates the chant and, as the hands are hurting and burning from hitting the hard skin of the Djembe and Cajons drums with all we've got to celebrate such magic, the souls are elated to the most wondrous state of mind – Hope for the precious new life. Also, Hope for all of us manifested through the heart beats of drumming that unites us with Francesca, inmate and new mother, as we all release everything that holds us back on our personal and collective journeys. The entire experience has the healing rhythm of "freedom," no matter which side of the Las Colinas wall are we on.