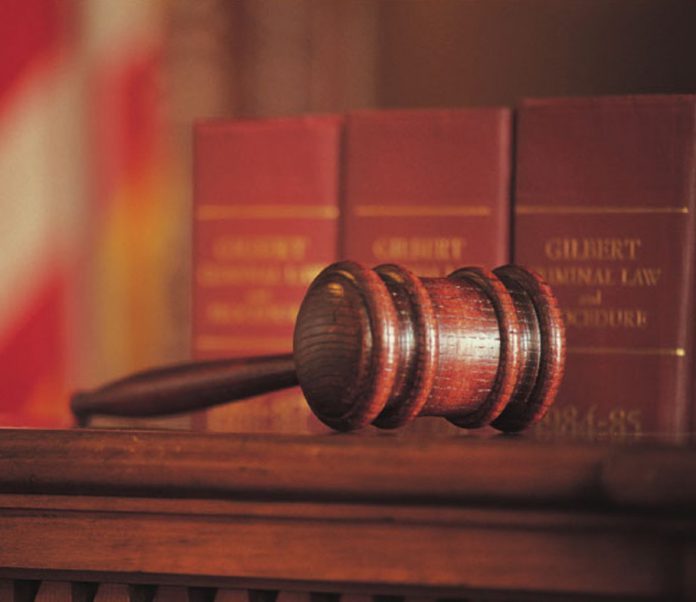 A man accused of injuring an El Cajon police officer who clung to his car while being dragged was given a March 16 preliminary hearing on Feb. 10.
David Franciscepeda Pangilinan, 41, pleaded not guilty when he appeared before El Cajon Superior Court Judge John Thompson involving the Dec. 14 incident that injured officer Nicholas Circello.
Circello approached Pangilinan at 8:30 a.m. on West Washington Avenue near South Magnolia Avenue and woke him up while he was parked and blocking a street. Someone had complained about it. Pangilinan apparently handed him someone else's identification.
Pangilinan then drove away with Circello hanging onto the car. He suffered broken bones and a serious head injury. Circello is out of the hospital.
Pangilinan and Keani Isalyn Flores, 28, who was a passenger in the car, are charged with two counts of felony assault each. Pangilinan is also accused of using another person's identification and possession of counterfeiting apparatus to make phony credit cards.
Flores, who was booked under the alias Stephany Calderon, has also pleaded not guilty.
Flores was arrested first after the pair fled the area. She was arrested in Oakhurst, Calif. on Dec. 19, but Pangilinan escaped until he was apprehended on Jan. 8 by Los Angeles Police.
Pangilinan and Flores remain in jail on $2 million and $200,000 bail respectively.
                  •••
A La Mesa businessman pleaded guilty Feb. 8 to felony vandalism when he broke a television camera while scuffling with reporters and photographers in a 2020 incident outside his men's clothing store, which has since closed.
Peter George Carzis, 77, attacked media personnel who had come to ask him about a videotape online that showed him fondling a woman outside the Peter's Men's Apparel store in downtown La Mesa in the daylight.
Carzis punched KUSI-TV reporter Dan Plante in the face while also shoving photographers Michael Saucedo and Claudia Buccio on Jan. 20, 2020.
The battery charges were dismissed by El Cajon Superior Court Judge Stephen Stone. Carzis may be ordered to pay up to $7,000 to the TV station whose camera was destroyed.
Deputy District Attorney Carlos Campbell said there is no set restitution figure yet and his office would not oppose a sentence of one year in jail or less on formal probation.
Sentencing is set for March 10. Stone allowed him to remain free on his own recognizance with a device that monitors any alcohol intake. He is barred from drinking alcohol.
Carzis also pleaded guilty to a misdemeanor count of violating a restraining order by approaching his girlfriend's house on Lemon Avenue in La Mesa on Dec. 8.
Stone sentenced Carzis on the misdemeanor charge to 13 days already spent in jail. Stone told Carzis he could phone or e-mail her, but he could still not be personally present within 100 yards of her.
•••
A judge Feb. 11 turned down a bail reduction for an alleged drunk driver who is charged with murder and vehicular manslaughter in the death of a highway worker in Jamul.
Attorney Deshon Jones asked El Cajon Superior Court Judge Daniel Lamborn to lower the $250,000 bail of Arnold Patton, 69, who is accused of causing the death of Jesus Gonzalez, 27, who was working in a construction zone on state Route 94 in Jamul, on Dec. 16.
"I am very, very concerned over Mr. Patton's health," said Jones, citing the spread of COVID-19 in jail.
Deputy District Attorney Laura Evans said Patton's blood/alcohol level was .17, which is twice the level for felony drunk driving. Evans said Patton approached the Jamul casino and they refused to admit him because he was too intoxicated before he drove off.
"I can't in good conscience lower bail," said Lamborn.
A preliminary hearing was set for April 6. Patton has pleaded not guilty.