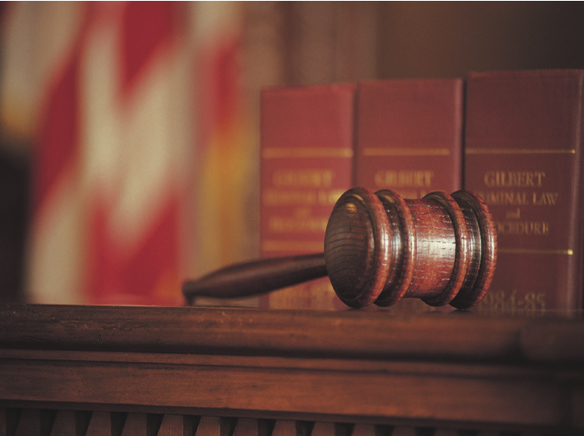 A sheriff's deputy from Santee has pleaded not guilty to 20 sex charges involving molestation of three girls.
Jaylen Devon Fleer, 27, appeared in a jail uniform from a room at the Vista Detention Facility on July 29.
Bail was set at $800,000 by Chula Vista Superior Court Judge Garry Haehnle.
He pleaded not guilty to 18 felonies and two misdemeanor charges.
His retained attorney, David Shapiro, and Deputy District Attorney Jalyn Wang appeared remotely on a video screen as most of the courts are closed due to the coronavirus outbreak.
The arraignment was live streamed on the YouTube Channel from the Superior Court website.
Shapiro asked the judge if he and Wang could discuss the argument for bail in chambers and away from the live streaming because there was information about the charges that was not yet public.
"There are three victims who don't know each other," said Shapiro, who said he didn't want information to influence them.
Haehnle agreed and excluded a TV newscast and turned off the live streaming for about six minutes.
The complaint alleges the misconduct occurred from March 27 to April 8, 2020. A preliminary hearing was set for Oct. 19, a date that may change, said Shapiro.
Fleer was arrested July 23 by Chula Vista Police.
The charges have "nothing to do with Fleer's duties as a deputy," according to a statement from the sheriff's department. He began working in June 2015 and his last assignment was at the central jail.
•••
A 19-year-old Spring Valley man who participated in robberies in numerous robberies has been released from jail after being sentenced to time already served.
Ernesto Lamarquez was the only adult out of four teen-age robbers who targeted people in a seven-day spree in April 2019 in La Mesa and elsewhere.
"Mr. Lamarquez was not the one who was violent," said Deputy District Attorney James Koerber, who added it was the other suspects who were violent with the victims.
San Diego Superior Court Judge Peter Deddeh imposed a 365-day jail term, but gave him credit for serving 433 days since his April 24, 2019 arrest.
"You're getting a huge, huge, huge break, but this is also an opportunity…(for) a new start," said Deddeh.
Lamarquez appeared on a video feed from a room at the George Bailey Detention Facility. He was released from jail about six hours later on June 29.
Lamarquez's attorney, Pedro Bernal Bilse, recommended probation. Bernal and Koerber also appeared on video screens because the court is mostly closed due to the coronavirus outbreak.
Audio of the sentencing was live streamed on the Superior Court's website.
Deddeh told Lamarquez this was the first case that he has heard in which Koerber was not seeking prison.
Koerber said one minor from the group is in custody in Juvenile Hall and another prosecutor is seeking to have him stand trial as an adult.
Deddeh placed Lamarquez on five years probation and ordered him not to associate with the other teen-agers in the robberies. They were 15, 16, and 17 at the time.
He also ordered Lamarquez to pay $736 to two victims whose money or property was not recovered.
Because Lamarquez has served more time than one year in jail, Deddeh ruled he didn't have to pay any court fines or probation costs. A review of his sentence was set for Nov. 30.
Lamarquez had pleaded guilty to nine counts of robbery and could have been sentenced to a maximum 15 years in state prison.
Koerber said Lamarquez pleaded guilty to all charges and admitted the use of a firearm as a deadly weapon.
The robberies also occurred in North Park and Chula Vista.
Jason Ries testified he was walking in North Park on April 23 at 12:26 a.m. when he felt "someone put something to my head" which "felt like a gun."