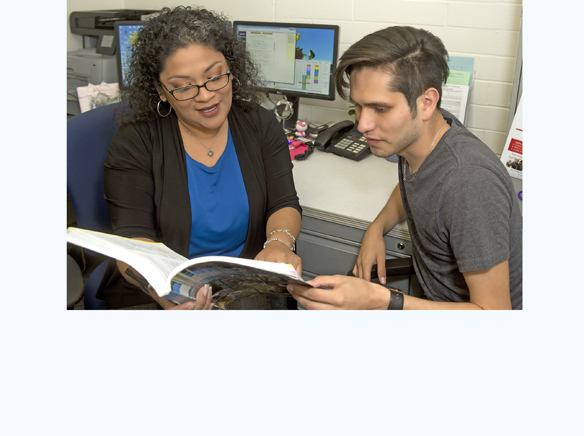 Two instructors at Cuyamaca College and a counselor at Grossmont College have been honored for their contributions to their campuses and commitment to student success.
Two instructors at Cuyamaca College and a counselor at Grossmont College have been honored for their contributions to their campuses and commitment to student success.
Pearl Lopez, a counselor in Grossmont College's Extended Opportunity Programs and Services (EOPS) office, received the President's Leadership Award in recognition for distinguished service to students, faculty and staff. English instructor Marvelyn Bucky and Environmental Health and Safety Technology instructor David Ivester received the 2016 Awards for Teaching Excellence at Cuyamaca College.
"We are so fortunate to have outstanding instructors and counselors with an unswerving commitment to helping students reach their goals," said Cindy L. Miles, chancellor of the Grossmont-Cuyamaca Community College District. "Above everything, our No. 1 mission is to serve students and these three honorees have clearly made a difference in the lives of so many at our colleges."
Pearl Lopez
In nominating Lopez for the highly regarded President's Leadership Award, Grossmont College Academic Senate President Tate Hurvitz lauded the EOPS counselor as the epitome of effective leadership, describing her as "steady, kind and courageous."
"She brings a calm, thoughtful, and powerful voice to the table, always keeping the needs of the students – and the great variety and range of those needs – in focus," Hurvitz said.
Lopez, a 1995 graduate of Grossmont College, is an example of the transformative power of community colleges. A product of an El Centro barrio, she went on to earn a bachelor's degree from San Diego State University, a master's in counseling, and in 2014, a doctoral degree from SDSU in educational leadership with a specialization in community college/post-secondary education.
Her employment at Grossmont College dates back to her student worker years in 1993 and have continued to the present in various capacities, including a decade as a classified, or non-teaching, staffer. As an EOPS counselor for 12 years Lopez helps disadvantaged students and the connection she is able to make with them is obvious to even casual observers.
"Working at Grossmont College has been an amazing experience," she said. "My greatest joy is to be able to serve students who are at a place in their life where I used to be. I love being able to teach my students what I have learned. I love being able to motivate them to set their goals high."
Marvelyn Bucky
Students in Bucky's English classes use superlatives like "the best," and "the most caring" in describing her in critiques submitted to a faculty committee of the Cuyamaca College Academic Senate, which each year gives Excellence in Teaching Awards to one full-time and one part-time instructor.
"I have never been able to say enough good things about this woman," one student wrote. "I love this professor and often find myself comparing my other teachers to her."
Before she was hired as a full-time instructor at Cuyamaca College in 2005, Bucky worked for five years at Grossmont College as a part-time instructor in the English and English-as-a-Second-Language departments. She won a teaching excellence award at Grossmont College in 2005.
Bucky taught at San Diego State University for almost 11 years after earning her bachelor's and master's degrees there. She said teaching at the community college level gives her the greatest satisfaction because of the fundamental difference she is able to make in students' lives.
She related a story of the stunned reaction of a student she had complimented for her work in a remedial English class at Cuyamaca College.
"No one at home thinks I'm smart or that I should be in college," the student had said.
"I know that when we teach our students to read and write well it completely transforms their lives and creates this new legacy of hope in their families, where their younger siblings are more likely to go to college, and their own children are more likely to be educated and reach their full potential in life as well," Bucky said.
David Ivester
Students said in their critiques of Ivester that real-world experience from his nearly 35 years in the environmental health and safety profession have proven as invaluable to their learning as textbooks and lectures.
"Professor Ivester is, in my eyes, the best professor I've ever encountered," one student wrote. "He's a great instructor, truly authentic in character, compassionate, caring, and all around good guy."
Ivester has an easy rapport with students, and an approachable, good-humored manner that encourages classroom discussions. What could be a mind-numbing lecture on hazardous chemicals and materials is punctuated with stories from the field and his students are eager listeners.
Trinidad Flores, a hazardous wastes project manager at Novartis Pharmaceuticals in Mission Valley and a student in his Hazardous Materials Management class, said he has taken two previous classes from Ivester.
"He makes thing interesting with a side of humor," Flores said. "You can tell he has a real passion for the field."
A part-time instructor at Cuyamaca College since 1992, Ivester's day job is as an environmental health and safety manager at Alere San Diego, a maker of medical diagnostics devices. He graduated from the Environmental Technology program at San Diego City College, eventually earning his master's in environmental engineering.
Ivester was introduced to Cuyamaca College by the coordinator of the Environmental Health and Safety Management program with whom he had been teaching EHSM courses in the industry.
"What I like most is giving back to our students and getting them connected to the workforce," he said about teaching at Cuyamaca College. "Some of my greatest memories are those of students who are successful. I had a student who finished his EHSM degree, got his BS degree and came back to Cuyamaca and ended up as department head for the EHSM program."