College football teams are starting to line up bowl game invitations as the final week of regular season play and conference championships hit the gridiron.
The NCAA has announced it will allow all football teams, regardless of records, to compete in bowl games. The national collegiate athletics governing body also announced it would grant athletes an additional year of eligibility due to the COVID-19 (coronavirus) pandemic.
But finding a bowl game to play in is quickly becoming a problem as 12 bowl games have already been cancelled due to the pandemic's impact.
San Diego State University has crafted a rather prestigious streak of 10 consecutive bowl game appearances but that could be in jeopardy this season.
The Aztecs concluded regular season play with a 4-4 record following last Saturday's 28-14 non-conference loss at 14th-ranked BYU. SDSU failed to qualify for this Saturday's Mountain West Conference championship game at Sam Boyd Stadium in Las Vegas that will match a pair of conference unbeatens in San Jose State (6-0) and Boise State (5-0).
Saturday's MW championship game kicks off at 1:15 p.m. on the FOX television network.
SDSU finished conference play 4-2 to place fourth overall in the single table 12-team standings.
The top two teams in the conference standings, based on winning percentage, qualified for the MW championship game.
Nevada-Reno (6-2, 0.750 winning percentage) finished third in the conference standings ahead of the Aztecs (0.667 winning percentage). SDSU dropped a 26-21 decision to the host Wolf Pack on Nov. 21.
SDSU lost, 28-17, to San Jose State in a Nov. 6 game at the Dignity Health Sports Park in Carson but did not play Boise State this year.
It was an unprecedented season.
San Jose State, Nevada-Reno, Hawaii, Fresno State, University of Nevada-Las Vegas, New Mexico, Colorado State, Utah State and Wyoming all had eight conference games scheduled while SDSU and Boise State both had seven conference games scheduled.
Air Force Academy had only six conference games scheduled while playing the other two service academies in non-conference tilts.
Due to postponements and cancelations, only Hawaii (4-4) and Nevada-Reno (6-2) completed their full conference schedules. New Mexico (2-5) played seven games, while San Jose State (6-0), SDSU (4-2), Fresno State (3-3), Wyoming (2-4), Utah State (1-5) and UNLV (0-6) played six conference games.
Boise State (5-0) played five conference games while Air Force (2-2) and Colorado State (1-3) only played four conference games.
The Aztecs defeated Colorado State, 29-17, Dec. 5 in Carson. SDSU's other conference victories came against UNLV (34-6 on Oct. 24), Utah State (38-7 on Oct. 31) and Hawaii (34-10 on Nov. 14).
SDSU's game at Fresno State on Nov. 27 was canceled due to an outbreak of COVID-19 on the Bulldogs team. The Aztecs were fortunate to not lose a game on their schedule by securing a non-conference road game at then unbeaten Colorado on Nov. 28.
SDSU lost, 20-10, to the Buffaloes.
The Mountain West Conference kicked off the 2020 college football season with tie-ins to four postseason bowl games. But that number was reduced to just three bowl games following the cancellation of the inaugural L.A. Bowl on Dec. 7.
The L.A. Bowl was slated to showcase the conference champion, with the Arizona Bowl picked to showcase the conference runner-up. Other bowl game tie-ins were to the Famous Idaho Bowl and the New Mexico Bowl.
However, MW Commissioner Craig Thompson subsequently announced a tie-in to a fourth (as yet unnamed) bowl game had been secured.
The Arizona Bowl, set for Dec. 31 in Tucson, will match the Mountain West champion against a team from the Mid-American Conference in the first year of a five-year tie-in for that bowl game.
Nevada-Reno has accepted an invitation to play Tulane (6-5) in the Famous Idaho Bowl on Dec. 22 (12:30 p.m., ESPN). It will be the third consecutive postseason bowl game appearance for Nevada-Reno.
The University of Hawaii has accepted an invitation to play the University of Houston in the New Mexico Bowl on Dec. 24. Due to COVID-19 restrictions, the game will be played in Frisco, Texas.
That leaves the MW championship game runner up delegated to the unnamed bowl game Thompson had arranged, possibly the First Responders Bowl on Dec. 26 in Dallas (12:30 p.m. Pacific Time on ABC-TV).
Saturday's Spartans-Broncos game will mark the first appearance in the conference championship game in program history for San Jose State while Boise State will be making its fourth consecutive appearance in the MW title contest and fifth overall.
The Spartans defeated Nevada-Reno, 30-20, last Saturday to secure its history-making appearance while Boise State topped Wyoming 17-9.
Steele Canyon High School alumnus Chance Johnson will represent East County on the San Jose State roster. A freshman safety, he has appeared in three games this season.
Johnson, who was credited with 126 tackles and three pass interceptions his junior and senior seasons, was a member of the Cougars' 2017 California III-A Division state championship team. A sprinter and hurdler in track and field, he returned three punts and two kick-offs for touchdowns as a senior.
Other San Diegans on the Spartans roster include redshirt junior offensive lineman Chris Galleta (Mater Dei Catholic) and freshman cornerback Zavion Reese (San Marcos).
Galleta compiled a 27-2 record his final two seasons with the Crusaders.
Boise State is led locally by redshirt junior middle linebacker Ezekiel Noa (Helix Charter) and redshirt sophomore offensive lineman Garrett Curran (Granite Hills).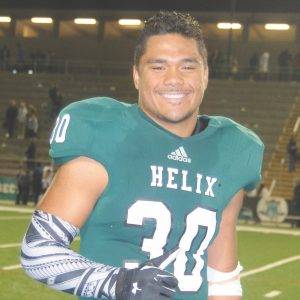 Noa (5-11, 244) has appeared in six games this season with 28 total tackles (11 solo). He led the Broncos defense with eight tackles (five unassisted) in a 42-13 win over Utah State on Oct. 24.
He has logged 94 tackles (35 solo) in 20 career games over the past three seasons after helping lead the Highlanders to the 2015 San Diego Section Open Division championship and a runner-up finish in 2016.
As a senior team captain, Noa recorded 92 tackles with 9.5 sacks while scoring nine touchdowns with 152 receiving yards as a tight end and tacking on 640 rushing yards. As a junior he notched 73 tackles and eight sacks. He had two interception returns for touchdowns in the state playoffs as a junior.
Curran (6-5, 304) appeared in 12 games as a redshirt freshman in 2019, starting one, while appearing in five games this season mainly in a reserve and special teams role.
He earned first team All-CIF honors in 2017 as the Eagles advanced to the Division II semifinals and second team All-CIF honors in 2016 as a junior as Granite Hills reached the Division II quarterfinals.
He also played baseball and wrestled while attending the El Cajon school.
Boise State's San Diego player pipeline also includes sophomore safety J.L. Skinner (Point Loma), redshirt sophomore Demitri Washington (Santa Fe Christian), redshirt senior offensive lineman Jake Stetz (Mission Hills) and freshman wide receiver Cole Wright (Carlsbad).
Red and Black
SDSU led 14-7 after the first quarter in last Saturday's game in Provo on a 25-yard touchdown run by Kaegun Williams and a 15-yard scoring pass from quarterback Jordon Brookshire to Elijah Kothe in an upset bid.
But it didn't come to pass.
BYU shut out the Aztecs over the remaining three quarters while outscoring the visitors 21-0 in snowy 25-degree temperatures.
SDSU out-gained BYU 399-384 in total offensive yards and racked up 23 first downs to 16 by the hosts but could not take full advantage of its opportunities to score, following an all-too familiar script this season.
Brookshire completed 21 of 31 passing attempts for 230 yards with one touchdown and one interception. He was sacked once.
Williams led the Aztec rushing attack with 95 yards on 16 carries while regular season rushing leader Greg Bell (Bonita Vista) rushed 17 times for 68 yards while being harried by the Cougar defense.
Bell, who was hampered the last three games by an injury, led SDSU ball-carriers with 637 net rushing yards while scoring six touchdowns and adding another touchdown catch in seven games. He averaged 91.0 rushing yards per game in earning second team all-conference honors.
Christian High School alumnus Jesse Matthews had four catches for 39 yards to lead SDSU receivers. He played in all eight games, making 23 catches for 314 yards with one touchdown to top the team's receiver corps.
Helix Charter alum Michael Shawcroft recorded three tackles and one forced fumble. Tayler Hawkins led the Aztecs in the game with six defensive stops.
Shawcroft tied for sixth on the team with 34 total tackles, finishing the season with three quarterback hits, two fumble recoveries and two forced fumbles in eight games.
SDSU dropped to 8-29-1 all-time against BYU.
The starting quarterback position remained unsettled in 2020.
Brookshire made his second consecutive career start with the Aztecs. Neither Helix Charter alum Carson Baker nor Mt. Carmel alum Lucas Johnson appeared in last Saturday's game. Baker  earned the starting position at the beginning of the season but was later replaced by Johnson in the Nevada-Reno game.
Baker appeared in six of the team's eight games this season (starting four). He completed 59 of 104 passing attempts for 617 yards with three touchdowns and three interceptions.
Brookshire appeared in three games with 410 passing yards, two touchdowns and two interceptions.
Johnson appeared in three games with 184 passing yards and one TD.
Extra points
The 15th-ranked University of Southern California Trojans (5-0) will meet the Oregon Ducks (3-2) in the Pac-12 championship on Friday, Dec. 18. The game will be telecast on the FOX network, starting at 5 p.m. Pacific Time.
The University of Washington Huskies (3-1) had originally been selected to play USC in the conference championship game before they were ruled out after being unable to field the 53 scholarship players needed to play because of positive COVID-19 cases and related contact-tracing protocols.
According to Washington head coach Jimmy Lake, the Huskies' entire offensive line, including walk-ons, is currently unavailable. Lake said he believes the Huskies will be able to play in a bowl game, however.
The annual Rose Bowl game in Pasadena will serve as a national semifinal playoff game as will the Sugar Bowl in New Orleans, both on Jan. 1. The national championship game will pit the winner of the Rose Bowl against the winner of the Sugar Bowl on Jan 11 in Miami.
The Pac-12 champion is expected to receive a bid to the Fiesta Bowl Jan. 2 in Glendale, Ariz.
Helix Charter alumnus Isaac Taylor-Stuart appeared in 12 games, starting eight, as a redshirt freshman cornerback in 2019 for USC, finishing the season with a homecoming in the Holiday Bowl.
He focused during the 2020 season on fully recovering from a knee injury suffered last year, logging five tackles in five games, including a season high three tackles in a Dec. 6 game against Washington State (in which Helix alum Jahad Woods had six tackles for the Cougars).
Other San Diegans on the Trojan roster include sophomore tailback Kenan Christon (Madison), freshman punter Michael McAllister (La Costa Canyon) and redshirt freshman snapper Nathan Weneta (Cathedral Catholic).
Christon, who tied the state record with a time of 10.30 seconds in winning the 2019 state title in the 100-meter dash and is considered the fastest Trojan, has 10 carries for 70 yards this season after accumulating 373 rushing yards and two touchdowns in 2019.
USC is coming off last Saturday's 43-38 win over crosstown rival UCLA while Oregon had last weekend off after its game against 21st-ranked Colorado was canceled.
Trojan sophomore quarterback Kedon Slovis completed an eight-yard touchdown pass to Amon-Ra St. Brown with 16 seconds left to secure the win over the Bruins (3-3). Slovis passed for 344 yards and five touchdowns with a 151.9 quarterback rating in the dramatic comeback victory as USC erased an 18-point deficit in the third quarter.
Oregon is led locally by former Mater Dei Catholic standout C.J. Verdell, a junior running back, who rushed for 2,399 yards and 36 touchdowns as senior with the Crusaders. He made a splash last season with 1,220 rushing yards and eight touchdowns after scoring 10 touchdowns as a redshirt freshman.
The Ducks won the 2019 Pac-12 championship as Verdell rushed for 208 yards and scored three touchdowns to earn the game's MVP award.