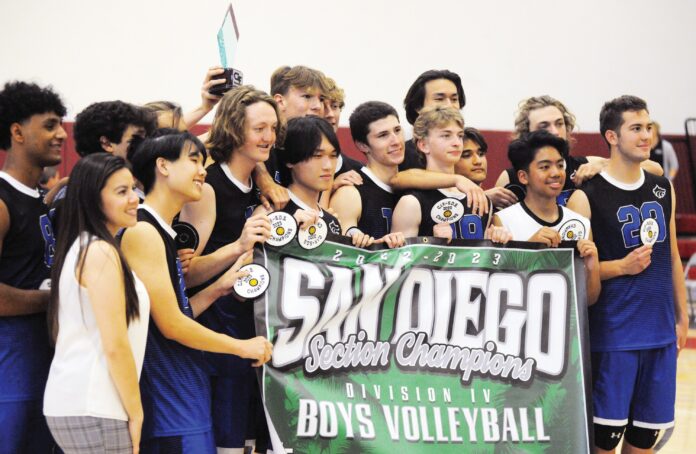 The San Diego Section hosted the 2023 boys volleyball championships last weekend at Southwestern College.
Of the six divisional finals, East County teams were peppered across four of them — and three walked off the court with coveted CIF championship trophies and banners.
Fifth-seeded Granite Hills (20-16) defeated second-seeded Clairemont (17-9) in four sets, 25-13, 23-25, 25-21, 25-17, while fifth-seeded West Hills (20-17) got past the second-seeded San Diego Cavers (22-10) in five sets, 20-25, 25-21,18-25, 25-12, 15-11.
Second-seeded Foothills Christian (22-15) squeezed past fifth-seeded Escondido Charter (24-13) in heroic fashion by scores of 19-25, 25-14, 23-25, 25-16, 15-13 to win the Division V title while top-seeded Helix (33-9) fell to second-seeded Poway (23-11) in four sets, 16-25, 25-18, 26-24, 25- 18 in the Division I championship matchup.
The division championships were the first for Granite Hills and West Hills in school history while Foothills Christian claimed the first Division V championship in section history.
"We've never been this far," West Hills coach Michelle Mercado said. "It's a blessing for our program to get respect, which we really hadn't had before."
"It took a lot of hard work," Granite Hills coach Dana Zeno acknowledged. "We have a great group of kids but we're a young team. We graduate four. We hope to repeat next year."
The SWC venue was a first for hosting the sport. Section commissioner Joe Heinz said he was impressed by the weekend's events.
"The college was a great host," Heinz said. "It's a nice venue. We hope to have more events here, possibly basketball."
Hard hitters
Granite Hills defeated 12th-seeded Chula Vista (19-19) in four sets, 25-20, 25-16, 24-26, 25-13 in the opening round on May 3. The Eagles advanced to meet fourth-seeded High Tech High San Diego (17-13) in the quarterfinals on May 6, winning in four sets in comeback fashion by scores of 20-25, 25-23, 25-22, 25-20.
Sophomore Lathan Fry recorded 26 kills in the opening playoff win over Chula Vista while junior Hudson Perry logged 15 kills.
Freshman Ryan Ramsay had three serving aces while Fry had two aces. Fry led the team with four blocks while senior Bucky Espinoza had two blocks.
Fry and senior Drew Perkins shared the team lead with 10 digs apiece while Perkins amassed 51 assists.
Fry soared over the court with 29 kills and five blocks in the quarterfinal win while Perkins had 42 assists.
Senior Royce Harper had four blocks, sophomore Conall Cicchetto had nine digs and sophomore Max Rice tacked on two aces.
That set up an all-East County semifinal matchup against eighth-seeded Santana on May 10, resulting in a three-game sweep, 26-24, 27-25, 25-15, for host Granite Hills.
Fry logged 14 kills and 14 digs in the win over the Sultans (21-17) while Perry had 11 kills, two aces and nine digs. Perkins tallied three blocks, 12 digs and 32 assists in the sweep.
Fry led the Division III champion Eagles with 28 kills in the CIF final while Perry contributed 12 kills. Each had one serving ace. Harper had 10 blocks while Perkins had 20 digs. Fry tacked on 16 digs while Perry had 12 digs. Perkins paved the way to the championship for Granite Hills with 48 assists.
"It's just amazing to win it with my boys," said Fry, who ranked third in the nation in kills at one point this season. "I knew we had it in us. We had a lot of guys who stepped up."
Santana had advanced with back-to-back wins against Mar Vista (25-21, 21-25, 25-18, 25-19) in first-round play and top-seeded Coastal Academy (24-26, 25-21, 25-19, 25-21) in the quarterfinals.
Clairemont, meanwhile, advanced to the division finals with consecutive wins over 10th-seeded Olympian (12-17) with a three-sets sweep in the quarterfinals and third-seeded Escondido (18-9) in the semifinals in four games (25-14, 20-25, 25-15, 25-22).
In the championship final, Granite Hills rolled out a 25-13 win in the opening game, the Chieftains bounced back in the second game, 25-23, to tie things up at a win apiece. The Eagles took flight with victories in the next two games — 25-21 and 25-17 — to make school history.
Harper and junior middle blocker/opposite hitter Josh Zander were no strangers to notoriety.
Harper won three CIF championships during the 2022-23 school term: football, wrestling and boys volleyball. Zander was a CIF champion in football and boys volleyball.
Both won state titles in football.
"Football was super fun to win," said Harper, who played defensive end on the school's state bowl championship team and wrestled at 182 pounds. "It was humbling to be surrounded by so many great wrestlers. It's great to be a part of this team (volleyball).
"It's very rare but well deserved," Zander said of the Eagles' multi-sport titles in 2022-23.
Junior middle blocker Robert Petrich also won a CIF title in the fall as the football team's placekicker.
Fry has keyed the Eagles with 605 kills while Perry has logged 275 kills this season.
West Hills swept its opening two playoff opponents — 12thseeded Maranatha Christian, 25-21, 25-15, 25-22, in the opening round and fourth-seeded O'Farrell Charter, 25-18, 25-17, 25-21, in the quarterfinals.
It took an extra push to get past top-seeded Oceanside in the semifinals, with the Wolf Pack howling the loudest following an upset win in five games, 22-25, 25-22, 25-17, 15-25, 15-13. San Diego had defeated third-seeded Mater Dei Catholic (22-10-1) in four sets in the semifinals.
The division championship final opened with a 25-20 Caver victory before the reigning Grossmont Valley League champions rallied 25-21 to even the match at 1-1.
San Diego took the third game 25-18 to go up 2-1 in the best-ofthree championship before the Wolf Pack rallied again, 25-13, to force a deciding fifth game.
West Hills was the first to 15 points in the tiebreaker to win 15-11.
"It's a great feeling," said junior outside hitter Loni Mesina, who notched 16 kills. "This is what we wanted from the beginning of the season. We pulled together."
Senior Dominic Wetton, the GVL Player of the Year, led the Wolf Pack in the division final with 18 kills. Other contributors included Caden Aikens (five kills, four blocks) and Austin Rodgers (six kills, two serving aces).
"It's amazing, incredible to be here and finally get it," said Aikens, a senior middle blocker. "There aren't any words for it."
Foothills Christian finished 9-1 as the top team in this year's Ocean League standings ahead of Escondido Charter (8-2 in league). The Knights won both league matchups in advance of the teams' eventual pairing in the division final.
Foothills swept 10th-seeded Southwest El Centro (12-18) and third-seeded Steele Canyon (16-18) in straight sets to reach the rematch with Escondido Charter.
The Knights cruised past Southwest 25-14, 25-16, 25-19 before de-clawing the Cougars 25-11, 25- 19, 25-19.
Steele Canyon received an opening round bye before defeating neighborhood rival Monte Vista (15-17) in four games, 25-22, 29-31, 25-21, 25-21, in the quarterfinals. Steele Canyon had finished runner-up to West Hills in the Grossmont Valley League standings while Monte Vista tied for third with Valhalla.
The Knights, who exchanged wins with the White Tigers through the opening four games, made up a 12-6 deficit in the fifth game tiebreaker with a torrid 9-1 finish to claim the first Division V championship in section history.
Freshman Hunter Hamilton led Foothills with 24 kills and six serving aces while older brother Logan, a junior, had 16 kills, eight blocks and recorded match point.
Helix finished 10-0 in Grossmont Hills League play as this year's league champion. The Scotties received a bye in the opening round of the playoffs before defeating eighth-seeded Westview (10-21) in four sets, 27-25, 27-25, 21-25, 25-11, in the quarterfinals.
The Highlanders swept fourth-seeded Sage Creek (15-21) in three sets, 25-22, 25-13, 25-19, in the semifinals.
In advancing to the division final, senior Christian Chestnut, the GHL Player of the Year, racked up 329 kills with a team-leading 27 serving aces. Junior Stephen Trainer amassed 365 digs while senior Noah Olivieiri tallied 834 assists.
"This team has a lot of guts," Helix coach Linda Brown underscored. "We worked very hard this year. We battled for every point."
Next level
Granite Hills and West Hills both qualified for the Division IV regional state playoffs — the Eagles received the No. 1 seed while West Hills received the No. 2 seed.
Quarterfinals in the Southern California bracket were scheduled Tuesday, with survivors advancing to Thursday's regional semifinals.
The regional championship game is scheduled Saturday, May 20.
Granite Hills drew eighth-seeded Westchester Comets (6-13) in Tuesday's quarterfinals while West Hills was scheduled to host the seventh-seeded Cudahy Elizabeth Bulldogs (15-3).
Grossmont Conference Track & Field Championships
May 5 at Mt. Miguel High School
(Top Three Place-Finishers)
Boys Varsity
RUNNING EVENTS
100: 1 Brandon Arrington (Helix) 11.00, 2. Major Givens (Steele Canyon) 11.01, 3. Quentin Stevens (Steele Canyon) 11.18
200: 1. Adren Parker (Helix) 21.62, 2, Quentin Stevens (Steele Canyon) 22.40, 3. Spencer Gray (Helix) 22.55
400: 1. Adren Parker (Helix) 47.75, 2. Vincent Jones (Mt. Miguel) 49.70, 3. Shamarion Unden (El Capitan) 50.52
800: 1. Ian Rosen (Grossmont) 1:55.17, 2. Aundrey Calvert (El Capitan) 1;58.54, 3. Juan Pablo Arredondo (Steele Canyon) 1:59.31
1600: 1. Jyson Oliver (Santana) 4:24.19, 2. Finn McClure (Monte Vista) 4:24.47, 3. Micah Senn (Steele Canyon) 4:26.43
3200: 1. Russell Blakely (Grossmont) 9:44.62, 2. Micah Senn (Steele Canyon) 9:48.40, 3. Connor Cheary (Santana) 9:55.25
110 high hurdles: 1. Shon Martin (Helix) 14.68, 2. Ryan Richter (Santana) 15.03, 3. Xavier Barksdale (Steele Canyon) 15.15
300 intermediate hurdles: 1. Xavier Barksdale (Steele Canyon) 39.46, 2. Shon Martin (Helix) 39.47, 3. Jonathan Biffle (El Capitan) 40.88
4×100 relay: 1. Helix (Laurence Burston, Adren Parker, Spencer Gray, Brandon Arrington) 42.14, 2. Steele Canyon (Major Givens, Quentin Stevens, Johnathan Sablan, Xavier Barksdale) 42.42, 3. Granite Hills (Joshua Zander, Parlan Sanders, No;Koi Maddox, Eric Grant) 44.33
4×400 relay: 1. El Capitan (Austin Calvert, Logan Henry, Aundrey Calvert, Shamarion Unden) 3:25.49, 2. Steele Canyon (Jacob Azevedo, Aaron Gray, Juan Palbo Arredondo, Quentin Stevens) 3:35.65, 3. Monte Vista (Alexander Villanueva, Deonte Sharp, Christian Britt, Finn McClure) 3:35.75
4×800 relay: 1. Helix (Alex Freshley, Joshua Caneday, Jb Kouwonou, Adam Freshley) 8:18.19, 2, Steele Canyon (Juan Pablo Arreondo, Paolo Katanchi, Juan Guzman, Micah Senn) 8:28.36, 3. Mt. Miguel (Andrew Medrano, Edward Foote Najera, Garrett Cloyd, Dason Hege) 9:18.00
FIELD EVENTS
Shot put: 1. Anthony Gash (Helix) 49-11, 2, Javier Quiroga (Steele Canyon) 46-0, 3. Dominick Yaldo (Valhalla) 44-4.75
Discus throw: 1. Anthony Gash (Helix) 151-2, 2, Noah Straily (Steele Canyon) 140-0, 3. Joshua Carson (West Hills) 138-7
High jump: 1. Jalen Brown (Monte Vista) 6-2, 2. (tie) Quincy Herron (Helix), Shon Martin (Helix), Shamarion Unden (El Capitan) 6-0
Pole vault: 1. Tristan Sotelo (Grossmont) 13-6, 2, Tyler Thomas (Santana) 12-6, 3. (tie) Grayson Lewis (West Hills), Johnathon De Leon (Granite Hills), Ben Miller (Granite Hills) 11-6
Long jump: 1. A.J. Cornthwaite (Valhalla) 22-10.5, 2. Shon Martin (Helix) 21-9.25, 3. Vincent Jones (Mt. Miguel) 21-7.5
Triple jump: 1. Dorian Fillmore (Monte Vista) 41-8.5, 2. Ariah Minnifield (West Hills) 40-9, 3. Hamad Elhamad (Mt. Miguel) 40- 3.75
Girls Varsity
RUNNING EVENTS
100: 1. Ily Barclay (Steele Canyon) 12.27, 2. Asia Broussard (Helix) 12.56, 3. Chanel Burton (Helix) 12.67
200: 1. Ily Barclay (Steele Canyon) 25.36, 2. Nicoletta Burkhardt (Steele Canyon) 25.63, 3. Timyra Payne (Monte Vista) 25.94
400: 1. Nicoletta Burkhardt (Steele Canyon) 57.12, 2. Alonna Bush (Valhalla) 59.51, 3. Julia Foote (Mt. Miguel) 1:01.25
800: 1. Ella McDonald (Santana) 2:27.74, 2. Mikayla Horning (Santana) 2:28.84, 3. Emma Digenan (Granite Hills) 2:29.05
1600: 1. Ella McDonald (Santana) 5:24.23, 2. Shelby Coleman (Steele Canyon) 5:30.16, 3. Ashlan Forster (El Capitan) 5:32.35
3200: 1. Suhey Arce (Grossmont) 11:56.12, 2. Shelby Coleman (Steele Canyon) 12:03.96, 3. Taylynn Davis (West Hills) 12;40.69
100 low hurdles: 1. Lillian Cook (Steele Canyon) 15.36, 2. Riya Jambi (Granite Hills) 16.54, 3. Gabrielle Thomas (Grossmont) 17.52
300 low hurdles: 1. Lillian Cook (Steele Canyon) 46.84, 2. Riya Jambi (Granite Hills) 49.50, 3. Songoli Ekwosi (Valhalla) 49.74
4×100 relay: 1. Steele Canyon (Jahmyia Richardson, Ily Barclay, Brionna Dickens, Nicoletta Burkhardt) 48.34, 2. Helix (Sasha Barnerm Asia Brousssard, Shaekynne Swift, Chanel Burton) 49.28, 3. West Hills (Natalie Buggert, Alexis Leathm Gabby Mullett, Bella Crescitelli) 50.36
4×400 relay: 1. Steele Canyon (Taylin Blake, Ily Barclay, Brionna Dickens, Nicoletta Burkhardt) 4:05.27, 2. West Hills (Bella Cresitelli, Alexis Leath, Gabby Mullett, Sarah De La Pena) 4:12.41, 3. Valhalla (Songoli Ekwosi, Alana Perry, Kayloa Haas, Alonna Bush) 4:19.97
4×800 relay: 1. Steele Canyon (Chase Diffenbaugh, Katrina Stock, Dania Lopez, Shelby Coleman) 10:39.03, 2. El Captian (Samantha Mauzy, Jillian Rudolph, Adriane Nolan, Amber Chase) 11:02.47
FIELD EVENTS
Shot put: 1. Shani Ford (Helix) 37- 10, 2. Hailey Lauifi (Helix) 37-7.25, 3. Leilah Lauifi (Helix) 35-2.5
Discus throw: 1. Hailey Lauifi (Helix) 120-6, 2. Kennedi Jones (Steele Canyon) 119-0, 3. Shani Ford (Helix) 116-7.5
High jump: 1. Aliyah Thibeault (El Capitan) 5-2, 2. Lilette Woldemichael (Helix) 5-0, 3. Evin McDowell (Grossmont) 5-0
Pole vault: 1. Emily Keeley (Santana) 8-6, 2. Maddyx Palladino (Granite Hills) 8-0, 3. Lilah Freeman (Grossmont) 7-6
Long jump: 1. Jenna Fields (Santana) 18-3.5, 2. Amari Vaughn (Steele Canyon) 17-4, 3. Asia Broussard (Helix) 16-10.25
Triple jump: 1. Jenna Fields (Santana) 37-8.25, 2. Amari Vaughn (Steele Canyon) 37-4, 3. Lillian Cook (Steele Canyon) 35-5
Grossmont Conference Boys Volleyball Standings
GROSSMONT HILLS LEAGUE
League/Overall
Helix 10-0, 33-9
Grossmont 7-3, 18-10
Granite Hills 6-4, 20-16
Santana 5-5, 21-16
El Cajon Valley 3-7, 17-18
El Capitan 0-10, 0-27
GROSSMONT VALLEY LEAGUE
League/Overall
West Hills 7-1, 20-17
Steele Canyon 5-3, 16-18
Monte Vista 4-4, 15-17
Valhalla 4-4, 7-17
Mt. Miguel 0-8, 5-19