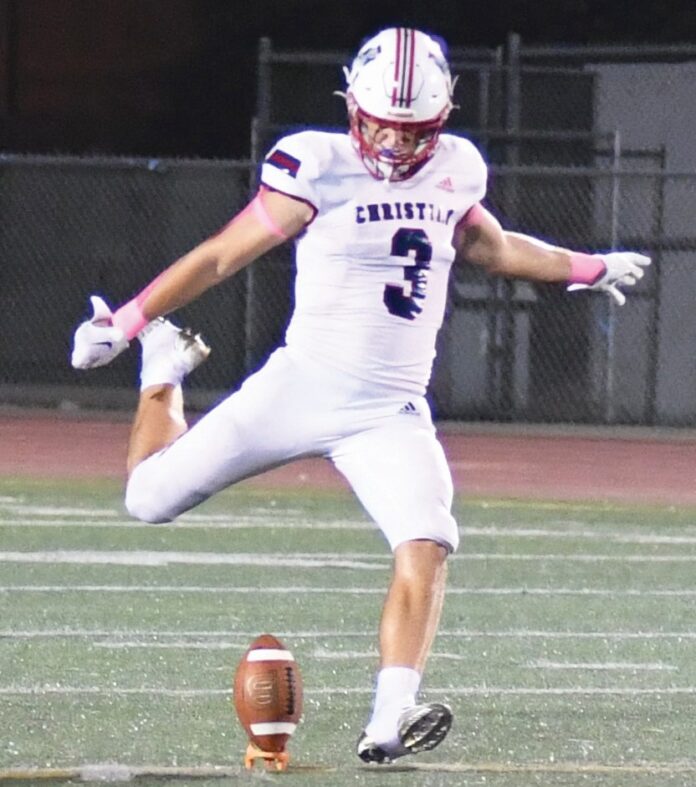 The Christian Patriots became the first East County high school football team to clinch a berth in the upcoming San Diego Section playoffs after defeating the host La Jolla Vikings, 20-14, last Friday to sew up rights to this year's City Conference Eastern League championship.
As a league champion, the Patriots automatically qualify for the CIF playoffs and will be seeded in the Division II field.
Interestingly, the win over La Jolla catapulted Christian into a tie atop the division rankings with the Granite Hills Eagles. By virtue of the Eagles' 41-3 non-league victory over the Patriots on Oct. 6, Granite Hills would be seeded first and Christian second for the playoffs by virtue of head-to-head win, if postseason play started today.
The Patriots (5-4 overall, 3-0 in league) conclude regular season play Friday at the San Diego Cavers (4-5). San Diego is ranked 15th out of 16 teams in the division.
Senior Jake Davila passed for 213 yards with one touchdown and rushed for two more to pace Christian against La Jolla. He finished the game with 282 total offensive yards after adding 69 rushing yards on 18 carries.
Senior Hunter Provience, a Montana State commit, had 10 catches for 87 yards and one touchdown. Senior Payton Curry had two interceptions in the win over the Vikings while senior Aaron Shebloski and Provience both had one sack.
The Pats made their climb up the division rankings with an intrepid 21-20 win over visiting Mira Mesa on Oct. 15 as Davila passed for 216 yards and two touchdowns and senior Brady Bingham rushed for 34 yards and one touchdown. Provience had five catches for 146 yards with one touchdown while sophomore Brady Eads (three catches, 41 yards) also hauled in a touchdown pass.
Davila had four touchdown passes, including two to Eads and once each to Provience and Bingham, in a 48-20 win over Patrick Henry in the teams' league opener on Sept. 30.