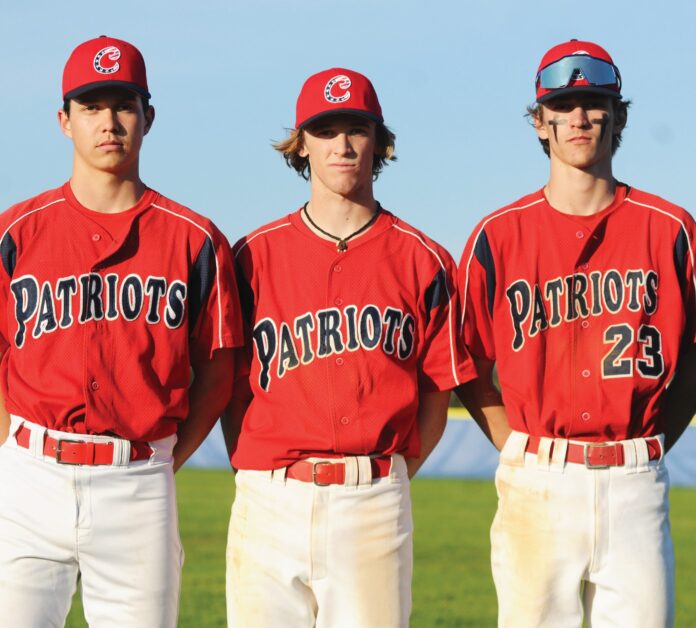 The Christian High School baseball team won the San Diego Section Division III championship in 2021 and followed that up by advancing four rounds into the Division II playoffs.
The Patriots could be building toward another potential CIF championship season based their early season 4-1 start.
"We're kind of where we hoped to be at this point of the season," veteran Christian coach Mike Mitchell said following Monday's 4-2 non-league victory at Bonita Vista. "We've had players step up to help us when we've needed it."
The Patriots erased an early 2-1 deficit with a run in the top of the fifth inning and pushed across two runs in the top of the seventh inning to snap a 2-2 tie.
Junior Xavier Farnum scored twice to lead the visitors while sophomore Luke Bailey drove in one run and scored once. Senior Ryan De Los Reyes also scored once.
Junior Peter Zarcharzuk, whose team nickname is "The Vulture," relieved junior Brody Gundert and picked up his third win without a loss while Bailey recorded his fourth save of the young season.
Seniors Victor Castaneda and Noah Vargas each drove in one run for Bonita Vista. The Barons used two pitchers: senior Michael Moreno (five hits, two runs, six strikeouts in six innings) and sophomore Michael Maywood (two runs, three hits, two strikeouts in one inning).
Rewind
The Patriots finished 27-5 in 2021, defeating 10th-seeded San Dieguito Academy, 7-4, to grab the Division III section title before advancing two games deep into the regional playoffs. Included was an 11-1 quarter-final round win over Wildomar Elsinore. Christian, the top seed for the section playoffs, finished 12-0 to win the City League championship.
The Patriots finished 22-9 in 2022 with a 9-3 record in second place in the Eastern League standings. Christian, seeded eighth, won its opening two games in the Division II playoffs – 7-4 over ninth-seeded Santa Fe Christian and 3-0 over top-seeded Francis Parker but lost its next two games (4-2 to fourth-seeded Canyon Crest Academy and a 7-3 rematch against Francis Parker) to drop out of championship contention in the double-elimination playoffs.
Canyon Crest went on to win the Division II title with a 2-0 victory against second-seeded Montgomery.
The Pats return about half of their lineup from their Division III championship season and a lion's share from last year's highly successful team. This year's group is being joined by three high-profile transfers who are being recruited by Division I schools that will make the 2023 Christian edition even stronger.
"I don't see too many weaknesses in our lineup," senior Vaughn Major said. "It's only going to get stronger when we get those three players back. I don't think our opponents expected us to be good enough to have a chance to win a CIF championship."
"We have a well-rounded pitching staff," Luke Bailey interjected. "We have four pitchers now and we're going to add to that. I think we all have the ability to hit the ball."
"I see my job as just to help the team," Zacharzuk said, "I want to help us keep rolling.
"I get put in scenarios that are high difficulty (as a closer) and it's up to me to be able to work through the pressure."
Batter up
The opening month of the season is jammed with non-league and tournament games.
Christian edged the host Chula Vista Spartans, 1-0, in eight innings to jump-start the season on March 2 and tacked on an 8-6 win at San Marcos on March 6. The Patriots suffered their first loss of the season, 8-3 to visiting St. Augustine, on March 7, but bounced back with a 5-1 win against visiting Francis Parker on March 9.
Junior Ashton McCurty scored the lone run in the win over Chula Vista while collecting two of the team's four hits in the game, including a game-winning home run.
Zacharzuk and Farnum (double) each had two hits. McCurty struck out seven batters in five innings on the hill while Zacharzuk picked up the win. Farnum picked up five RBI in the win over San Marcos while freshman Benji Molina had three hits. Zacharzuk picked up the win with two hits and two earned runs in 4.1 innings.
Senior Shane Bailey drove in two runs in the loss to St. Augustine while senior Nate Cena had to RBI in the win over Francis Parker.
McCurty recorded the win over Parker with nine strikeouts while allowing four hits in six innings.
The top five hitting leaders last year were all underclassmen and all return this season.
Shane Bailey topped the team with a 0.407 hitting average, 44 hits, 32 runs and 15 doubles while Major followed with a 0.360 average, 36 hits and 14 RBI. Farnum led the team with 22 RBI.
Senior Hunter Kaul ranked third on the team with a 0.343 hitting average and second with 20 RBI.
Bailey was 9-1 on the mound with an imposing 1.31 earned-run average while McCurty was 7-1 with a 1.54 ERA. Major was 5-4 with a 1.97 ERA and team-leading 94 strikeouts in 71 innings. McCurty logged 58 strikeouts in 50 innings while Bailey had 56 K's in 58.2 innings.
Bailey and McCarty tied for the team lead with three home runs.
Through four games this season, Zacharzuk and Farnum paced the team with 0.500 hitting averages while McCurty was hitting 0.308. Farnum led with group with five RBI and three doubles.
The Patriots face the Scripps Ranch Falcons in a three-game series to face off Eastern League play on April 10. League play continues through May 11 in advance of the section playoffs.
Clairemont, La Jolla, Coronado and Scripps Ranch comprise Christian's league competition this spring.
Southern exposure
California District 42 Little League has gained notoriety in the past decade-plus by producing elite talent at the youth level while sending teams deep into the all-star playoffs at all levels, including trips to the Little League regional and national tournaments.
This year's Christian team is making use of that talent with six players primarily from the Eastlake/ Bonita area on the roster. Among them are juniors Landon Reid and Steven McDonald, Cena, Zacharzuk and De Los Reyes.
Baseball Standings
GROSSMONT HILLS LEAGUE
League/Overall
Granite Hills 0-0, 4-1
Santana 0-0, 3-2
Steele Canyon 0-0, 4-3
Grossmont 0-0, 3-3
Helix 0-0, 0-5
GROSSMONT VALLEY LEAGUE
League/Overall
Valhalla 0-0, 4-1
El Capitan 0-0, 4-1
West Hills 0-0, 3-3
Monte Vista 0-0, 2-3
El Cajon Valley 0-0, 0-1
Mt. Miguel 0-0, 0-2
CITY EASTERN LEAGUE
League/Overall
Christian 0-0, 4-1
Scripps Ranch 0-0, 3-1
Coronado 0-0, 4-2
La Jolla 0-0, 4-2
Clairemont 0-0, 1-5
Softball Standings
GROSSMONT HILLS LEAGUE
League/Overall
El Capitan 0-0, 6-0
Granite Hills 0-0, 6-1
Santana 0-0, 5-1-1
Steele Canyon 0-0, 6-2
Helix 0-0, 4-2-1
Grossmont 0-0, 2-3
GROSSMONT VALLEY LEAGUE
League/Overall
West Hills 0-0, 6-4-1
Mt. Miguel 0-0, 1-1-1
Valhalla 0-0, 2-4-1
Monte Vista 0-0, 1-2
El Cajon Valley 0-0, 1-4
Softball Standings
GROSSMONT HILLS LEAGUE
League/Overall
El Capitan 0-0, 6-0
Granite Hills 0-0, 6-1
Santana 0-0, 5-1-1
Steele Canyon 0-0, 6-2
Helix 0-0, 4-2-1
Grossmont 0-0, 2-3
GROSSMONT VALLEY LEAGUE
League/Overall
West Hills 0-0, 6-4-1
Mt. Miguel 0-0, 1-1-1
Valhalla 0-0, 2-4-1
Monte Vista 0-0, 1-2
El Cajon Valley 0-0, 1-4