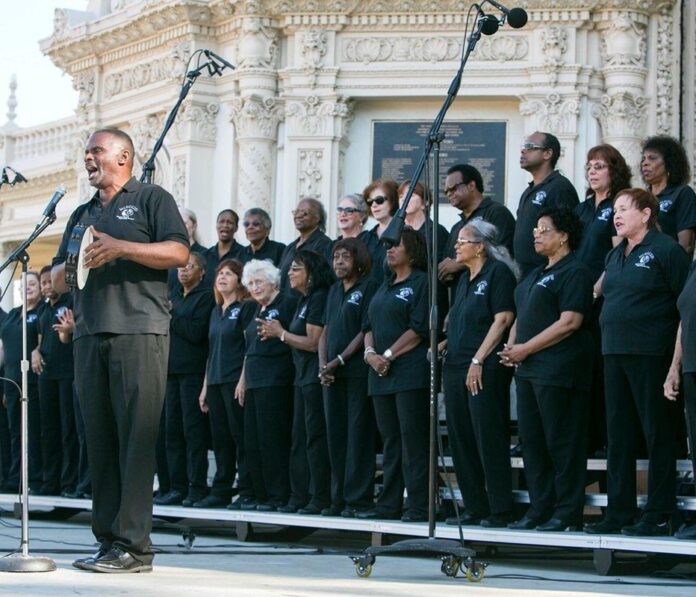 The Martin Luther King, Jr. Community Choir San Diego has three upcoming performances in East County. On June 12, the choir will be performing at the Lakeside Library at 11 a.m. The choir will also perform at the Alpine Community Church on June 11 at 4 p.m. In celebration of Juneteenth, the choir is performing at La Mesa's Second Annual Juneteenth Celebration on June 18 at MacArthur Park at 3 p.m.
In 1996, Pastor Ken Anderson, through the assistance of the San Diego County Interdenominational Ministerial Alliance and the San Diego Baptist Ministers Union, became the Director of the Martin Luther King Commemorative Choir. In 1997, Anderson reorganized the Choir, renamed it – Martin Luther King Jr. Community Choir San Diego – with a new purpose and a Board of Directors. Anderson changed the performance schedule from once a year to a full concert series, starting in September and ending in June.
Anderson also arranged, wrote, and directed most of the songs on MLK's CDs.
Anderson said the choir rarely had performances in June, but since President Joe Biden made Juneteenth a national holiday, the choir's calendar in June has become as packed as it is around the Martin Luther King Jr. holiday, when the choir has performances all through the month.
"We are a 100% volunteer organization," he said. "The money we make provides scholarships, exclusively the visual performing arts for graduating high school seniors. We have given more than $200,000 in scholarships."
Anderson said the choir performs throughout California, the east coast, seven countries, and is getting ready to add its eighth in Canada in the fall.
"The music we sing is rooted in negro spirituals," he said. "Those sung in the southern states in America during slavery. The code songs. Those are the songs slaves sang to communicate opportunities to get a way to freedom. When they were singing about negros in the Bible, the code name for abolitionists. When singing about crossing over the Jordan River, code name for Mississippi, Cincinnati and Ohio rivers. Singing about going to heaven or the promised land, code name for freedom."
Anderson said songs like "Steal Away," "Swing Low Sweet Chariot," "This Little Light of Mine," and more than a hundred noted negro spirituals fought to survive the slavery movement.
"They were actually communicating opportunities and instructions to facilitate the efforts of the Underground Railroad and freeing slaves," he said. "The negro spirituals sang in the fields during work, those were the ones that evolved into blues, then rag, swing, jazz, rock and roll, country, soul, disco, hip hop. Pretty much, all American music is rooted in the negro spirituals. It is the only slave songs, and they outlived the movement to become popular music that evolved to become the music of the nation that enslaved them. Probably, the only reason that this Black music developed in America is because slave owners in America realized that the slave owners in the Southern states of America caught on that the slaves were using talking drums to communicate with each other like they did in Africa. They had to come up with another way and that brought on negro spirituals."
Andersons said everywhere the choir goes, he always gives a quick introduction to the music.
In January all the Martin Luther King, Jr. program, in February, all the Black history programs, and now in June for Juneteenth.
Anderson said he also teaches Black Music in America at City College and a few local high schools.
Anderson said most people do not realize that all this music is rooted in Black history, but it is because the music industry had White artists recording songs because they did not believe Black artists could be profitable in the industry.
"Country music and rock and roll, those two styles lend themselves well in other cultures using their own voices with music," he said. "If you are going to sing gospel, blues, jazz, you pretty well have to sound like it. With rock and roll and country, you did not have to sound like a Black person to be successful. That is one real reason those two styles were able to really easy to translate into other cultures. Hip hop has blown up over everything now. You can sing, you can rap, you can dance. If you are a DJ, you can mix other people's music. Oddly enough, hip hop has an element that has nothing to do with music. Graffiti. Black culture has finally exceeded rock and roll, which was the reigning king since the 1950s."
Anderson said now, there are around 80 in the choir, averaging between 40 and 50 at performances on this side of the pandemic. He said before the pandemic there would be around 60 to 70 that would go out.
Anderson also directs the UCSD Gospel Choir with between 400 and 500 students. He just started teaching at USD, that just had its first concert. He taught the gospel choir at Grossmont College for 12 years.
Anderson said in 2023, after all this time that America has been in existence, that this "beast" is still degrading people of color.
"The country was built on these premises of all created equal, endowed with certain inalienable rights, including the pursuit of life, liberty, and pursuit of happiness," he said. "We have these wonderful documents. How did these minds come up with these values that they did not even really realize what they were saying back then?"