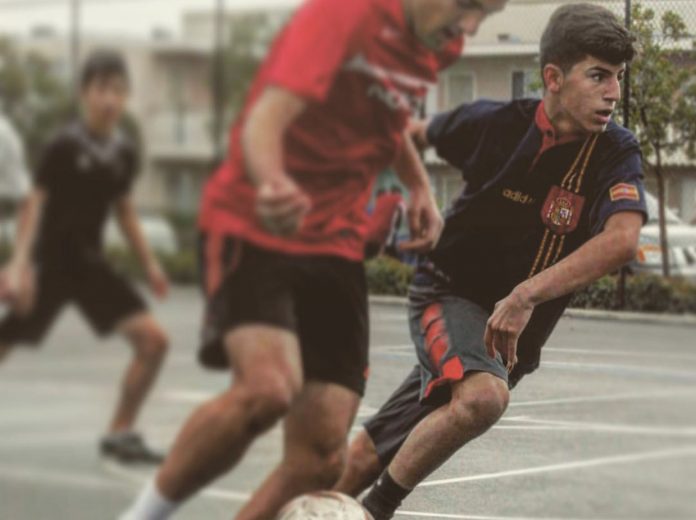 Soccer.
Refugees and immigration.
The thing parents will do for their children to have a better life.
These are the topics that are dominating our front pages, filling the chyrons on the bottom third of our television screens, and these are the topics that have shaped the lives of Andy Baraka, 17, and Osmaha Abdulazeez, 18.
Soccer.
Refugees and immigration.
The thing parents will do for their children to have a better life.
These are the topics that are dominating our front pages, filling the chyrons on the bottom third of our television screens, and these are the topics that have shaped the lives of Andy Baraka, 17, and Osmaha Abdulazeez, 18.
Baraka and Abdulazeez were recently honored by the City of El Cajon for being two of twenty-eight students from around the world who were chosen to be a part the Global Citizens Initiative (GCI). Other students from Brazil, Hong Kong, India and other countries will join them at Harvard University, the site of the first GCI summit, where they will discuss ways to improve the global issues they are interested in improving.
The prestigious selection was in many ways the culmination of their long journey from the Middle East to America. The two Iraqi-born boys immigrated here with their families, Baraka arrived when he was nine and Abdulazeez arrived when he was 11. Although they did not know each other in Iraq their stories have many parallels. Abdulazeez said his parents decided that life in Iraq had become untenable.
"They felt constantly in danger," he said. "There was no single event that caused us to move but just a bunch of dangerous stuff like a shooting outside my house, my neighbors dying. It was getting worse. My parents knew we couldn't have success there. And we were in the good part of Iraq, by the way."
His parents applied for citizenship through the U.N., but not all families were accepted. For the Abdulazeez's they could do nothing but wait and see.
Meanwhile, Baraka had a more personal brush with the dangers of living in Iraq.
"Too many terrorist attacks were happening in our community, caused mostly by religious divisions," he said. "Everyone was fighting and it ends up with a group saying do you want to join us or we will kill you. I always remember this one event, always. I was in our house which was a multiple-story building. I was looking out the window and then everything shook and we all started running down and we have no idea what is going on. We realized that a bomb landed really close to our building. We thought maybe the whole building was going to crumble, we didn't know."
Both families waited patiently for the phone call about their application. When it came, Abdulazeez said it made all the uncertainty worth it.
"We waited for three years," he said. "We kept checking in with people at the U.N. and nothing, we were just waiting for three and a half years for that damn phone call. And then the phone call comes and damn that was a good day."
Abdulazeez said that arriving in America provided a new set of hurdles.
"So we got done with that long journey, but now really the journey just begins — all that was just to get to a point where we were restarting," he said. "My parents, and I could never fully thank them for this, both of my parents went to college in Iraq and had very successful jobs. They both sacrificed all of that."
Both boys said that after arriving in America, aspects of assimilating were difficult, like the language and cultural boundaries, but their lives were radically changed for the better when they came into contact with a non-profit organization named Yalla.
Yalla caters to refugee and immigrant children by using soccer as a way to create a community and spur their interest in academics. The students involved with the program practice with the soccer club Mondays and Tuesdays and go into the Yalla center to do homework and study Tuesdays and Thursdays. The staff is mostly made up of college students who volunteer their time.
Abdulazeez said he was lucky to find Yalla within a week of moving to the U.S..
"Yalla basically adopted me," he said. "When I came here was sort of lost. I knew I wanted to play soccer but I never had the chance cause I was traveling from place to place with my family looking for safety."
Baraka also said Yalla redirected his life trajectory.
"Before Yalla, I didn't know what life was in a way, " he said. "I was just a kid who played playstation all day with no breaks. I cared about my grades but I wasn't that committed. Yalla is always pushing me to test my limits. Like, I wasn't going to take AP classes next year but I was like, 'let me push myself and see what I could accomplish.' That's what Yalla taught me."
Baraka and Abdulazeez have excelled at soccer and aspire to become professional players, which is not that far out of reach. Both of them had tryouts with the Tijuana Xoloitzcuintles' junior team and received positive feedback.
Patrick Foley, a retiree who volunteers at Yalla, said that it is not lost on the boys that many of their opportunities have been paved by their parents decision to immigrate here.
"They are very aware and often talk about how much their parents sacrificed for them," he said. "It's inspiring and it's also a motivating factor because they do not want to let their parents down, they gave up so much so they could have a chance in this country and they are not going to do anything to jeopardize that."
Baraka reflected on how his love of soccer could only have blossomed here.
"In Iraq, I wanted to play soccer, but we couldn't go out much," he said. "My Dad used to only take me out like twice a month because we were afraid of getting shot or something. They've worked extremely hard. I will repay them one day. My dad right now works everyday for 9 hours and my mom got her dream. She wanted to become a medical assistant and now she is one."
Baraka's father owned a successful jewelry store in Iraq that he had to give up. When he arrived in America after a couple of years he tried to open a jewelry store here, but Baraka said it did not work out.
"We didn't have the budget to make it work," he said. "I was actually pretty bummed he had to let it go, but he said, 'don't worry, we will try again.' He is very positive in that way — just cause you fail once doesn't mean you dont keep trying. I will help him out to do it in the future, you can count on that."
At the CGI summit Abdulazeez will focus on ways to help the homeless population here in the U.S. and Baraka is aiming to aid refugees in making a smooth transition, like himself.
Foley, who was instrumental in helping them craft the applications that resulted in their selection, said that spending time with kids like Baraka and Abdulazeez gives him hope for the future of our country.
"I was retired, sitting on the beach," he said. "I was sending picture to my friends of my feet sticking out of the sand and on my way home I was listening to the radio and heard what then-candidate Trump was saying about Muslims. Then I read another article about Yalla and I thought, 'I have to do this.' It was such a perfect connection. I feel compelled to stand with any group that is being demonized. These kids remind me of a quote by Walt Whitman, 'The United States is a teeming nation of nations.'"