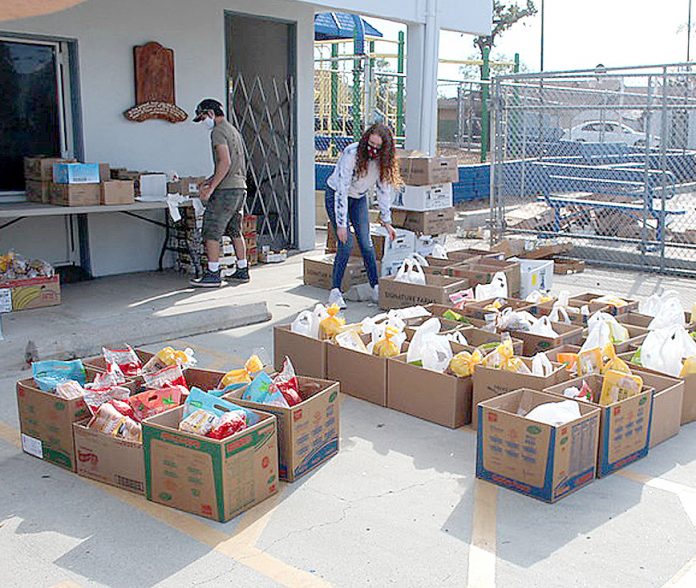 Calvary Chapel women's ministry leader Patty Setter and Pastor Dave Riley directed traffic and made sure 25,000 pounds of food was ready to be handed out Dec. 5 to a steady stream of families who drove through their La Mesa parking lot.
Both Riley and Setter said the event took days to coordinate.
"We had about 85 volunteers yesterday, all sorting food into bags and boxes," Riley said.
As cars rolled up, Setter handed each driver a small slip of paper and explained they were not collecting any personal information but would like an email address to notify anyone in need prior to the next free food giveaway. She told them there would be a choice of fresh chicken or beef in the boxes before sending them onward to gather their goods.
While Setter cheerfully greeted new arrivals and directed them through the drive-thru event, Riley moved between the large Penske truck they had rented to serve as a makeshift walk-in cooler and rows of boxes packed with fresh food for those in need.
The boxes took up several parking places in front of the church and were handed out by masked volunteers who asked recipients to stay in their cars and let them pack their trunks, drive-thru style.
"99 percent of the people passing through have never been here before," Setter said before reasoning that most participants likely didn't have to seek out free food prior to the COVID-19 outbreak, possibly recent victims of job loss.
Riley glanced at the check-in point.
"We're all one step away from being in line with these cars," Riley said.
He said he put out word on social media and to local radio stations that the event would begin at 10 a.m. "but people started lining up by 8 this morning."
Setter later said about 100 cars had passed through before 10:15 a.m.
"We're also taking boxes over to some trailer parks and low-income residents later on. Some of them are older, alone, living under very sad conditions," Riley said.
Setter explained they  "can't do meals any longer here at the church" with current COVID-19 restrictions in place so they're taking food directly to regular participants instead.
"If we can't feed our people, what good are we to the community?" Setter asked.
As she chatted, a church volunteer came through with a final delivery of freshly cut Christmas trees, free for families who would not otherwise have a tree around which to gather on Christmas morning, smiling as he said he even remembered the giant spool of twine to lash down the homebound trees.
In addition to the boxed food and evergreens, goodie bags for young children were lined up in colorfully-printed holiday gift bags. Inside, soft teddy bears lay waiting for little hands to hold them, as well as small toys and craft bags. The volunteers handing out the gift bags laughed and adjusted their headbands decorated to look like reindeer antlers.
"Jesus said to 'Love one another as he loves us' so we're trying to bless the community. I'd want my family, if they were in need, to have somewhere to go for help," Riley said, smiling at the volunteers.
For a moment, the smile slid off her face.
"I heard something the other day: 'We're not all in the same boat but we're all in the same storm' and that's really what this feels like, like we're trying to weather this situation together no matter what we have in life," Setter said.
She cites the same scripture Riley quoted, said 'Jesus said to love one another as he loves us' and the smile returned to her face.
"This is an amazing testament of the impact anyone can have on a small neighborhood. Anybody can do something," Setter said.