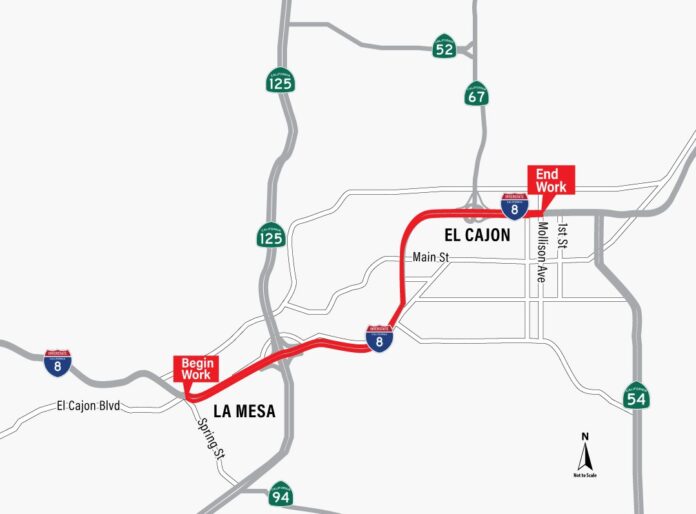 The California Department of Transportation has embarked on its Interstate 8 Pavement and Bridge Rehabilitation Improvement Project that may impact commuters in East County.
Projected to be completed by Summer 2023, the project will extend the service of several bridges by replacing aged pavement, installing concrete railings, sign replacements, landscaping enhancements, and other road-enhancing features.
This $27 million project includes $20.6 million in federal funds and $4.1 million from California Senate Bill 1, the Road Repair and Accountability Act of 2017 will extend on the I-8 from La Mesa to El Cajon.
Construction crews began at the El Cajon overcrossing and will be followed by the Marshal Street crossing. The project will replace the surface bridge decks to ensure a smoother road surface and install new concrete railings to enhance safety further. New lane markings/striping will also be implemented.
Landscape improvements will be made on adjacent banks near these projects, and these will be made to prevent further erosion that may occur over time.
The project will use polyester polymer concrete designed to protect bridge decks, reduce long-term maintenance costs.
Caltrans resident engineer Michael Stewart said the project, in its simplest form, that this is an old freeway with old bridges, and Caltrans is revitalizing this portion of the interstate. Some on-and off-ramps within the project limits may be closed during the project duration. To minimize the impact of the daily commute, consecutive ramps will not be closed simultaneously.
"The bridges are more than 50% of this project," he said. "The El Cajon bridge is getting new barriers, a new surface, we will put in new approaches and departures, and new shoulders. We are taking our aging infrastructure, making modern improvements and repairs."
Stewart said as a component of this project, beautification projects are included between the areas between onramps and offramps.
"What we do is go in there and try to beautify it with barriers, landscaping features. There are some things that are already planted. We have legacy plants. We are going to go through and make sure all our irrigation systems are working properly," he said.
Stewart said Caltrans is trying to minimize the inconvenience for commuters.
"We will work at night largely to do that," he said. "We will be taking lanes for traffic closure, but it is so minor that it does not affect traffic flow. But when we do shift to day work, we will be behind K-rail barriers. We will still have four lanes in both directions. It will just be a little tighter as we reduce lane width, but for a very short distance. The idea is to maintain those four lanes and keep everybody moving and safe."
Caltrans spokesperson Hayden Manning said information was sent to those that live in the area, but for those who commute daily on this part of the freeway and want to know about closures and detours, they will provide updates on its website.
"As things change and progress, we will put up posts on our social media pages as well," he said.
To keep up with project updates: Webpage: https://dot.ca.gov/caltrans-near-me/district-11/current-projects/i8pavandbridgerehab
Follow @SDCaltrans on Twitter at www.twitter.com/SDCaltrans and like Caltrans District 11 on Facebook at www.facebook.com/CaltransDistrict11