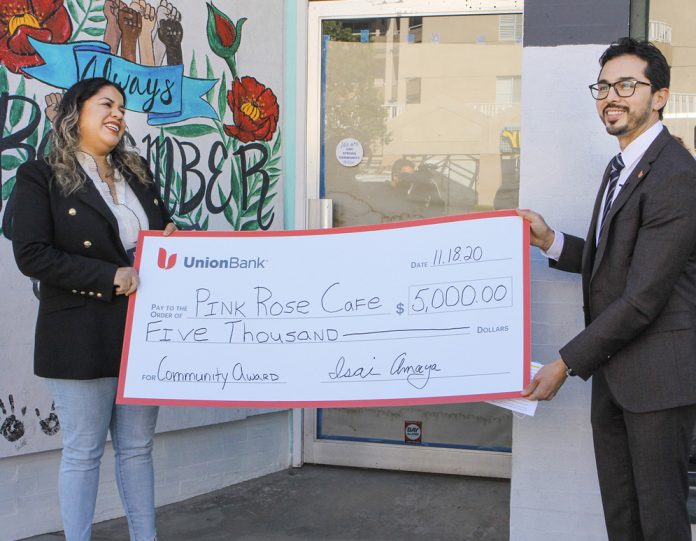 Nadia Zamora, owner Pink Rose Café in La Mesa received a surprise gift from Union Bank in the form of a Community Award and a $5,000 check for her efforts to bring the La Mesa community together after the civil unrest resulting from the George Floyd killing on May 31. After several businesses in La Mesa being vandalized, including the Union Bank branch being burn down, Zamora organized a community event to decorate the perimeter fence with posters celebrating the strength of the La Mesa community.
Guised to attend the event by La Mesa Chamber of Commerce President/CEO Mary England presenting her with a gift membership to the Chamber, president of the San Diego region for Union Bank Isai Amaya announced she also was receiving the award and check for her contribution to the community at a ceremony on Nov. 18.
England said during the riot, Zamora's store windows were broken, there was damage inside and all the tools being used to remodel the location were stolen. She said Zamora was overwhelmed
"It was a very emotional presentation. It was an amazing morning. One, because she was surprised, and two, she did not realize what the monetary donation was until Union Bank presented her the facsimile check. She is dedicated and loves her community and never let what happened to her building stop her," said England. "After the fire, she went on social media and gathered the community to place the fencing around Union Bank, and making more than 200 inspirational boards of hope, peace and love to display on the fencing."
"Thank you, Union Bank, so much," Zamora stated in a press release. "I'm just so overwhelmed by this. I will carry on the legacy for this award and I really, truly appreciate it."
Carlton Hill, La Mesa branch manager said he was inspired by the posters and drove by them 100 times in the first few days.
"I texted everyone on the team to let them know what a beautiful thing had happened so they could go see for themselves," he stated.
At the time of the fire Zamora was working to open the café, but due to delays related to the COVID-19 pandemic and permits required by the city, Zamora plans to open in early January.