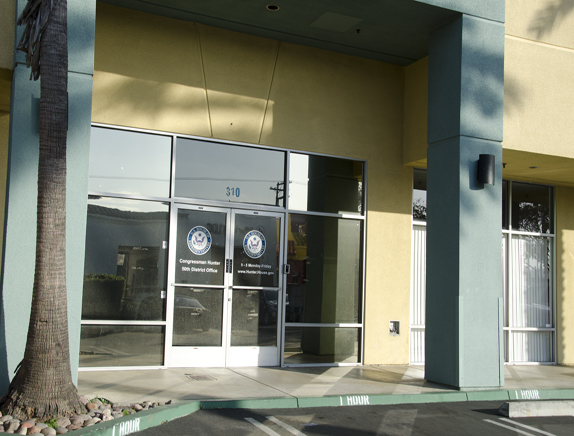 Monday was the last day East County residents could call Duncan Duane Hunter their congress­man.
Hunter, 43, resigned his post as congressional representative of the 50th District after pleading guilty in a federal courtroom late last year to mis­using campaign funds.
But just because constituents in the area will not have a direct voice in Congress that does not mean their needs will go unmet.
Hunter's chief of staff Michael Harrison said their office remains dedicated to providing constituent support and is operational even without a congressional representative in office.
"Our office serves the 50th District, we are not specific to Congressman Hunter so we will con­tinue to provide constituent services. For example, if people have a problem with things like the IRS, Social Security, applying for a passport, we are still here to help them. The only thing we cannot do without a representative is advocate policy. I would encourage anyone to contact our offices as usual," Harrison said.
The void left by Hunter's resignation may not be filled any time soon.
California Gov. Gavin Newsom said on Jan. 8 he will not be holding a special election to fill the seat, meaning the soonest voters could choose their next Con­gress person would be in the March 3 primary.
But even then the top two vote getters will face a No­vember general election and the winner of that race will not be officially sworn in un­til January 2021.
A spokesperson for New­som, Vicky Waters,clarified that this timing is based in part on the fact that the Dec. 6, 2019 California candidate filing deadline for the 2020 run for Congress has passed.
Data from the Center for Responsive Politics shows $6,511,181,587 was spent in 2016 on all federal elections, including special elections.
According to the Cal­Watchdog website, money that is spent on special elec­tions typically goes toward costs such as printing bal­lots, hiring poll workers, se­curing locations, paying for postage and producing vote by mail ballots.
There are currently 10 candidates who are run­ning to replace Hunter in the 50th district, including Democrats Ammar Campa-Najjar and Marisa Calderon; Republicans Darrell Issa, Carl DeMaio, Brian Jones and Nathan Wilkins; Inde­pendents Helen Horvath, Lucinda Jahn and Henry Ota; and Jose Cortes of the Peace and Freedom party.
Harrison said that in addi­tion to Hunter's former staff, the offices of Sens. Dianne Feinstein and Kamala Har­ris could also be resources to constituents in the 50th District.