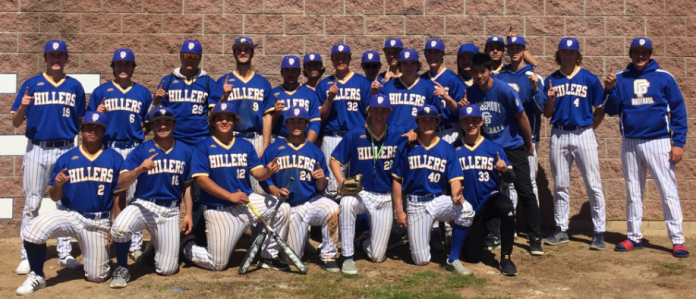 The Grossmont Foothillers won the Grossmont-Metro-City Tournament's Bill Dickens bracket on Saturday in advance of this week's Grossmont Hills League opener against the Helix Highlanders on Wednesday.
The Hillers defeated Cathedral Catholic, 9-2, in a game played at Granite Hills High to win the tournament's top division. Senior Zak Farris had three RBI in the victory over the Dons.
Grossmont (7-4) is the highest-ranked East County team in this week's media poll after being ranked sixth last week.
The Foothillers meet the Highlanders in the league opener at Helix at 4 p.m. on Wednesday. The Highlanders were the top-ranked team in the county in the preseason media survey, but have fallen from the ranks for now.
The Grossmont Hills League is formed as just a four-team circuit this time around, as the team's elite clubs over the last couple of years will meet each other four times to determine a champion. Many of the games will be played over three-game weekly sets.
The Hillers likely moved ahead of the Scotties as the circuit's preseason favorite.
Grossmont won the San Diego CIF Division I championship last season after Helix won the GHL title by two games.
The Foothillers lost a few offensive standouts to graduation but are already grooming a new set of hitters to go with some outstanding pitching.
Senior Jack Hyde, a University of San Diego commit, is following up last year's terrific season with a blistering start, going 3-1 with a 0.30 ERA over his first four starts, striking out 30 in 23 innings.
Senior Drew Shirvanian and sophomore Jaden Wilcox has helped Grossmont to a 1.49 team ERA this season.
Hiller senior Max Ford has returned after being sidelined from athletics for more than a year due to injury to tie for the East County lead thus far with three home runs. Junior teammate Gio Giganti has already committed to St. Mary's.
The Foothillers and Highlanders (4-5) will meet just once this week then meet for their three-game set starting on April 30.
Helix's top billing in the preseason was largely in part to the deep talent on its roster, but the Scotties stumbled to a 2-5 start, including a pair of losses to Eastlake, which has defeated the Highlanders in 10-straight games.
Helix has players already committed to four-year schools, including senior Eric Smelko (St. Mary's), senior Thomas Canady (Nevada), junior Jordan Thompson (LSU), and junior Aaron Pulido (SDSU), plus prospect Alonzo Richardson. Adam Martinez had a walk-off hit in Helix's win last week over Scripps Ranch.
Highlander skipper Cole Holland, in his 17th season, recently achieved his 300th career victory.
The Granite Hills Eagles (7-4) have already put together a seven-game winning streak this season sandwiched in between a pair of losses. The Eagles were ranked seventh in the county before last week's skid.
Junior pitcher Clay Fordham, the son of former Eagle major leaguer Tom Fordham, is 2-0 with an 0.87 ERA in five appearances (16 IP) thus far. Senior Sean McGrew leads the club with a .350 batting average.
The Santana Sultans (5-5), which shared the Hills title with Helix just two seasons ago, have three losses to teams ranked in the top ten.
The Sultans defeated eighth-ranked Madison on Thursday, 4-2, behind sophomore pitcher Tyler Glowacki. Back on March 1, Glowacki had a walk-off hit in the bottom of the eighth to defeat Bonita Vista, 2-1. Ben Hart and Blake Taylor give Santana the league's most unheralded rotation.
The Grossmont Valley League will run seven-deep this season, playing a 12-game, home-and-home set.
The defending league champion Valhalla Norsemen were off to the best preseason start of any East County team with an 8-3 record. They are a menace on the base paths with 32 steals so far this season.
The Norsemen have a 2.28 team ERA to-date, behind senior Riley O'Sullivan (1.62), who missed last season with an injury, and junior Joseph Ingrassia (2.38, 33 Ks in 17 2/3 innings). Both stars are both batting over .400 this season, while juniors Kyle Casper and Luke Clark, along with sophomore Tyler Henige, are all hitting around .350.
The Steele Canyon Cougars are off to a 4-5 start but have looked solid on the mound with seniors Richie Pedrin, Jack Schlotman and Jonathan Kenney. Steele also features a trio of seniors at the plate in Billy Tellous (.375 avg., 2 HR), Eli Page (.474 avg.), and Aaron Taylor.
The Monte Vista Monarchs (6-4) may be the East County's hottest team with five wins over their last six games entering the week.
Monarch junior Abraham Sanchez leads the East County with a .480 batting average, while sophomore Ernie Arambula is picking up where he left off last year, hitting at a .389 clip.
Sanchez also getting done on the mound with a 0.70 ERA and a pair of wins, while senior Andrew Savoy is 3-0 with no earned runs allowed (two runs allowed total) over 20 1/3 innings this season.
The Mount Miguel Matadors (2-6) are led by senior Cameron Beauzec (.357 batting average), who has committed to Bethany College (Kan.), and brothers Nico (a senior) and Michael Camacho (a sophomore).
El Capitan (2-7) is under the guidance of new skipper Jonathan Meyer, a former Cathedral Catholic star who played his college ball at Clemson. Sophomore Jake Bergherm was hitting .409 with nine runs scored to lead the team. Senior Austin Bell pitched a complete game to beat Christian, 5-2, on March 11.
The West Hills Wolf Pack have just one win but four of their losses have come by just one run. Sophomore Kyle Dobyns got the Pack's win on the mound with five innings of shutout ball over San Diego High, while also doubling and driving in two runs.
The El Cajon Valley Braves have a win and a tie to show for five starts to-date. The Braves beat Hoover, 7-6, last Friday as senior Aaron Rodriguez hit a go-ahead home run in the top of the seventh inning to support the complete game effort of senior Greg Sanchez.
Outside of the Grossmont Conference, the Christian Patriots are off to a 5-6 start as they prepare for the rugged test of the powerful Western League.
Junior Michael Pohle and sophomore Carson Stroman are both hitting close to .400 this season for the Pats, while junior Alex Markowicz has an ERA of 1.72 through four starts, and junior Caleb Leonard has an ERA of 0.69 with a pair of wins that earned him a promotion to the starting rotation.
The Foothills Christian Knights had just two wins entering the week, as junior Corbin Harris leads the team in hitting with a .467 average, while junior Jack Wurtz has a .379 average with five doubles.
Liberty Charter High has won four-straight entering the week and are 5-4-1 overall, averaging 9.5 runs per game.
Lions freshmen Isaiah Hilke is batting .467 and a 0.88 ERA (16 IP), while junior teammate Elijah Duran is right behind him at .464, including a county-high 16 stolen bases. Liberty has stolen 63 bases thus far.