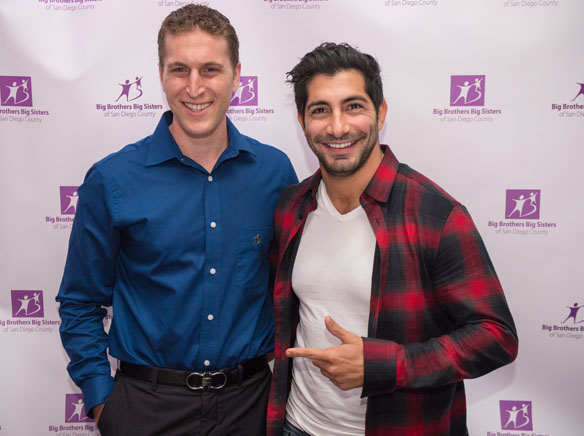 As National Mentoring Month (January) comes to a close, Big Brothers Big
As National Mentoring Month (January) comes to a close, Big Brothers Big Sisters of San Diego County (BBBS of SDC) announces a first of its kind program for Chaldean refugee families who have fled extremist persecution in Iraq. The program, Ayana (which means "helper" in Aramaic), will provide life–changing, mentoring friendships through Big Brothers Big Sisters one–to-one mentoring model for refugee youth. Through the AYANA program, mentors will help Chaldean children and youth as they assimilate, acculturate and thrive in a place that is very different from their homeland.
In the past three decades many Iraqis have been resettled in El Cajon, which now has the largest population of Iraq War refugees in the world and the second highest Chaldean population in the United States after Detroit. The seeds for Ayana were planted in December 2015 when concerned members of the Chaldean community reached out to BBBS of SDC to partner and help guide these refugee children and teens through the many challenges they face, including adapting to a new culture, language barriers, and the effects of trauma resulting from living in a war-torn country. Every child, family and mentor will receive Big Brothers Big Sisters signature, professionally supported mentoring for a minimum one-year commitment.
"I created the idea for Ayana after teaching refugee children and seeing first-hand how much potential they have. My goal to help connect Chaldean refugee children with qualified mentors has become a reality thanks to Big Brothers Big Sisters. The children will have an even greater chance of success by having a friend and mentor that can help them understand the many opportunities they have now that they are living in America," said Brian Bazzi, founder of the Ayana Affinity Alliance.
Many early immigrants from Iraq became prosperous small business owners, contributing to the local community and economy. But as the influx of war refugees has grown, many arrive impoverished and traumatized. Challenges to help them become self-sufficient have also grown. The mentors for the Chaldean youth will also be Chaldean, so they can help them navigate the challenges of assimilation and integration as well as the usual challenges of adolescence.
"During National Mentoring Month, BBBS of SDC celebrates all our dedicated mentors, who make it their cause to bring out the best in our young people," says Wayne Kay, CEO and President of Big Brothers Big Sisters, "in 2017 we look forward to partnering with the leaders of the Chaldean community to facilitate a one-to-one mentoring program to support and empower Chaldean refugee youth to succeed."
In San Diego County, one in three young people feel isolated from meaningful connections with adults outside their homes. Today, in our community there are over 400 boys and 150 girls waiting for a Big Brother or Big Sister, and now a new community of refugee children who want and need a mentor in their lives. If you want to learn how you can make a difference, go to www.SDBigs.org.
About Big Brothers Big Sisters of San Diego County:
For 56 years, Big Brothers Big Sisters of San Diego County has operated under the belief that every child has the ability to succeed and thrive in life. As the nation's largest donor and volunteer supported mentoring network, Big Brothers Big Sisters helps children achieve measurable positive outcomes, including educational success; avoidance of risky behaviors; higher aspirations; greater confidence; and healthier relationships. By partnering with parents and guardians, schools, corporations and other community members, Big Brothers Big Sisters carefully pairs children ("Littles") with screened volunteer mentors ("Bigs") to monitor and support one-to–one mentoring matches that build safe, enduring relationships. Big Brothers Big Sisters provides children facing adversity, often from single or low-income households or families where a parent is incarcerated or serving in the military, with strong, enduring, professionally-supported one-to–one mentoring relationships that change lives for the better. Learn how you can positively impact a child's life, donate or volunteer today at www.SDBigs.org, or call (858) 536–4900.