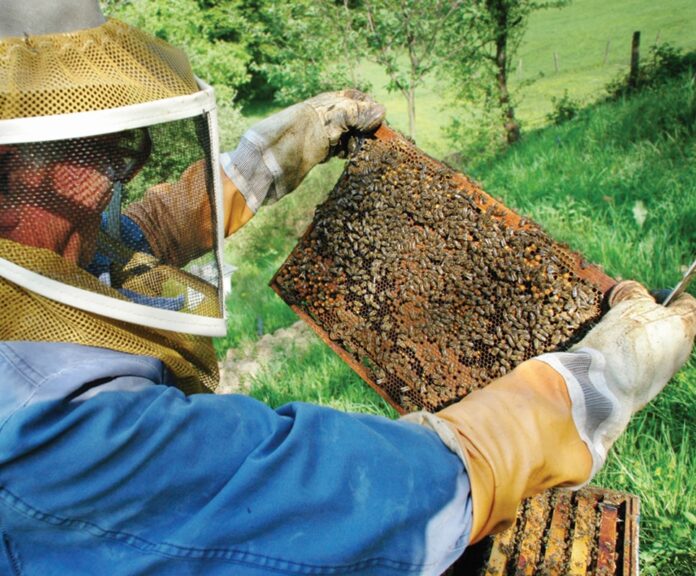 About 50 people attended an Aug. 21 talk which featured backyard beekeeper Richard Edwords discussing the history of bees in East county and how they are now being used in modern society. The local talk, facilitated this time by Alpine Historical Society is the second in the series hosted last round by Lakeside Historical Society.
Although Edwords leaned loosely on the lectern and added jokes throughout his casually dispensed speech, the key points of his presentation such as explaining how bees sniff out bombs and why some honey is sometimes poisonous were all serious in nature.
Historically, he said, East County was a hub of honey from the time John Harbison— the namesake of Harbison Canyon— invented a new bee box design in 1859 which allowed for honey access with less upset to the hive.
Harbison was a San Diego resident but kept bees throughout El Cajon, Lakeside and Alpine, Edwords said, a train ride away from the city with a connecting ride into the backcountry.
However, just a few decades earlier, those bees would not have existed in California, let alone East County, Edwords said, as their buzzing ancestors were introduced to the west coast with railroad expansions.
"Nowadays, they would be considered an invasive species. Native Americans didn't even have a name for them, they were called the 'white man's fly' because they were brought out west but weren't very effectively used to begin with so they were kind of a pest," Edwords said
Honeybees have been prevalent for over a century in East County, he said, with a flavor that reflects history and local vegetation.
According to Edwords, Harbison produced enough honey each year to fill 11 railroad transport cars, each the equivalent of a modern-day semi-truck, due in part to a three-month buckwheat bloom in San Diego County.
"Buckwheat is an amazing plant, it blooms for three months straight. Not many plants do that and Harbison took advantage of that extended bloom. He was either really lucky or really good," Edwords said with a chuckle.
The Eucalyptus Hills neighborhood in Lakeside was originally established as a source of wood for railroad ties… then, people realized the brittle wood was useless for developing rail lines and the trees were left standing, prime pollination grounds for honeybees.
"Pure eucalyptus honey tastes like cough syrup," Edwords said, grinning.
Honey from Escondido tastes like the citrus grown throughout the area, he added, a sure sign the bees are pollinating a particular grapefruit farm and honey from alfalfa farms tastes a little bit like black licorice and has a deeper color than other varieties.
The concept of varietals is not unlike wine grapes, he said, with factors like rainfall and local weather patterns affecting each vintage but honey production has a relatively low profit margin and is not where the bees can make a buck.
These days, Edwords said, the profit comes from using the bees as rented pollinators, sometimes at the cost of their life thanks to widespread pesticides.
"Pesticide poison is a problem across the U.S. but locally, if you leave your bees in Imperial Valley for 28 days, half of them will be dead," Edwords said.
Bees are also put to work in modern-day combat zones, he said, used to sniff out bombs in the Middle East. Trained to sniff out buried explosives, the fact that bees are airborne and delicately poke at the earth makes them a wiser investment than dogs or pigs who risk stepping on landmines.
In a return to ancient medicine, he said, honey is also being revisited for medicinal properties.
"You know, the ancient Egyptians used honey for medicinal purposes and there's evidence of antibacterial properties- what food product could you still eat 3,000 years later? Not many," Edwords said.
To glean the same benefits today, he said, shoppers should track down pure honey with no preservatives, a challenge with some countries' exported honey, and keep from heating the honey.
"I have customers who want to see the dead bees and wings in the honey to prove it hasn't been processed," Edwords said.
Typically, Edwords said, his presentation partner 101.5 KGB radio personality Coe Lewis would take over to talk about using bees in biofences but she is currently in Africa working on another bee project: biofences installed through non-profit Nsefu Wildlife Conservation Foundation to reduce animal poaching.
"It's difficult and expensive to build a large fence which can keep an elephant contained," Edwords said, but the massive animals are naturally scared of bees and can be herded away from poachers with a line of hives.
Poachers are known to slaughter an elephant for its tusks, then poison the carcass to prevent birds of prey from circling and giving away their location, Edwords said. Other scavengers like lions enter the scene and eat the poisoned elephant, then die in a second blow to the ecosystem.