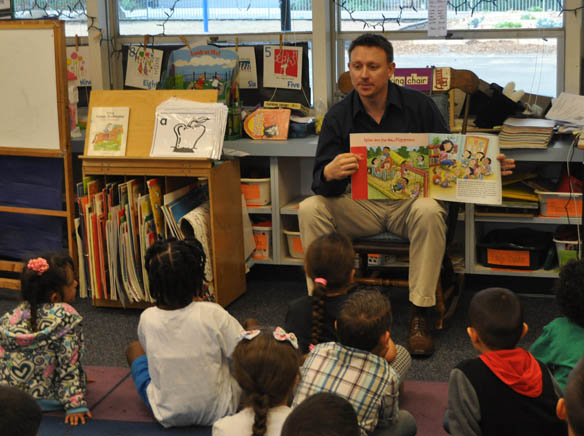 From learning how to count money to creating their own budget, volunteer teachers for Junior Achievement taught valuable financial lessons to students at Anza Elementary School last Friday as part of Junior Achievement (JA) Day. During JA Days, students in kindergarten through 12th grade attend a one-day workshop led by volunteers that educate them in financial literacy, work readiness, and entrepreneurship through hands-on activities. Each volunteer teacher presents a lesson specially aimed at the grade level they are assigned to teach. Kristi Zimsky, public relations manager for Junior Achievement said, "JA Days serve as the missing link between schools and the community where we are able to invest in children now to prepare for the future."
At Anza Elementary School, 23 volunteers had the opportunity to lead lesson plans in classrooms of students ranging from kindergarten to 5th grade. This special day presented children in the community with financial responsibility while giving them the excitement of having a new face in the classroom. Junior Achievement CEO Joanne Pastula said, "JA days are so great because the students are receiving materials correlated with state standards from a source other than their teachers, and the volunteers get just as much out of the events as the students do."
Following the event, volunteer Linda Madsen said that her favorite part of the day was "when the students ask for help and they are so sincere and responsive to the activities we are doing with them. They truly enjoy what we bring to the classroom."
Senator Joel Anderson awarded the event volunteers with Senate certificates of recognition for their commitment to giving the youth of our community the tools they need to succeed. An Executive Legislative intern from his office, Alyssa Thompson, participated in this JA Day as a volunteer teacher.
"Junior Achievement of San Diego County is an outstanding organization that prepares students with economics and personal finance training that they'll need to succeed. I am grateful we have many volunteers who share their knowledge with these students and help these students build toward financial literacy for a lifetime," said Anderson.
JA Days has upcoming events on March 20 at Chase Elementary School, and on March 27 at Naranca Elementary School. For more information regarding Junior Achievement Days visit www.jasandiego.org. If interested in volunteering for an upcoming Junior Achievement event, contact Laura Keller at lkeller@jasandiego.org or at 619-906-4917.