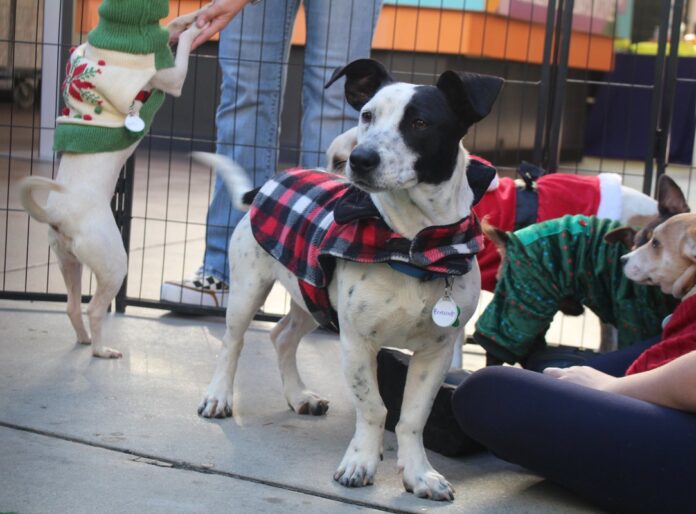 Amidst furry paws and sniffing snouts at the recent Santa Paws Mega Animal Adoption event at Grossmont Mall several animal rescue organizers said it has been challenging to find good homes for great animals in recent months.
Amazing Strays founder Lisa Biel confirmed there is a pandemic- related complication for many recent adopters: a return to in-office work doesn't include dogs.
"COVID was good for rescue, no doubt about it. We had more fosters than dogs. Then, people went back to work. We'll take the dogs back, no questions asked but there are many behavioral and training issues to contend with," Biel said.
Although the non-profit rescue group sends dogs with developed disciplinary issues to Board and Train, Biel said that type of programming is expensive because it involves "24/7 training, from the moment they wake up" and even with the training, there is no guarantee the dog will emerge ready for a new home and family.
Meanwhile, Paws4Thought longtime volunteer Negar Mirgoli said she is very stringent about adoptions and usually refuses to take back an adopted dog.
"This isn't Walmart, you can't return an animal because you changed your mind. This isn't about a person's feelings, it's about doing what is best for the animals," Mirgoli said.
However, she said she recognizes "you also need to work with people" to better help animals.
"For example, one of our volunteers found eight Shar Pei puppies under a tree in a La Mesa park and they were so young, they still had their umbilical cords attached. They really needed their mother so we went on the Next Door app and asked people in that area with doors that face the park to check their Ring video footage and try to track down who left the puppies there. We made sure to let them know nobody was in trouble or getting reported or anything but we needed to get the puppies to their mother. Within two hours, someone tracked down the dog," Mirgoli said.
Labrador Rescuers Events Manager Phil Torre said the months following COVID have been hard despite holding monthly adoption events around the county.
"Some of our dogs come from marriages that are dissolving. Shelters are overwhelmed right now, after COVID. Most of our dogs are pulled from shelters, like we'll get a call from someone who says 'we have a Lab with two days left' at a high kill shelter," Torre said.
Like several rescue groups at the event, Torre said the group is always in need of foster families.
"Oh, we always need fosters. Really, we don't ever want to pull a dog from a shelter and immediately put them in a boarding facility. We try to always put them in a home," Torre said, and a good deal of time is spent networking with connections.
A chocolate Lab who tagged along with the rescue group for the event, Rosco, is headed to a new home in Tennessee this week while Mirgoli said Paws4Thought has adopted dogs out to homes in Seattle and Vancouver through the power of networking.
"Facebook is a huge way of networking and connecting," Mirgoli said.
A real estate broker by trade, she was initially approached by someone who asked if she could donate a couple of bags of dog food before she began transporting dogs. Once she began networking, Mirgoli said she started to question how to bring down the cost of foster care.
The self-described pragmatist makes monthly visits to a Calexico shelter where "they euthanize every animal once a month" because there are just too many animals that need a home.
"It's hard. Rescue is hard. A lot of people in rescue need prozac; rescue breaks your heart. Most people burn out within five years and I've made it to nine because I'm mean and I make people follow protocol," Mirgoli said.
Additionally, after almost a decade of volunteering, she said she can now spot who is "really in it for the animals" and maintains some groups claim they work with rescues but function more like breeders.
"One dog with ten puppies is eleven sterilizations that need to happen," Mirgoli said.
She is also practical in acceptingvolunteers, actively seeking out teens who frequent social media and will post photos of themselves with the animals, a free sort of advertising as well as hours of doggie entertainment.
"This is one of the few rescues where kids under 18 are allowed to volunteer. It gives them exposure with photos on social media and it helps the dogs socialize. I also accept people who have court-mandated volunteer hours and some of them are really very good with animals," Mirgoli said.
Tucked aside from the many dog rescues at the event, Friends of Cats volunteers had just three cats on site, a deliberate choice according to longtime volunteer Terry Hogan.
"We've learned to only bring three cats to events and if they're not adopted at the event, people usually return to the shelter within a few days after thinking about it. These cats are kind of a teaser," Hogan said.
"There are so many good animals in need of a home. Everyone's trying to help," Biel said.